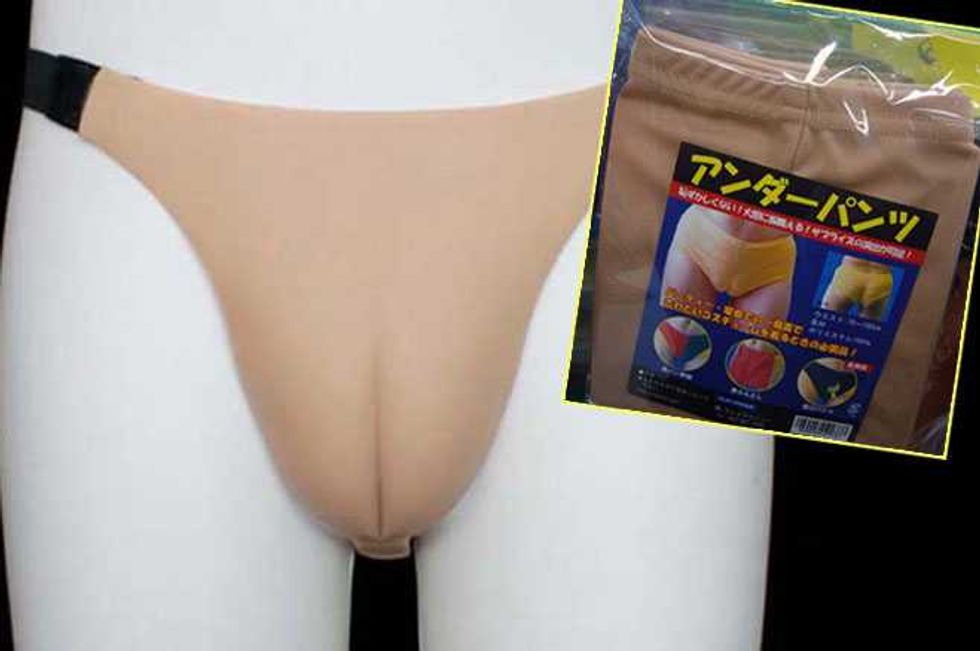 Let's face it girls, we all want big, full lips.
But what if genetics short-changed you in that department and all you got is exacto-knife crotch. Yeah, crotch. What did you think I meant? Your other lips? That is so 2000-late.

Well, fear not thin-lipped ladies, now Japan has created a product tailor-made to stave off all your lacking labial insecurities!
Clearly there was a demand...
They're called, "Party Pants," of course, and they feature a manufactured version of the camel toe you've always dreamed of.
You know, one's like the cool cheerleader Tiffany had, and how you couldn't help but eye her gleaming gusset as she changed in the locker room before gym class.
Like a good bra, the Party Pants appears to "lift and separate".
Thank you, Japan! We all know how embarrassing it can be to have a mushy, blurred line of camel cleavage, am I right ladies? No? Yeah, no. Not so much.
They come in assorted styles and colors. The skimpier option even come with a little curtain that you can wear if you want to hide the toe and then flash it when the urge should strike.
Too small or too big?
And for those with more generously endowed counter parts…
Feeling a little long in the labia? Short shorts, bikini bottoms, and even yoga pants put you at risk of giving a free camel toe show. Well not any more, ladies. Thanks to Japan, there are products to prevent camel toe like a company called Cuchini, who's slogan is,
"Our lips are sealed."
This Argentinian News Reporter Wardrobe Malfunction Is Insane
Celebrity Moose Knuckle — Competition For Male Camel Toe Is Fierce
Mexican Weather Girl Flaunts Epic Camel Toe
Taylor Swift Flaunts Famous Friends And Spectacular Camel Toe
Selena Gomez—Camel Toe Serial Offender