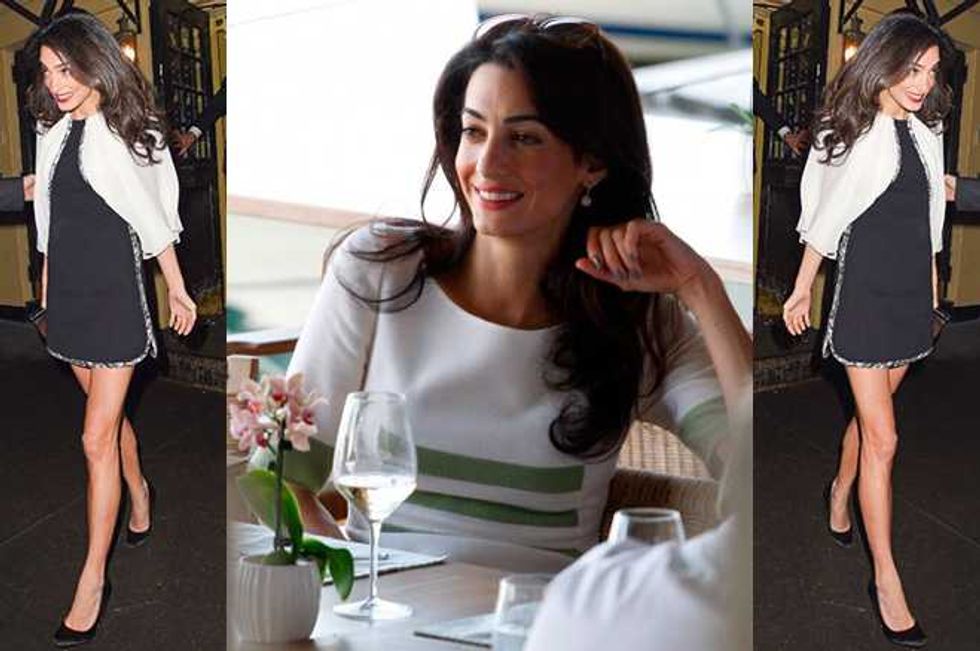 Amal Clooney will let you join her for a power lunch, at a modest price of just $2,200! In Clooney dollars, this is equal to a small designer handbag. The money will get you a meet-and-greet, and a photo with Amal herself!
This exciting opportunity will take place in October, when Amal is speaking on workplace equality at the Women World Changers Summit in Australia.
Tickets for the conference are $895, but who among us would hesitate to shell out for the VIP meet-Amal package at only $2,200?
Really, the price is minuscule compared to the cost of dinner with Amal and George at their Hillary Clinton fundraising bash. Tickets for that event went for $44,000, but one special couple paid $353,000 to sit with the Clooneys.
Before marrying George Clooney in 2014, Amal was just a junior lawyer with a penchant for short skirts and high-profile human rights cases. While once she was happy to advise dictators and to wear the same outfit more than once, Amal has been elevated by her marriage to celebrity status.
She has been busy flying around giving talks and press conferences, and appearing beside George at red carpet events.
Earlier this week, People reported that Amal doesn't work with a stylist, but rather hand picks every outfit herself. This fiction was passed on by William Banks-Blaney, founder of WilliamVintage, an upscale boutique that has become a favorite of Mrs. Clooney. He confided in an interview:
Amal has impeccable taste and understands fashion perfectly, irrespective of whether the piece is from WilliamVintage or from the contemporary collections.
Amal has been shopping at Williams since 2015, so it looks like her impeccable taste emerged only after marrying. But that happens, right?
In any case, Amal's stylist is John Galliano's long-time partner, Alexis Roche. But if she wants credit for picking out the over-priced and age-inappropriate frocks and accessories she's been splurging on, so what.
Amal has reinvented herself, which is hard work, and if she's a little caught up in her own PR, let's forgive her.
Now, what's for lunch??