Designer Mark Sturkenboom has come up with a way to legally fuck the dead.
No, this is not some necrophilic loop-hole. No! Nothing like that! It's a corpse dildo!
The sentimental and somewhat perverted genius that is Sturkenboom has created a super sleek looking memory box, complete with a dildo in which to fill with your deceased loved one's ashes.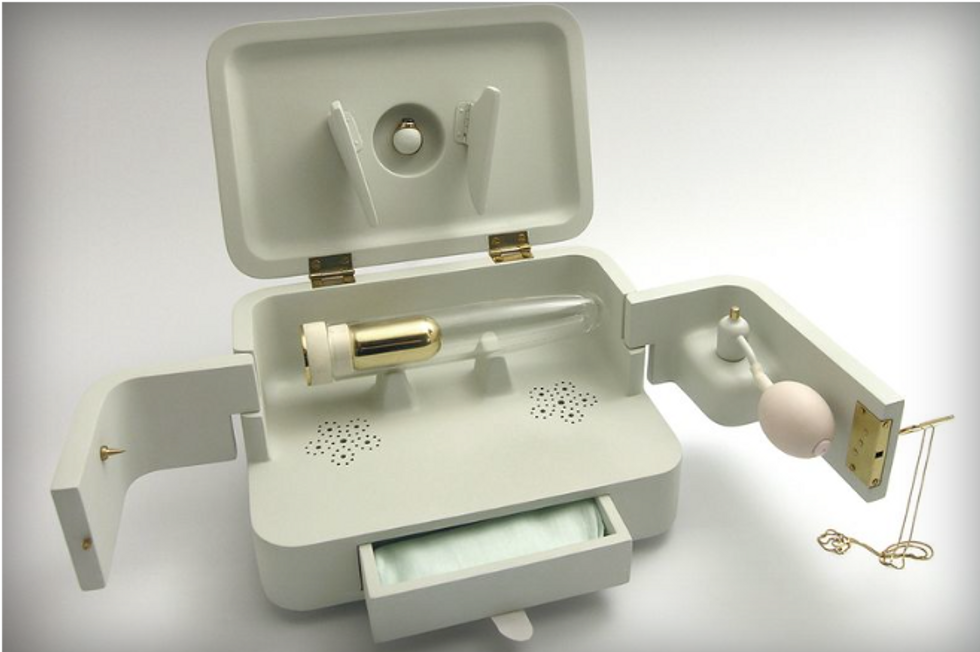 "After a passing, the missing of intimacy with that person is only one aspect of the pain and grief," Stukenboom explains.
"This forms the base for 21 Grams. The urn offers the possibility to conserve 21 grams of ashes of the deceased and displays an immortal desire."
21 grams also contains a necklace, an amplifier for playing music that reminds you of your dearly departed, a scent diffuser and a gold-plated urn.
"I sometimes help an elderly lady with her groceries and she has an urn standing near the window with the remains of her husband," he continues.
"She always speaks with so much love about him but the jar he was in didn't reflect that at all. In that same period I read an article about widows, taboos and sex and intimacy, and then I thought to myself  'can I combine these themes and make an object that is about love and missing and intimacy?'"
Eureka! 21 grams—which is said to be the weight of the human soul—was born.
Joe Manangiello: Yes, that's Joe Manganiello, without all the hair, the scruff, and the buff. Pumped full of 'roids and topless more than a '90s era Pamela Anderson, this bohunk unjustifiably rose to fame in Vampire soft core porn, but is more suited for the cast of The Jersey Shore. From the neck down he looks like a shaved bison, and he's engaged to a spandex-loving Barbie Doll, Latina Edition.
Sean Lowe: He's a down home loveable country boy who hails from the great state of Texas. He's tall, he has blonde hair, blue eyes, he loves Jesus, he played football in high school, his wife is real pretty, he…….Oh, I'm sorry. I fell asleep.
Kevin Hart: Every five years or so, America cries out for a new funny black man. First there was Bill Cosby, then Richard Pryor. Next came Eddie Murphy, followed by Chris Rock, who was eventually eclipsed by Dave Chappelle. And even though Cosby's an alleged rapist, Pryor was a certified base-head, Murphy "gave a ride" to a tranny hooker, and Chappelle went bat-shit crazy, we forgive them. Because they're funny. While Chappelle was busy breaking from reality, a giant chasm appeared. A chasm that needed to be filled, and desperate times call for desperate measures. Enter Kevin Hart, the hallmark of an era starved for the next funny black man. He says shit like "So I'm at the office, I tell this guy...Pass me the stapler, but when you pass it, make sure staples are in it, because if it isn't, I can't staple anythin'."
Channing Tatum: Sure he made us laugh in 21 Jump Street, and gave us a collective boner in Magic Mike, but make no mistake, this vaguely penis-shaped frat boy is a basic bitch. At the very least, he's married to basic bitch who wears more hot pink than Honey Boo Boo Child. And you know that they say: You are what you eat.
Adam Levine: He's a marginally handsome upper middle class Jewish kid from Brentwood who sings like he got kicked in the nuts. Each song is the sonic equivalent of a pair of khaki pants from The Gap, soullessly vomited out by some pre-programmed pop-hit-making apparatus. And because of daddy's money and his Minnie Mouse voice, he got a record deal and decided he needed to look the part: Muscles and tattoos. Adam's a basic bitch.
Taylor Lautner: Anyone who dated Taylor Swift is a basic bitch. Also, I saw him at The Beverly Hills Hotel Oscar Party with his dad. Lautnter is so friggin' wholesome that despite being worth $40 million, he still lives with his family, and he says his worst habit is tapping his foot. Really? Mine's smoking crack.
Scott Disick: Scott's accomplishments include sperminating the uglier older Kardashian sister and, and….well, that's about it. Still he walks around like he split the atom, especially now that he spent $345.36 to become a 'Lord' in England. He's a basic bitch. Sorry, basic Lord bitch. His only likeable quality? He pounds booze until he gives himself alcohol poisoning. I can respect that.
Kevin Connolly: This guy stole Michael J. Fox's face and took it all the way to the C list. Oh, and apparently, he loves sports. That's real interesting. We took him off the list, 'cuz no one knows who he is, but then we remembered Entourage the movie is coming out in June, so we put him back. In it, Kevin plays E: a basic bitch/Hollywood vulture, who lives off other people's good looks and talent. Still, he's dated Nicky Hilton, Hayden Panettiere, and Stacy Keibler. Stars are such star fuckers.
John Mayer: When I look at this photo, I can almost hear my mom saying: "You know Lorraine from the real-estate office? She has a son. He's very handsome and he's in dental school. I gave him your number." Turns out, he wasn't an aspiring dentist at all but a bloated singer/songwriter who cranked out elevator music mediocrity, until Jessica Simpson stamped his hand. Once inside the club, he got full douche with it, eschewing carbohydrates for bench presses and bouncing from Aniston, to Diaz, to Perry.
Nick Cannon: During their 6 year marriage, Mariah Carey wore both the bedazzled evening gowns, and the pants, so much so that Nick would probably happily have changed his name to Nick Carey. He basically served as a glorified mini poodle wagging his tongue from her over-sized Chanel purse. At the Academy Awards, Mariah spat out a mint and made Nick hold onto it, which he did: Basic pussy-whipped bitch.
Ryan Gosling: Everyone loves Ryan Gosling. He breaks up street fights, he saves blind people from walking into traffic, and he looked so cool in Drive. But he was also in the Notebook, and therefore plays a very big part in bringing all of Nicholas Spark's putrid pre-menstrual love stories to the silver screen. #neverforget