Sports
Colin Kaepernick Becomes the New Face of Nike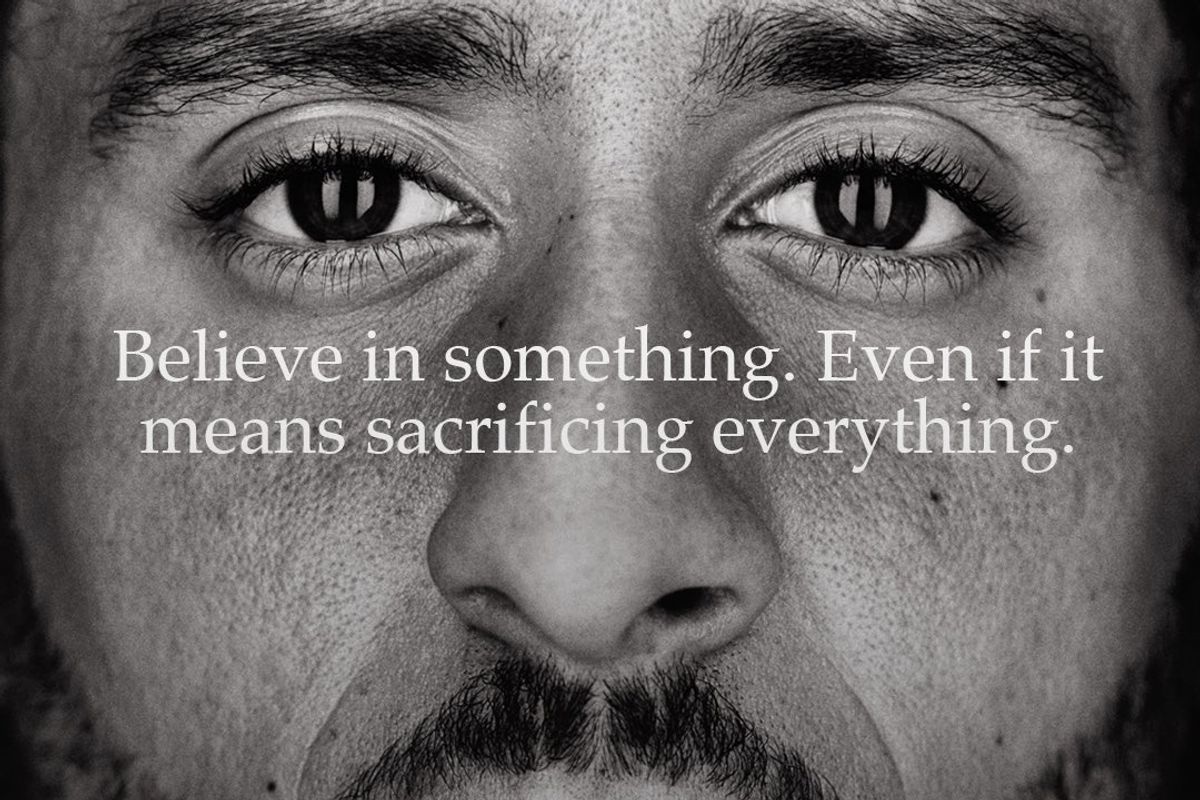 Twitter
Joined by Serena Williams, the two make waves in the company's 30th anniversary ads.
Living in NYC, I see ads everywhere — some particular billboards that caught my eye this week were the Nike black and white portraits of Serena Williams and Colin Kaepernick with captions in defiance of racism and prejudice from today's political climate.
Believe in something, even if it means sacrificing everything. #JustDoIt https://t.co/SRWkMIDdaO

— Colin Kaepernick (@Colin Kaepernick) 1536002445.0
It turns out that Nike has chosen Kaepernick and WIlliams to be the faces of their 30th anniversary ads, encouraging viewers to "Believe in something. Even if it means sacrificing everything." One of Williams' ads says "Girls from Compton don't play tennis. They own it." The ads seem pretty inspiring on the surface, however, a deeper look will reveal another meaning.

Especially proud to be a part of the Nike family today. #justdoit https://t.co/GAZtkAIwbk

— Serena Williams (@Serena Williams) 1536020042.0
Featuring Kaepernick and Williams is a highly controversial and political move as it directly contradicts Donald Trump's stance and respective Tweets on the matter — it's also kind of a slap in the face for the NFL in general as they attempted to establish a rule in which players would be required to stand for the anthem. The rule itself never passed, but you can probably tell the sentiment and pressure from the President is there.
If a player wants the privilege of making millions of dollars in the NFL,or other leagues, he or she should not be allowed to disrespect....

— Donald J. Trump (@Donald J. Trump) 1506190270.0
The whole story all started back in 2016 when Kaepernick was first photographed sitting down during the national anthem. A few days later, he took to the press to discuss his protest against police brutality. A month later, Kaepernick's teammate Eric Reid kneeled with him which prompted Trump to respond that they should both be fired.

It's also a good thing that Nike's on Kaepernick's side now — the NFL player still isn't signed onto any team and this endorsement contract will turn into a multiyear deal that may even include a clothing line.
Serena Williams' story is quite similar — in the past, she's been criticized for crip-walking on the court while a more recent story reported that she couldn't wear her catsuit to the French Open, a piece of clothing that helps her with a medical condition. In her ads, she's shown overcoming the odds.
Our Soundman just cut the Nike swoosh off his socks. Former marine. Get ready @Nike multiply that by the millions. https://t.co/h8kj6RXe7j

— John Rich (@John Rich) 1536015769.0
Responses to these ads — especially Kaepernick's — are definitely mixed. Some people are cutting out the Nike Swoosh from their socks while others are categorizing the ads as a business move. Makes sense as Kaepernick has been in the top 50 players of NFL jersey sales and an icon of the younger generation's protests — Nike's preparing for the future.

The clothing and shoe company might also be dealing with fallout from an earlier scandal — executives have been leaving due to complaints of inappropriate workplace behavior and employees have filed a gender discrimination and harassment lawsuit.
Whatever the reason might be, Kaepernick has definitely made headlines again — maybe this endorsement will get him signed again, but more importantly, bring more awareness to police brutality and protest.
---
Amber Wang is a freelancer for Popdust and various other sites. She is also a student at NYU, a photographer and intern at the Stonewall Inn National Monument.

---
POP⚡DUST | Read More ...
REVIEW | Everything you need to know about ASTROWORLD
REVIEW | Aire Atlantica Remixes FINNEAS' 'Landmine'