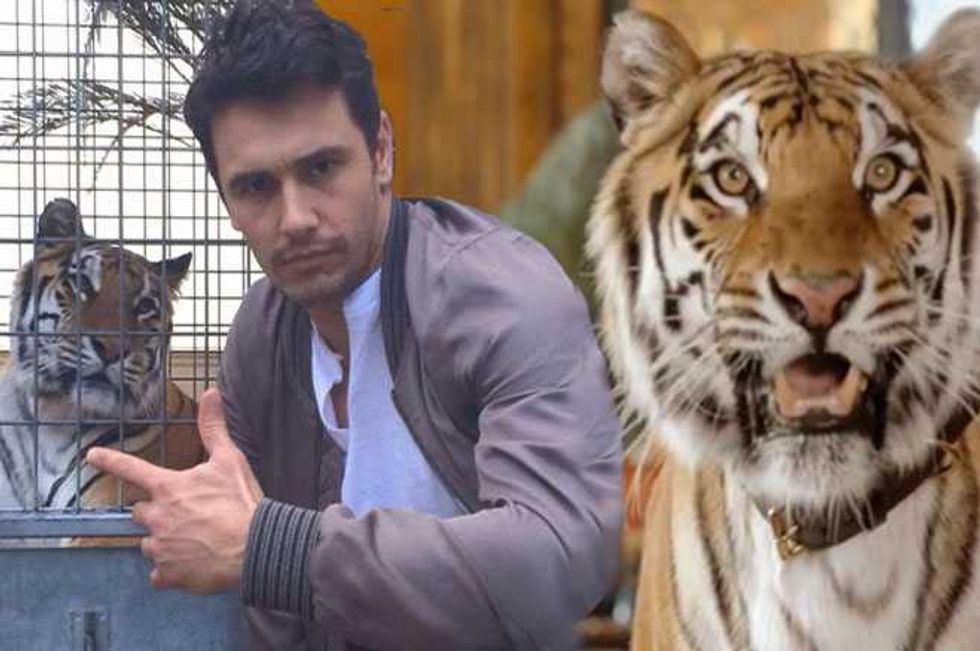 Who knew taking tiger selfies was such a trend?
Apparently, getting up close and camera ready with big cats has become such a huge craze that the state of New York has passed a law banning the snap-happy move after animal rights advocates raised concerns.
Don't Pet The Three-Legged Tiger, How Many Times Do You Need To Be Told?
Gov. Andrew Cuomo signed in a law last week prohibiting direct contact between members of the public and big cats at traveling animal shows and fairs, reported the Associated Press via ABCNews.com. Animal exhibitors will face harsh fines for each violation.
The aim is to put a stop to so-called tiger selfies that have flooded the Internet, with foolish posers getting dangerously close to wild animals in order to get that perfect pic.
Wildlife advocates even claim that the big cat photo bomb craze encourages the mistreatment of endangered animals.
Pablo Escobar's Hippos Wreaking Havoc In Colombian Countryside
"They breed the cubs, use them for photo-ops, and then when they can't use them they breed more," said Carole Baskin, founder and CEO of Big Cat Rescue, a Tampa, FL. sanctuary that has more than 100 big cats. "Taking the cub away is a misery to the cub and the mother, and the cubs aren't fed properly. They don't sell tiger milk at the pet store."
There are similar laws already in place in Mississippi, Arizona and Kansas, where a 17-year-old was killed in 2005 by a tiger she was posing with for her senior photo.
Haley Hilderbrand, 17, was visiting the Lost Creek Animal Sanctuary in Mound Valley, where high school students had gone for years to pose for their class photos amidst the exotic animals and greenery. However, on this occasion, the Siberian Tiger she picked to be her photo prop flipped out and mauled her to death.
Meet Estella—The Adorable Paralyzed Guinea Pig With A Custom Wheelchair
Fortunately for James Franco, the tiger he posed with earlier this year seemed as enamored of him as the actor's millions of female fans are—staring adoringly at him in an Instagram selfie Franco posted, captioned, "My CO-STAR on the FORD commercial."
Unfortunately for James Franco however, animal rights groups were not so enamored with him, Ford, or the ad creators, for using a real live tiger in order to hawk cars.