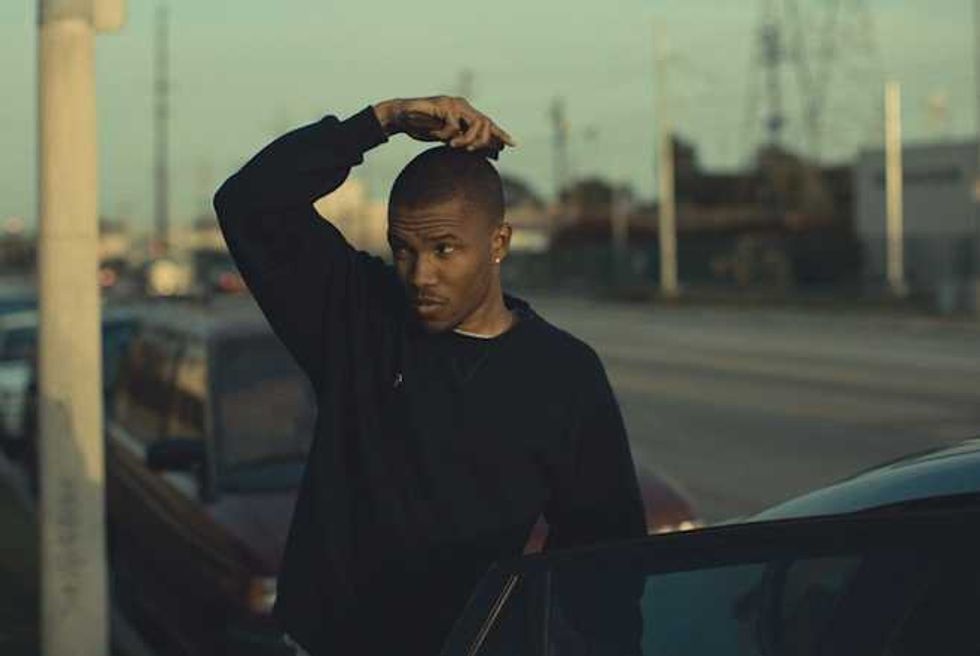 In the past seven days, Frank Ocean has gone from an underground hero with a handful of great songs and some very famous friends to somebody you absolutely need to stay informed about to keep up with the national discussion. He might have gotten to that level anyway with the upcoming release of his first commercially released album, Channel Orange, but that process was expedited by an open letter he published on his blog sharing secrets about himself that few artists in his position have ever risked revealing. A TV performance and a digital release later, he's now the guy that every one of your friends is talking about.
So if you weren't on the Frank Ocean bandwagon from Day One—we probably got there around Day 11 or 12 ourselves—you could be forgiven for wondering: What's the deal? Well, that's what you've got us for, silly! Sit back and let us answer your Oceanic questions without you even having to ask them.
So who is this guy, basically?
Well, he's a mature-beyond-his-years R&B singer—if mature-beyond-their-years R&B singers were allowed to hang out with skate-rat hip-hop crews, sing over Coldplay and MGMT records, and have wicked senses of humor. What makes Ocean such a special artist at this point in his career is his ability to experiment and integrate sounds and feels from nearly every major musical world outside of his own—and still absolutely slay with his falsetto or low-down croon when called on to do so. Immensely talented as a performer and songwriter as well, Frank's also still young (24 until October) and good-looking in an unassuming way—the complete package allowing for an almost impossibly high ceiling when assessing the heights he might reach, artistically or commercially.
Did he use to go by a different name for some reason?
Yeah—Lonny Breaux, his birth name. (Well, closer to, anyway—he was born Chirstopher Breaux.) Under his given last name, Ocean wrote songs for the mainstream pop likes of the Backstreet Boys and Justin Bieber, as well as recording countless demos on his own, 63 of which were eventually released in the Lonny Breaux Collection mixtape. Ocean got his name legally changed to Christopher Francis Ocean in 2010. "It just felt cool," he told Complex Magazine. "None of us are our names. If you don't like your name then change your name."
He's part of Odd Future, right?
Yep; he's associated with the California alterna-rap collective, about whom you can read 100,000 words on the Internet if you so choose. Ocean is considered the singer of the group, though he's not the only one; fellow OFWGKTA member Syd da Kid's done some singing herself. (They've got one other major thing in common now, but let's not get ahead of ourselves.) He's particularly close to group let's-call-it-lieutenant Tyler, the Creator; he guested on Tyler's Goblin on "She," and Tyler's referred to him as his "big brother."
What's the deal with Nostalgia, Ultra.?
Well, if you're asking about the stylized punctuation in the title we can't help you out, but the deal with the album is that it was a self-released LP—fine, a mixtape, if you insist—that Frank put out early last year. It features Frank performing a number of artistic reinterpretations—a mix of cover, remix, and karaoke performance that they haven't quite invented a word for yet, where Ocean sings different lyrics over the original backing tracks—of songs by Coldplay, MGMT and The Eagles, as well as a number of originals—including "Novacane," one of our favorite songs of last year and his only Hot 100 solo hit to date. Rather than a tossed-together mismash, Nostalgia sounded like a coherent artistic statement, and deservedly made a number of critics' year-end lists, helping to build up the buzz surrounding Ocean.
Didn't that piss off some old people?
In March 2012 The Eagles threatened to take legal action if Ocean played his "American Wedding"—which liberally samples, and some (including the band) would argue lifts the backing track in its entirety—in full during any upcoming shows, the biggest of which being the Coachella Festival in April. Ocean went on to playfully respond, writing on his Tumblr that getting bullied by The Eagles was "fuckin' awesome" and would cost him a "couple hundred racks" should he be sued. (Seriously, why sue the new guy?) When the time came, he did perform "American Wedding" for those gathered in Indio, only with an entirely different backing track. Not quite as triumphant as some thrill-seekers may have hoped, but still a smartly played act of rebellion that served to comment on the diverging approaches to production and put a stamp on his own introduction to the larger musical community.
Who has he worked with?
Aside from his samples and aside from his intra-OFWGKTA collaborations, Ocean's worked with Andre 3000 and John Mayer, both of whom appear on Channel Orange, and has opened for Coldplay on their Mylo Xyloto tour. He also has a professional fan in Pharrell, who co-produced his "Sweet Life" and went so far as to call him the "black James Taylor" of today, while Justin Bieber—a recipient of Ocean's songwriting in the form of "Bigger," off his 2009 debut, My World—covered "Thinkin Bout You" during his late 2011 radio promo tour to prove his hip-hop potential. Then there's his work with a certain hip-hop royal family. You know the one.
What's his connection to Beyonce and The Throne?
Credit Beyoncé and Jay-Z as two of Ocean's earliest fans, with the former taking note of his "tone and his arrangements" before deciding she desperately needed to work with him. Ocean went on to write "I Miss You" off Beyonce's 4, and Bey has since maintained her support for him as both an artist and a person, listing "Novacane" as one of her favorite tracks of 2011 and praising Ocean's bravery openness in regard to his sexuality.
A little over a month after 4 was released, Ocean's vocals appeared on two songs off Watch The Throne: "Made in America" and "No Church in the Wild." Ocean's WTT tracks have had a healthy shelf life, with "No Church in the Wild" booming through trailers for Safe House and the upcoming Baz Luhrmann spectacle, The Great Gatsby and Made in America becoming the name of Hov's upcoming festival in Philadelphia. This (we hope) is an invitation for Ocean to perform alongside Hov, Odd Future and anyone he damn pleases during the two-day event.
And he came out recently?
That's not the phrase Ocean used, but more or less. On the Fourth of July, Ocean posted the above letter, part of the liner notes to Channel Orange to his blog. In the letter, he recalled meeting someone a few summers ago, falling in love, having his heart broken and never quite recovering. It's more vulnerable than liner notes often get, but it's not unheard-of--save one detail: the person Ocean fell in love with was a man. There were hints before this--hints not including the generally pointless exercise of rummaging through his old lyrics. During a Channel Orange listening party, one reporter noted his use of male pronouns on the record, something you wonder how every other reporter missed. Needless to say, though, the rumor mill could never have produced something so overt, so unprecedented or so moving. (For the record, Ocean's said he's OK with being called "bisexual".)
What was the reaction to his "coming out" letter"?
Almost uniformly positive. Shortly after Ocean's post, Def Jam's Russell Simmons posted a letter to Global Grind praising him for "changing the game." He was followed by seemingly everyone who'd ever interacted with or merely heard Ocean--including Beyonce, who bestowed her blessing on Ocean via public letter. Then there's Tyler, the Creator, who'd been widely and arguably rightly accused of homophobia but whose reaction to his friend's statement was at once the most quintessentially Tyler tweet ever and, bizarrely, touching:
My Big Brother Finally Fucking Did That. Proud Of That Nigga Cause I Know That Shit Is Difficult Or Whatever. Anyway. Im A Toilet.

— Tyler, The Creator (@fucktyler) July 4, 2012
Is Channel Orange worth checking out?
Well, yeah, sure. It's not a perfect album by any means—some of the interludes feel unnecessary, a couple of the more free-form tracks could really use some editing and tightening of the songwriting, and "Forrest Gump" could certainly stand to be a little less literal in its involvement of the titular movie. But the album is simply on another level artistically—gorgeously played and produced, thoughtfully written and structured, and performed with a heartfelt honesty that we hadn't quite heard before, even on Nostalgia, Ultra. Mainstream acceptance and a crossover smash or two would now appear to be all that remains in Ocean realizing his destiny as the Kanye West of 21st-century R&B. (You can buy the album on iTunes, or listen to it streaming over on his Tumblr.)