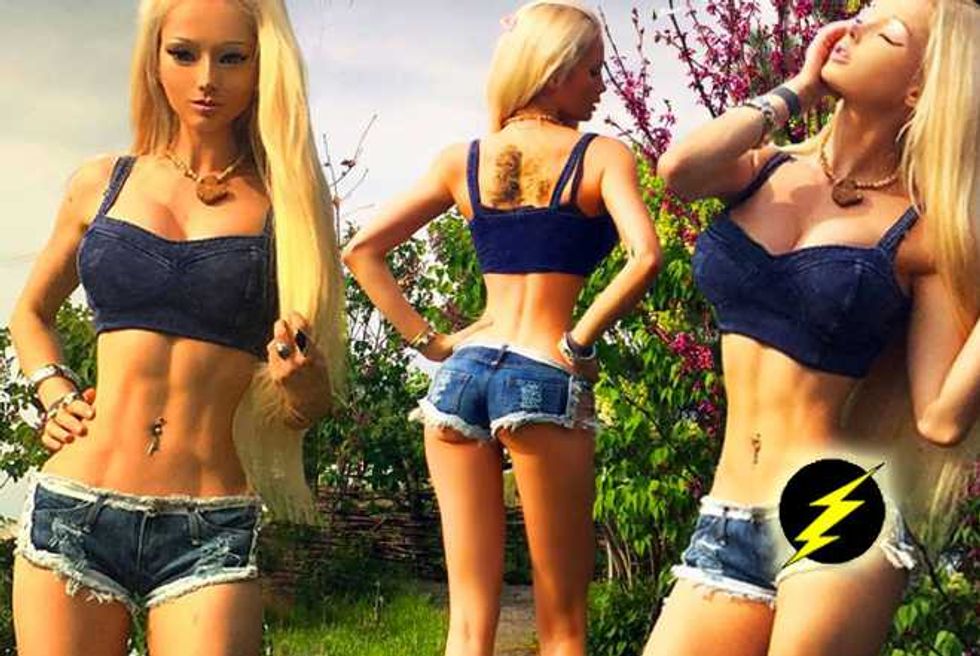 Everyone's favorite alien communicating, time traveling, race-puritan, spiritual guru is back.
Valeria Lukyanova—the O.G. Human Barbie, if you will—has been laying low since being hospitalized last year, but has returned bigger, better and bat shit crazier than ever.
As Popdust previously reported, the 29-year-old claims to have been the victim of a two year hate campaign, which culminated in her being viciously attacked on Halloween by two dudes outside her home in Odessa, Ukraine.
Not one to hide away in fear forever though, the devoted "Breatharian" has resurfaced, vowing to reshape her body into that of an "Amazon Woman with a warlike figure."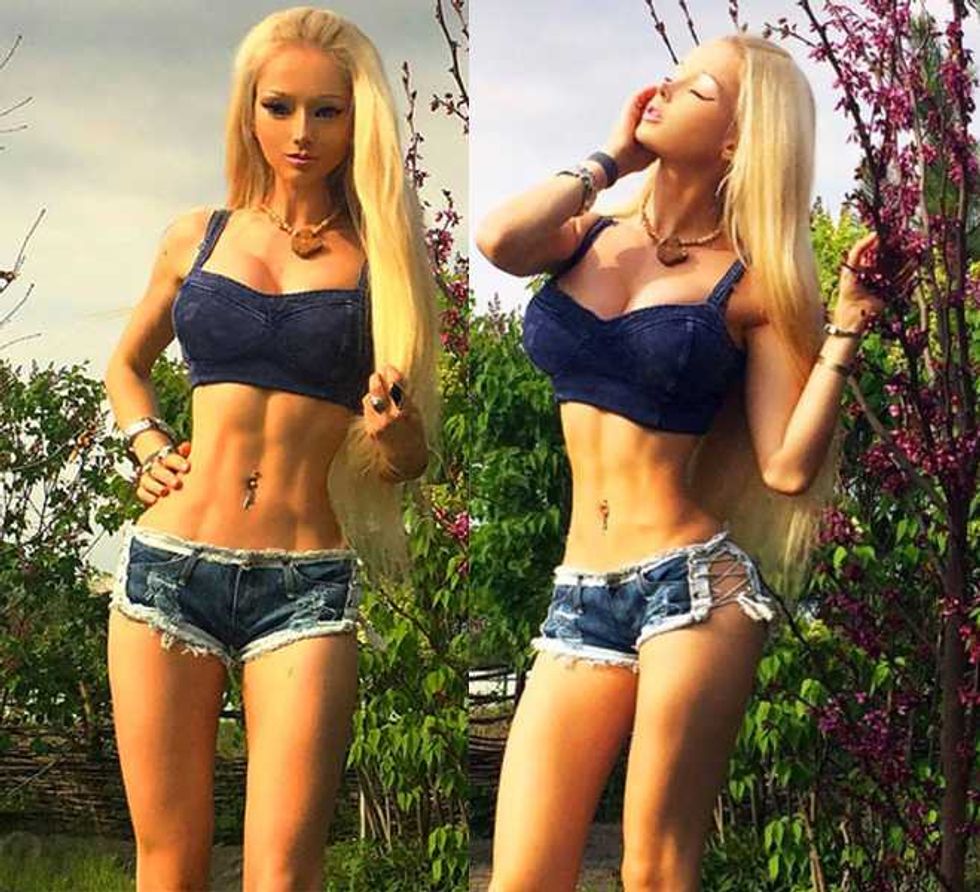 "I no longer like my body. It needs some muscle," Lukyanova shared on Facebook, shortly before posting photos of a new Spring-themed photo shoot.
"The spring is late this year, but it has finally come. It has inspired me to do a photo shoot with a beautiful and all natural background," She wrote.
Now, believe it or not, the background isn't the only thing  Lukyanova claims is all natural.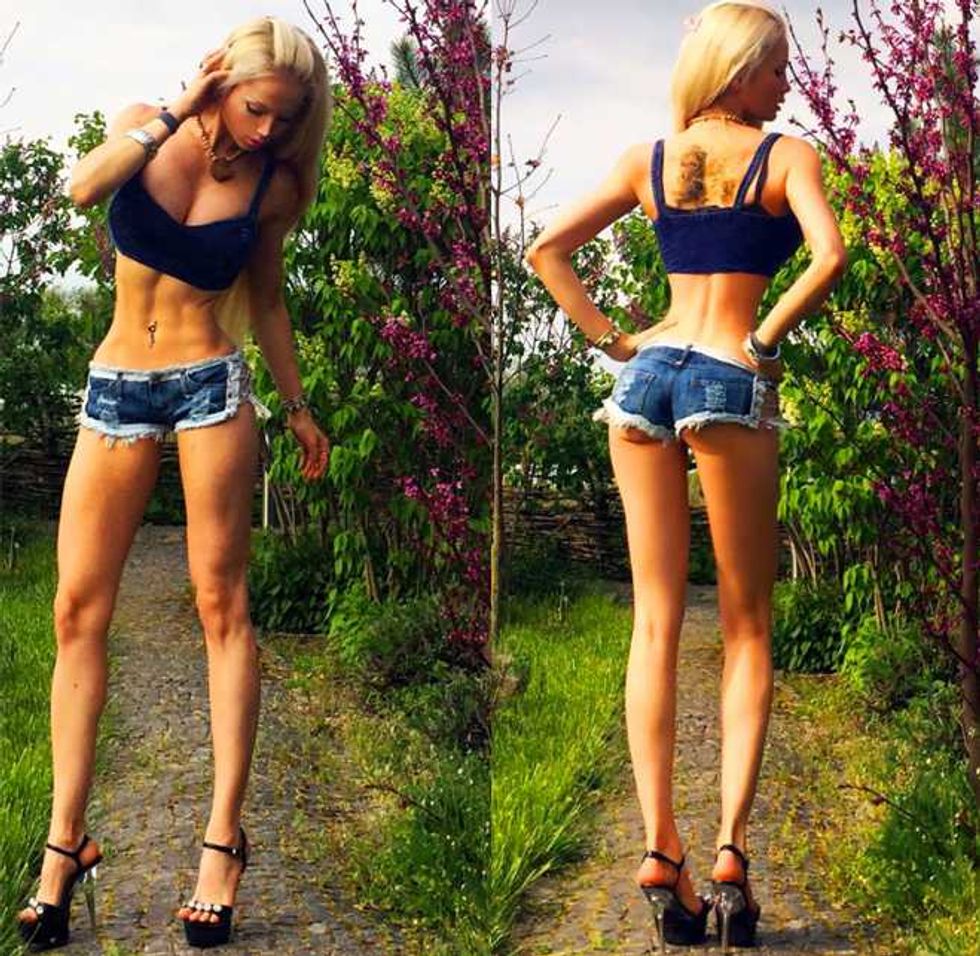 Despite her freakish proportions of 39E-18-35, she claims not to have had any plastic surgery at all—aside from breast implants—although, old photos would most definitely seem to prove otherwise.
It's also worth noting that, as a Breatharian, she professes to subsist solely on a diet of light, air and other "cosmic micro-food", and purports to be a time traveler who communicates with aliens—telling the Daily Beast:
My communication with aliens is not verbal—we speak the language of light. I have learned a lot from my contact with them. Now I know that my spirit is very old. And also that humans are the least sophisticated civilization—we're on the lowest level of evolution. Aliens helped me understand everything about the creation of our world. It turns out that the truth has nothing to do with how religions interpret it.
That's some deep, deep shit right there.
You know what else is deep? Lukyanova's views on how race-mixing has ruined beauty:
For example, a Russian marries an Armenian. They have a kid, a cute girl, but she has her dad's nose. She goes and files it down a little, and it's all good. Ethnicities are mixing now, so there's degeneration, and it didn't used to be like that. Remember how many beautiful women there were in the 1950s and 1960s, without any surgery? And now, thanks to degeneration, we have this.

I love the Nordic image myself. I have white skin; I am a Nordic type—perhaps a little Eastern Baltic, but closer to Nordic.
Yeah, that's probably why the world's biggest racial melting pot, Brazil, has spawned all those hideously ugly Victoria's Secret models.
Meanwhile, want yet more cray cray? Check out Popdust's gallery of fellow Human Barbie,16-year-old self-professed "ultimate vamp woman" Lolita Richi—oh, and you can find out why so many of these nutjobs are from Ukraine—here