CULTURE
Of course life imitates art when that art is about systemic racism and xenophobic human rights abuses.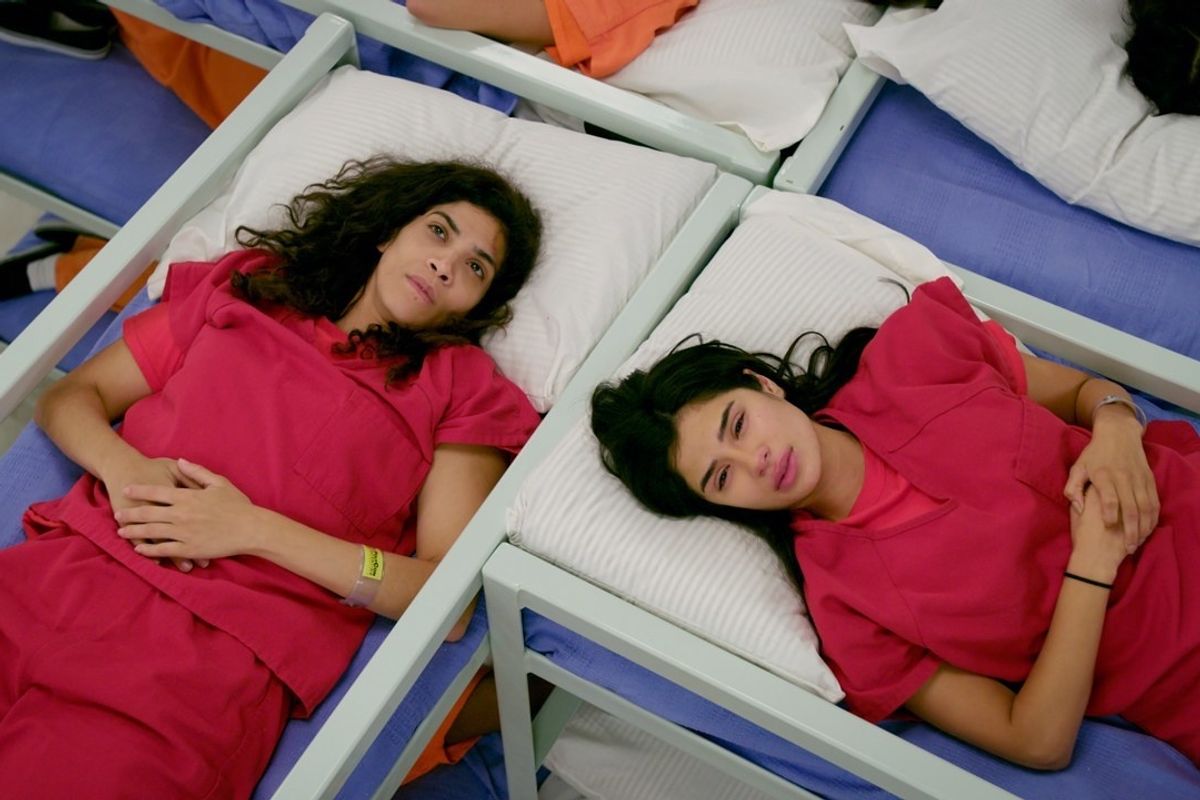 ICE is not a fan of Orange Is the New Black.
In the final season of Jenji Kohan's series, two fan favorite characters, Maritza and Blanca, are held in an overcrowded, under-funded detention center; they're deprived of access to legal counsel or communication with family members, and they're given shoddy bunk beds to call their own. While OITNB prioritized accurate depictions of immigration detention centers, in reality, the set was probably sturdier than the real deal. Malchus Janocko, the show's set designer, was surprised at how cheap and flimsy the real ICE detention facilities were when the crew was permitted to tour one for research. As Curbed described, "Put up a box in a week, a metal shed on a concrete pad, then add some reinforced fiberglass, plumbing, maybe air conditioning, and you have a facility."
But the show's most accurate feature is a toll-free number that gives detainees access to pro bono legal counsel. Maritza clandestinely gets her hands on it and quietly spreads the word. "This is for a lawyer," she whispers to other women as she hands them a balled up piece of paper. But she doesn't pass on the warning she received with the number: "You have to be careful…Apparently if they figure out that you're using the hotline, Big Brother shuts it down."
maritza gives out lawyer phone number scene ( orange is the new black s7e5) youtu.be
While Martiza faces dire repercussions in the series, the real-life twist is that the number is real—or, at least, it was. OITNB gave a shout out to the National Immigration Detention Hotline, a number created in 2013 by the California-based organization Freedom for Immigrants. Less than two weeks after OITNB's seventh season premiered, ICE shut down the hotline.

Christina Fialho, co-founder and co-executive director of Freedom for Immigrants, has openly condemned the restriction as a violation of the First Amendment and detainees' basic human rights. "ICE is attempting to silence its critics and block people in immigration detention from connecting with communities on the outside," she said. "Even a freely given benefit such as the pro bono hotline can't be taken away simply because the government is now unhappy with how we are sharing with the public what we know from our communications with people inside."
ICE officials claim that the hotline was shut down because all toll-free numbers have to be approved by the Executive Office for Immigration Review. Freedom for Immigrants responded with a cease-and-desist letter demanding that the hotline be reinstated. On Twitter, they outlined support from cast and crew members of OITNB, as well as immigrant advocacy groups: "#ICE shut down our Hotline in retaliation for our work with #OITNB - This is a clear violation of our 1st Am rights."
#ICE shut down our Hotline in retaliation for our work with #OITNB - The is a clear violation of our 1st Am rights.… https://t.co/SGncg0yBlZ

— Freedom for Immigrants (@Freedom for Immigrants) 1566578757.0
Stars of the show joined Freedom for Immigrants, the ACLU, and over 100 advocacy organizations in signing a letter written to ICE: "We are heartbroken to hear about the shutdown of this hotline. It's practically impossible to do something as simple as place a phone call without money or without someone on the outside helping you, which is why Freedom for Immigrants' hotline is so critical. We stand with Freedom for Immigrants and urge ICE to restore their hotline immediately." The show's producer, Tara Herrmann, and stars Guerrero, Vicci Martinez, Emily Tarver, Alysia Reiner, Laura Gómez, and Beth Dover were among the signees.

The letter continued: "The line's termination undermines trust and accountability of government institutions, dissuades public service by community organizations and further isolates vulnerable detained individuals. We demand that Freedom for Immigrants' hotline be restored to its original reach so that the organization can continue offering a free and confidential resource to detained individuals across the country."
When The Hollywood Reporter reached out to ICE officials for further comment, a spokesperson alleged that Freedom for Immigrants had engaged in "prohibited conduct" under the draconian restrictions inside detention centers. "All ICE facilities provide detainees with reasonable and equitable access to telephones," claimed the spokesperson. "Detainees are further allowed to make free calls to an ICE-approved list of free legal service providers for the purpose of obtaining initial legal representation. Because these legal calls are unmonitored and unrecorded, certain prohibited activities, to include three-way calling and call forwarding, are strictly prohibited."
For clarity, the free hotline was run by volunteers who put detained immigrants in contact with family members, legal counsel, and authorities to report abuses within detention facilities. When Malchus Janocko toured an ICE detention center to replicate on the OITNB set, he said, "After touring ICE facilities in New Jersey, some of our staff were shaken. The reality of the situation, not having a lawyer, the situation with access to phones, the food, it's even less human than our regular prison system."
Laura Gomez, the actress who plays Blanca, told The LA Times, "Now we see life mimic art in the most destructive way. I wish this were more of a fictional situation and we were exaggerating reality, but it's kind of the other way around."