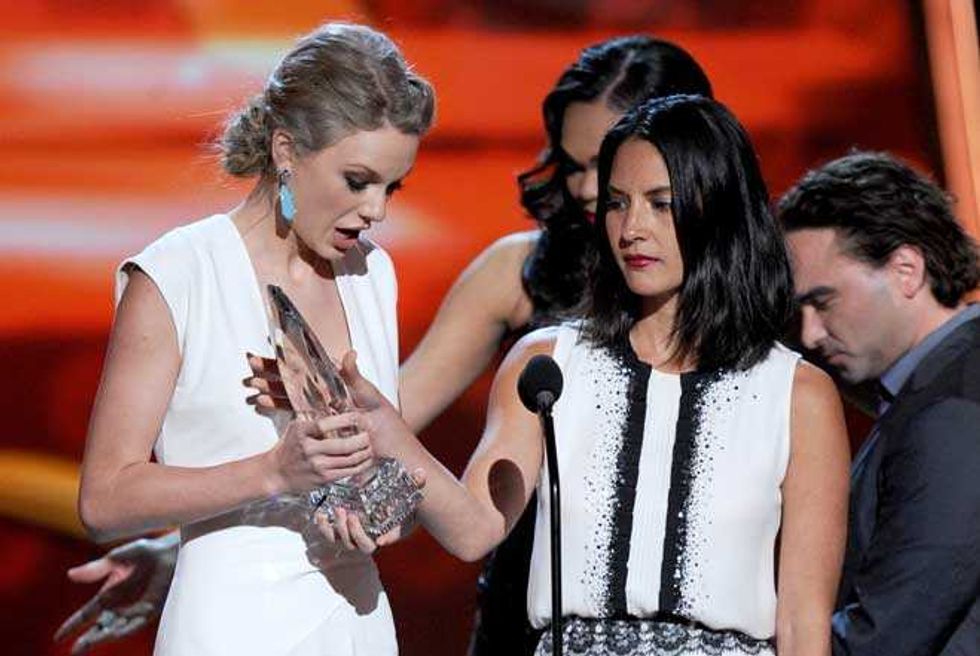 You know there's no more ways to make funny jokes about that time that Kanye West interrupted Taylor Swift at the VMA's, right? It was an iconic pop culture moment and inspired about a year's worth of awesome memes and parodies, but it was four years ago now, and it's been trodden over so many times by now that it's just donezo as a source of potential comedy. Too bad nobody told Olivia Munn, Newsroom andMagic Mike actress and presenter at the People's Choice Awards last night, as she insisted on "interrupting" Taylor's Favorite Country Artist win, and reminding everyone yet again of that fateful night in 2009.
To be sort of fair to Olivia, it didn't seem like she was consciously trying to call back to the Kanye moment—it seemed like she was just obnoxiously overstaying her welcome as a presenter, trying to build on a never-funny joke about "We Are Never Ever Getting Back Together" being written about her and refusing to get out of the way. It wasn't until Taylor referenced the previous incident herself by exclaiming "This always happens to me!" and Munn weirdly responded "And it always will happen, Taylor...this is your lot in life" that the moment became Imma Let You Finish XLVII.
Still, it keeps the incident—and by extension, the lame jokes about it—alive for another award show season, which is a real shame. Enough, guys. Doesn'tanybody wanna make jokes about A$AP Rocky grabbing Rihanna's ass at last year's VMAs instead?