Olivia Munn photoshop
Olivia Munn's cover shot on WebMD has been staggeringly badly photoshopped.
To be honest it's not even clear if they used her body at all, so ridiculous does her lollipop head look on the tiny little body.  Plus they seem to have deleted one of her boobs.
Kate Winslet Adds No Photoshopping Clause To L'Oreal Contract
Ironically the byline on the cover reads;
"Olivia Munnn on self acceptance"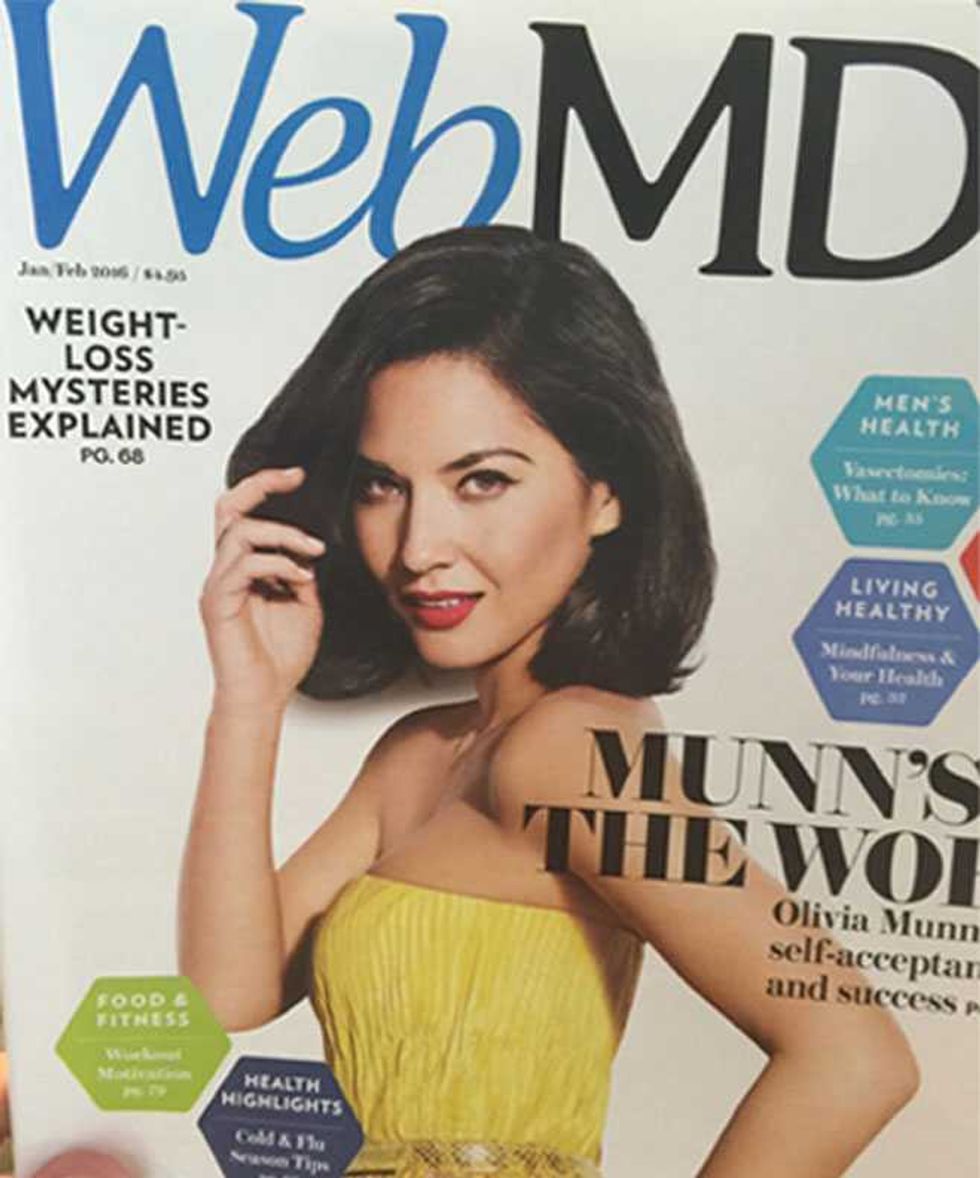 Where's her boob and the rest of her body gone?
Did anyone actually look at the cover before sending it to print?
The photoshop attempt to make the super slim actress appear even thinner is all the worse because WebMD is supposedly a magazine that promotes healthy living and tackles body image issues!
Some Douche Photoshopped Rumer Willis' Jaw Smaller And She's Pissed
In fact the interview with Munn inside the mag details her battle with poor body image.
"I didn't start out feeling comfortable with how I looked.

I grew up with a sister who had this very voluptuous body and other girls at school were tall and thin, and I wasn't those things.

Then I moved from Oklahoma to Hollywood, and I was showing up at auditions in my Sunday best with high heels and a dress. I'd go in with these really tall, thin girls with their jeans and ballet flats and tank tops and they made it look so effortless.

So I had to figure it out because it wasn't working for me, but wanting to feel pretty was never a crime in my family."
Presumably the Newsroom actress didn't have final approval on the image—because surely she would have realized how ridiculously bobble-headed she looks?
Kate Middleton Horrendously Photoshopped on Cover of Australian Magazine
It's utterly disgusting that magazines STILL feel they need to put images of completely unattainable body shapes on their covers to sell copies.  Photoshop is a great tool when used sparingly to enhance a picture—the removing blemishes and smoothing out a dodgy crease kind of thing, but it most definitely should not be used to change someone's body shape and size to project a more aesthetically pleasing appearance.
Olivia Munn was just fine how she was with her own body and two boobs, and it's just not acceptable for an Editor to judge her and find her not beautiful enough to grace their front cover.