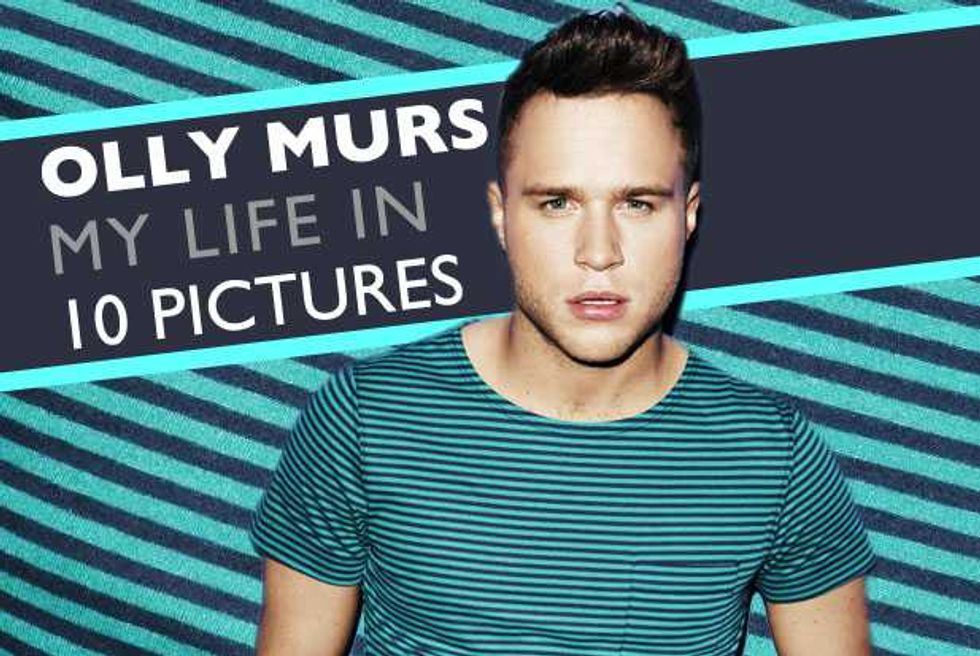 Currently on tour with One Direction, 28-year-old Olly Murs is just beginning to experience the madness of American music fans. "It's insane!" he says. "Young girls are throwing bras on stage, fainting, [and] the noise is deafening." Finishing as runner-up on The X Factor UK in 2009, Murs has released two successful albums in his home country, and now prepares to make his U.S. debut behind new single, "Heart Skips A Beat." He's got famous friends in Simon Cowell and Niall Horan, plus bountiful experience with crappy jobs that should make the transition to pop stardom that much sweeter. Learn more about Manchester United's biggest fan and 1D's new best friend, as told by Olly himself.
1. "MY MOONWALK IS REALLY GOOD."
Citing Michael Jackson as one of his earliest musical influences, Olly got his first crack performing at home alongside his twin brother. "We used to muck around every Sunday night [when] we'd watch the Top 40 chat show," he explains. "My brother had [Jackson's] leather jacket, the hat, the glove, he really went for it."
2. "I CAN'T SWIM!"
Olly's obsession with football—soccer, for us Americans—can be blamed for his failure to master the doggy paddle. "The school I went to never had a swimming pool. We could go swimming if we wanted to, but I was like, 'Oh if I can play soccer for an extra hour...' So that was my thinking. But now I'm like, 'Noooo!'"
3. "HI, I'M CALLING FROM KITCHENS DIRECT..."
After walking away from a career in personal training, and realizing that he probably wasn't going to be the next David Beckham, Olly joined the ranks of England's office drones. "I worked selling kitchens," he says. "I used to try reverse psychology: 'Hi, I know you don't want this phone call right now. You probably just got in from work and you don't want to talk to me, but I just want to ask you a question, literally, would you be interested in taking a kitchen?' Or I'd be like, 'Please, I beg you.'"
4. "I COULDN'T EVEN GET HOME!"
Before making his X Factor debut, Olly appeared on the game show Deal or No Deal in 2007. Despite being up for a cash prize of 250,000 pounds, he left the show with an abysmal 10 quid, recording one of the worst performances in the show's history. "[After the show] I was walking down the street in my hometown where it was [covered] in the local papers, and someone was like, 'Are you that guy who was on Deal or No Deal? Oh my God you suck!'"
5. "SIMON COWELL HAD A TOILET ON MY TOILET."
As a member of Team Simon on The X Factor, Olly was surprised by Cowell's warm demeanor off-camera. During a visit to his family's home in Essex, Cowell wasn't above using the bathroom or trying some home cooking, both of which are still mind-blowing to his mother to this day. "Simon Cowell had a toilet on my toilet," he explains. "When we sell the house [my mom's] going to sell the toilet and say, 'Simon Cowell once had a toilet here!'" Cowell was also impressed by his mother's Butterscotch Angel Delight, one of his favorite desserts. "It's not the best, but it's a good effort and I quite liked it," Olly recalls, in a Cowell voice he's clearly had time to perfect.
6. "SO I WAS A LITTLE BIT DRUNK..."
Among the X Factor judges, Olly found himself the most tongue-tied around former Girls Aloud member and otherworldly babe, Cheryl Cole. While he could barely speak to her off-camera during his season, he's taken to social media in attempts to reconnect with his former crush. "I [tweeted] 'Hi Cheryl, I haven't seen you in three years, can I get your number? #cantblameaguyfortrying,' and she blanked me! She didn't reply," he explains. "But maybe she can't get into Twitter because she can't remember her password? And then I realize I'm making really silly excuses."
7. "I'M IN MICHAEL BUBLE'S DRESSING ROOM, FUCKING SHITTING MYSELF..."
Buble didn't care for Olly's vocals during his time as an X Factor mentor, but he was more than willing to seek him out for dance tips backstage. "[There was] no music, it was the most awkward, embarrassing thing I'd ever done," he says. "People say that Michael can't dance but he's pretty smooth. I was really shocked that he asked me to teach him how to dance—it must have been that Michael Jackson coming out of me."
8. "NIALL IS THE ONLY ONE WHO RUNS AROUND CHATTING WITH EVERYONE."
As the opening act for One Direction's North American tour, Olly has learned of Niall Horan's inability to sit still before a show. "He reminds me of Tigger from Winnie the Pooh," he says. "Just bouncing around everywhere, getting on with everyone, chatting with everyone. [He's] such a lovely guy."
9. "I DON'T GET THE SAME REACTION IN THE U.K. AS I DO IN THE U.S."
Traveling with 1D has opened Olly's eyes to the, ahem, dedication of American fans, best expressed through bra-throwing, fainting and screaming. "I'm just worried about their safety sometimes, like, Jesus Christ!" he says. "I'm not even One Direction and they're running after the bus, and I'm like, 'If you you fell under the bus, I couldn't forgive myself!'"
10. "I'D LIKE TO BE A PROPER EAST END LONDON GANGSTER."
Despite a love of theater, Olly chose football over drama class in school. "I was so jealous of these kids doing singing and dancing every night," he says. "I used to sing in classrooms and I'd get told off a lot when I'd just be singing under my breath, singing down the corridors." He's still got his eyes set on a future acting career, though, hoping to start with a few cameos—or a starring role in Guy Ritchie's next project, whatever comes first. But if that doesn't work out, he's got a considerable back-up plan: "Maybe I could be the new presenter on the American version of The X Factor?" Your move, Simon.