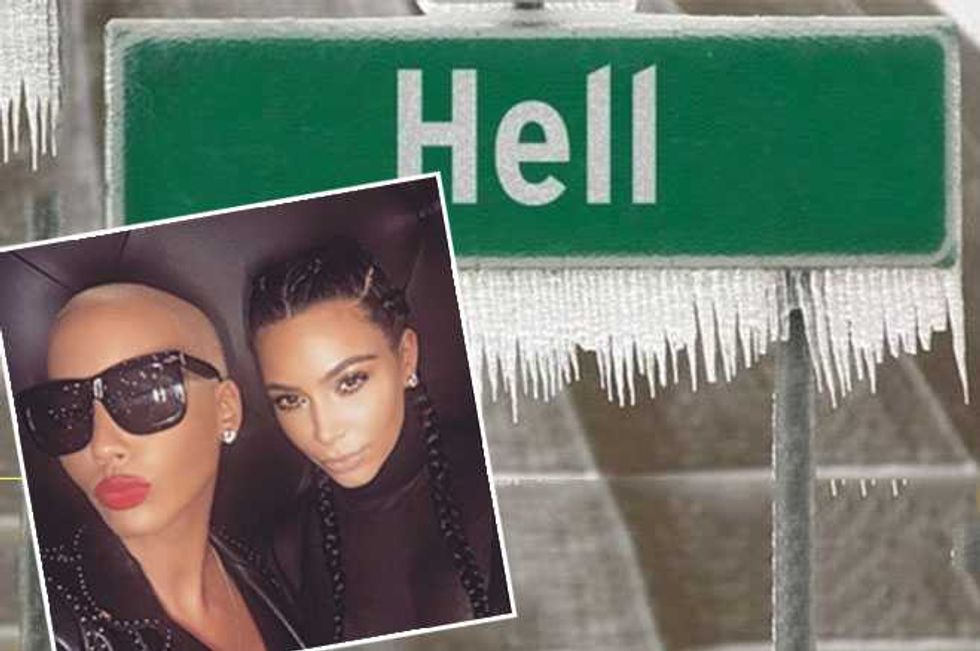 Kim Kardashian Amber Rose Selfie
In a frankly unbelievable turn of events, Kim Kardashian and Amber Rose have kissed and made up—they made it official by posting what else, but a selfie together.
They both shared the same pic but with different captions.  Kim's said "Tea anyone?" and Amber wrote "Swingers" with a Kermit emoji, which refers to the famous #butthatsnoneofmybusiness meme.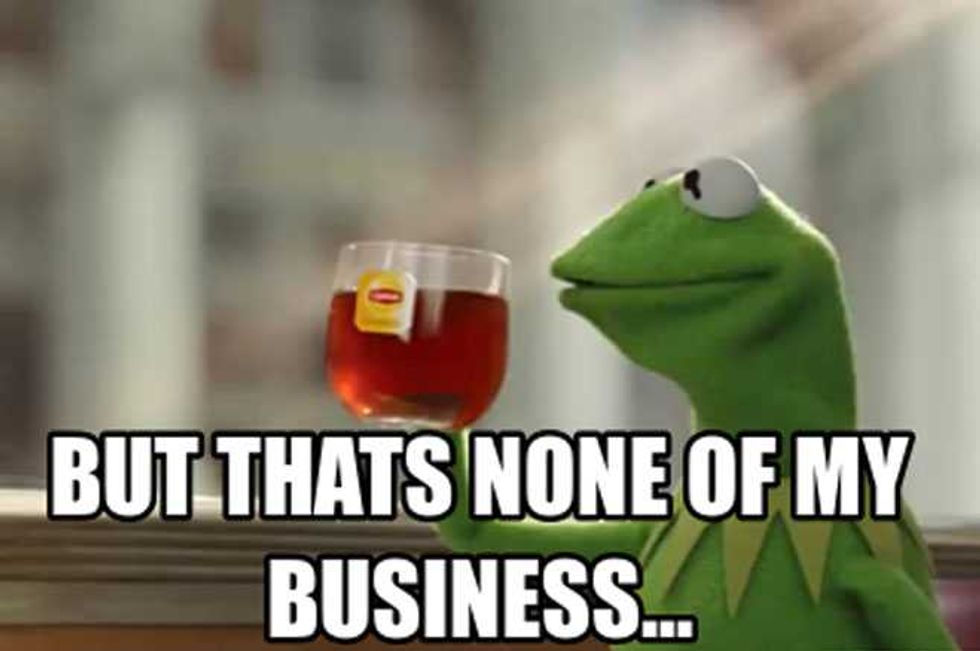 Always ask "What would Kermit do?"
Hustler Proposes Sex Tape to Rob Kardashian and Blac Chyna
Kanye West had definitely backed down in the very public Twitter spat with his ex Amber and her ex Wiz Khalifa.
Kanye, in total Kanyesque arrogance had taken offence at a post by Wiz which was nothing to do with him.  Displaying a totally disproportionate reaction he not only threw shade at Wiz but, unforgivably, brought Wiz and Amber's three year old son, Sebastian into the feud.
Amber had to step in to get him to STFU (which clearly Kim is unable to do) with a not so subtle reminder that he does NOT want to piss her off too much if he wants certain things to stay private.
Amber Rose And Blac Chyna Launch Epic Shade Attack On Kardashian Sisters
Kanye, 38, looked a dick (even more of a dick than usual), took his tweets down, tried valiantly to convince us he's not into ass-play (nobody is buying it Kanye) and then ended the week of epic shade with a kind of apology to the pair of them for bringing the kid into things.
Kim Kardashian Amber Rose Selfie
God's dream… Never speak on kids again… all love … all blessings…

— KANYE WEST (@kanyewest) January 30, 2016
Kim Kardashian Amber Rose Selfie
Wiz has maintained a dignified silence (other than shouting "Fuck Kanye" at a gig, but most of us do that every day anyway) and sadly reports of him showing the Kim/Ray J sex tape at one of his concerts are false, no matter how much we all wanted it to be true.
Here's Why Kim Kardashian Will Make an Excellent Wife and Mother (Based On Her Sex Tape)
Not having got in on the action and needing to deflect the attention 100% back to her, Kim decided to use her go-to tried and tested method of getting a message across—with what else but a selfie!
Needless to say it's had the desired effect and is now trending on social media.
So Blac Chyna and Rob Kardashian are now standing alone in their war against The Family.  As it's only a matter of time before Rob returns to the fold (like when he runs out of money), Blac Chyna will be left isolated.  I'd say this 'make-up' was definitely a case of concede the battle to win the war.  Good move K-Klan.
Kim Kardashian Amber Rose Selfie
A photo posted by Kim Kardashian West (@kimkardashian) on
Kim Kardashian Amber Rose Selfie