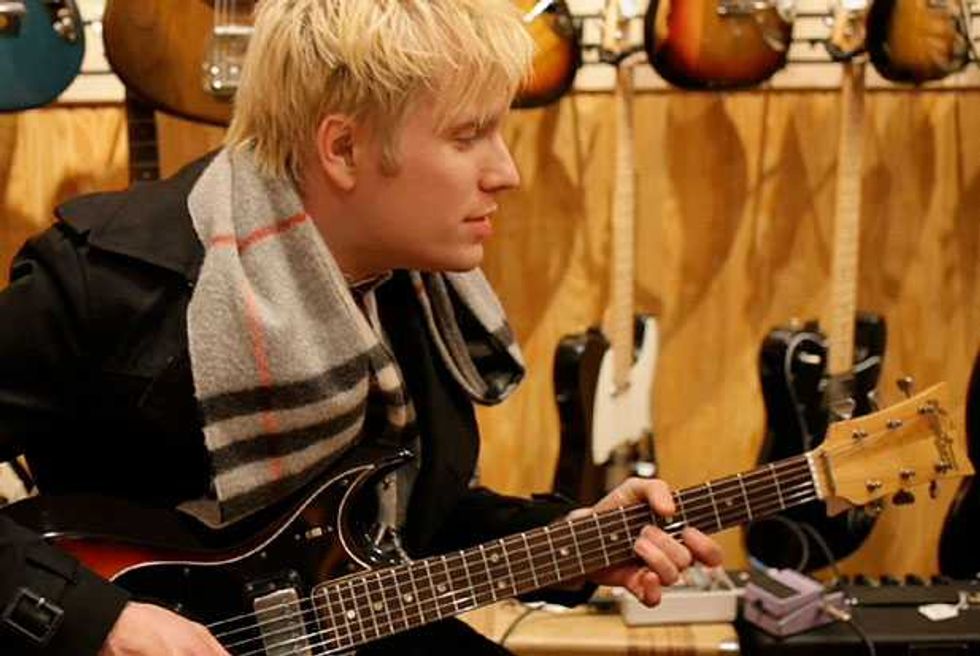 For a multi-platinum rock star with a banana-colored rooster 'do, singer Patrick Stump is disarmingly normal. Faced with a day off in New York City before a sold-out gig, Patrick, stumped (ahem) on how to while away his afternoon, did what any one of us might have done in his (natty vintage) shoes: He surveyed his friends for advice. One small difference, though: Stump, the sometimes lead singer of emo populists Fall Out Boy, has 127,463 "friends" on Twitter, and he was able to mine them for suggestions while simultaneously cruising the streets of NYC in the new Ford Fiesta, equipped with SYNC technology. (And no, he didn't text and drive: he may be a rock star but he's not reckless.) So, what's a typical a day in the life of Patrick Stump? Vintage guitar shopping (seen below, in Episode 1), thumbing through the jazz section at a local record store (Coltrane!), and swallowing his fears and plunging down a gigantic two-story slide in a downtown art museum. Stump's excellent debut solo album, Soul Punk, for which he wrote all the songs and played all the instruments, is similarly fearless; do yourself a favor and pick it up. To Patrick Stump, and all those about to SYNC, we salute you.
Click here to see all the episodes!
This series is brought to you by
To learn more about Ford vehicles and Ford SYNC technology, click here
Special thanks to Rivington Guitars- for more information visit their site here.