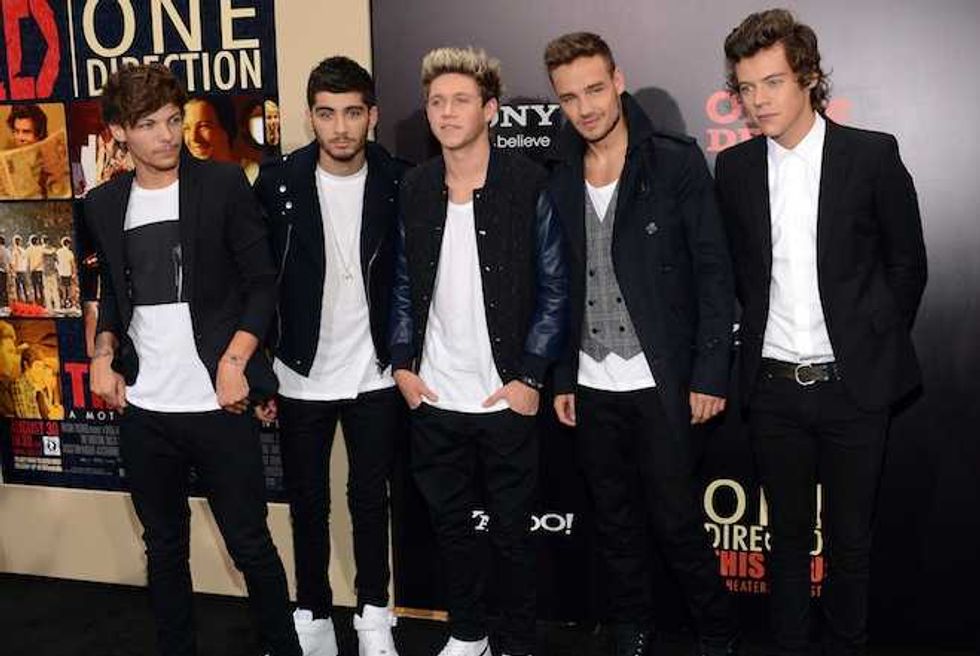 We've haven't even heard the official version of One Direction's "Diana" and somehow it's already in our heads.
After several (unofficial) listens, we're left with this burning question: Is "Diana" about Princess Di? We'll get into that and more as we analyze the lyrics.
Front pages all your pictures

They make you look so small

How could someone not miss you at all
Conspiracy theorists frequently argue that it was the onslaught of paparazzi that lead to the untimely car accident that ended Princess Diana's life. Princess Di spent much of her adult photographed, so, thus far, the lyrics and title strongly tie themselves to her story.
I never would mistreat ya

I'm not a criminal

I speak a different language

But I still hear your call
In many ways, One Direction is perfectly capable of relating to the late princess. They understand the in-your-face nature of the media in a way that might allow them to hear Diana's metaphorical call. The "language" referenced may perhaps be the "royal" language.
Diana

Let me be the one to

Light a fire inside those eyes

You can own me

You don't even know me

But I can feel you crying
We're inching further and further away from any relation to Princess Di (save the name used) here, and closer and closer to the chorus of a typical pop song.
That said, "You can own me" is among One Direction's sexiest lines.
Diana

Let me be the one to

Lift your heart up and save your life

I don't think you even realize

Baby you'll be saving mine
With "save your life," the boys inch back to the Princess Di theory. Could this be a time travel tune in which they change the course of history?
It's only been 4 months but

You've fallen down so far

How could someone mislead you at all
Eh, no. The specificity of "4 months" completely puts our theory to shame. We're going to assume that the song is to any girl in need of a pick-me-up, but subtly and symbolically dedicated to the late Princess.
We all need something

This can't be over now

If I could hold ya

Swear I'd never put you down
The boys' final plea is that everyone realize that, whether or not they know it, someone else is reaching out for them. Perhaps even their favorite member of their favorite UK boy band...
Diana
Front pages all your pictures
They make you look so small
How could Someone not miss you at all
I never would mistreat ya
I'm not a criminal
I speak a different language
But I still hear your call
Diana
Let me be the one to
Light a fire inside your life
You can own me
You don't even know me
But I can feel you crying
Diana
Let me be the one to
Lift your heart up and save your life
I don't think you even realize
Baby you'll be saving mine
It's only been 4 months but
You've fallen down so far
How could someone mislead you at all
I wanna reach out for ya
I wanna break these walls
I speak a different language
But I still hear your call
[ Lyrics from: http://www.lyricsty.com/one-direction-diana-lyrics.html ]
Diana
Let me be the one to
Light a fire inside your life
You can own me
You don't even know me
But I can feel you crying
Diana
Let me be the one to
Lift your heart up and save your life
I don't think you even realize
Baby you'll be saving mine
We all need something
This can't be over now
If I could hold her
Swear I'd never put you down
Diana
Let me be the one to
Light a fire inside your life
You can own me
You don't even know me
But I can feel you crying
Diana
Let me be the one to
Lift your heart up and save your life
I don't think you even realize
Baby you'll be saving mine
Oh, oh, oh
Diana
Oh, oh, oh
Diana
Baby you'll be saving mine
Oh, oh, oh
Diana
Oh, oh, oh
Diana
Baby you'll be saving mine