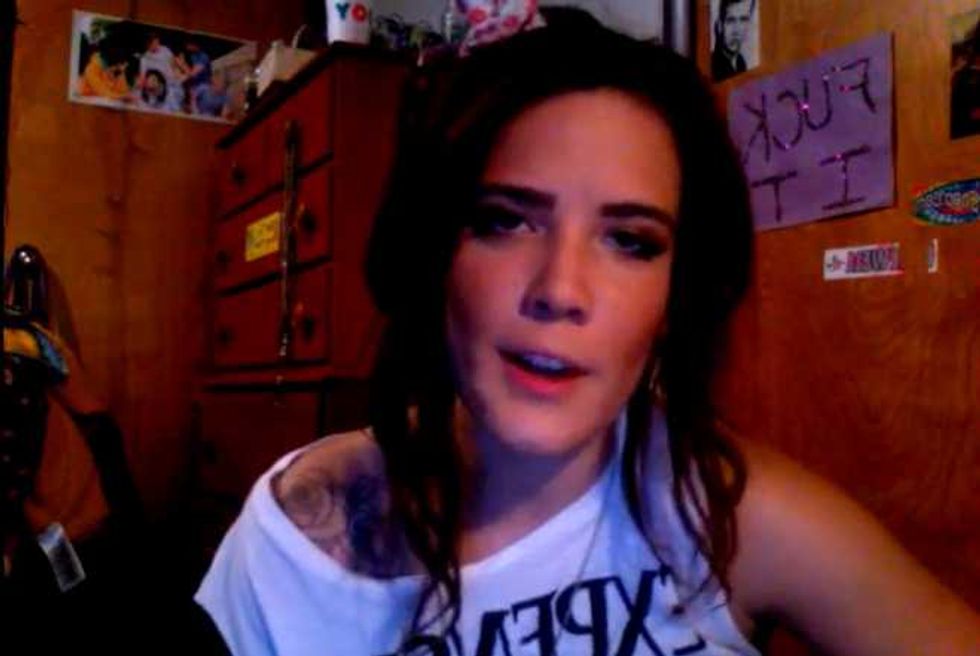 Whether it's solely for publicity or a true example of puppy love, the increasing sightings of Harry Styles heading into Taylor Swift's hotel late at night and sneaking out again come dawn are taking their toll on One Direction fans and lovers. Additional reports of how this week has been one adorable date after the next has lead dedicated One Direction fans to turn to music to properly express their devastation. Hey, it's better than a Twitter rant! Those things never end well anyway.
Following this week's continued string of PDC (Public Displays of Cute) all around Manhattan, heartbroken individuals—or merely concerned fans who want the best for the floppy-haired Brit—took to YouTube to sing their thoughts on Young Hollywood's latest maybe-couple. And because Taylor wrote the book/four successful albums on what it's like to watch the boy you love date an awful, terrible, shallow cheerleader, they each have a good amount of her own songwriting flair.
"The Haylor Song (Trouble Parody)" by ashcollete
Relationship Verdict: "We knew she was trouble when snagged Styles/How could we allow/Taylor to get him with her fake smiles/It seems he's hers now"
Taylor-est Lyric: "We heard they're 'so in love' from whispers on the street/But all she really wants, is a track for her CD"
"#HAYLOR Blues = Harry and Taylor GloZell" by GloZell
Relationship Verdict: "People say that they're just friends/But unless she's a closet lesbian she's made out with Harry Styles/Then she'll put him in her boyfriend pile"
Taylor-est Lyric: "Haylor, Harry and Taylor, I ask my lord, why can't it be me?"
"Haylor 'Hey Harry' Parody" by Hey It's Brook!
Relationship Verdict: "Hey Harry I know TV is deceiving but I think that what they say is true/And as you walked by her side in Times Square looked like you enjoyed it, too"
Taylor-est Lyric: "You realize that she's just waiting for a fit so she can have a brand-new hit? Harry, I wouldn't hurt you (No I wouldn't it)" AND "Your perfect hair, pretty face, she don't appreciate/Like I do, like I would, take me on a date/Hey Harry don't you trust me when I say that she'll eat your heart and walk away"
We're pulling for you, Brook. This strategy worked for a certain Jason Segel fan.