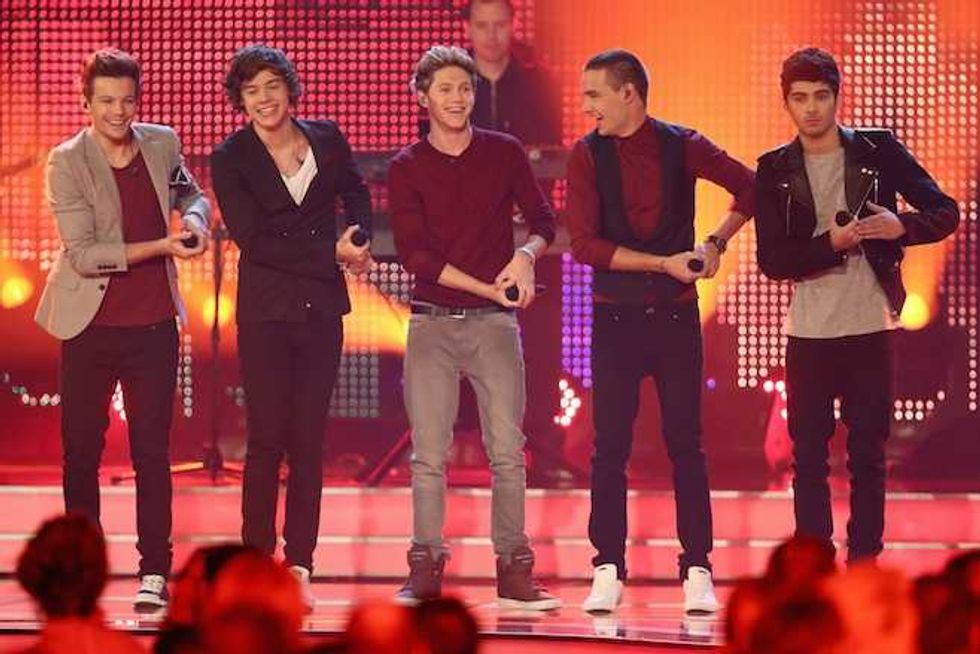 One Direction's next single will be "Kiss You," here in the States, which raises the question of whether or not their next Take Me Home video will feature deep stares as chill-inducing as those steely gazes captured in "Little Things."
The group previewed the upcoming video, in conjunction with new TalkTalk promos, during The X Factor UK on Saturday. While leaving most of the upcoming clip to the imagination, these previews harken back—back, way back—to 'N Sync's 2000 MTV Video Music Awards performance, remembered greatly for its electronic guest stars. In between a sweet live rendition of "This I Promise You" and an assortment of "It's Gonna Be Me" steps so frantic poor Joey Fatone needed a quick breather, the guys performed "Bye Bye Bye" with the help of five huge TV screens serving as their heads. It felt "cool" and innovative by boy band standards at the time—and still is, even if will.i.am has to consistently search for ways to up the technological ante with his own stuff.
Yes, we now have iPads and other magical gadgets to sprinkle about musical performances, but we take TalkTalk and 1D's approach as an homage to the boy bands who've come before them. And better than that Twitter "flirting," right? Watch below.
And because Zayn is so special—with that now you see it, now you don't blonde stripe and all—he gets two TV heads.
We know you're coming around to dancing, boys, but this is also a great way to apply choreography to your live shows.
[Examiner]