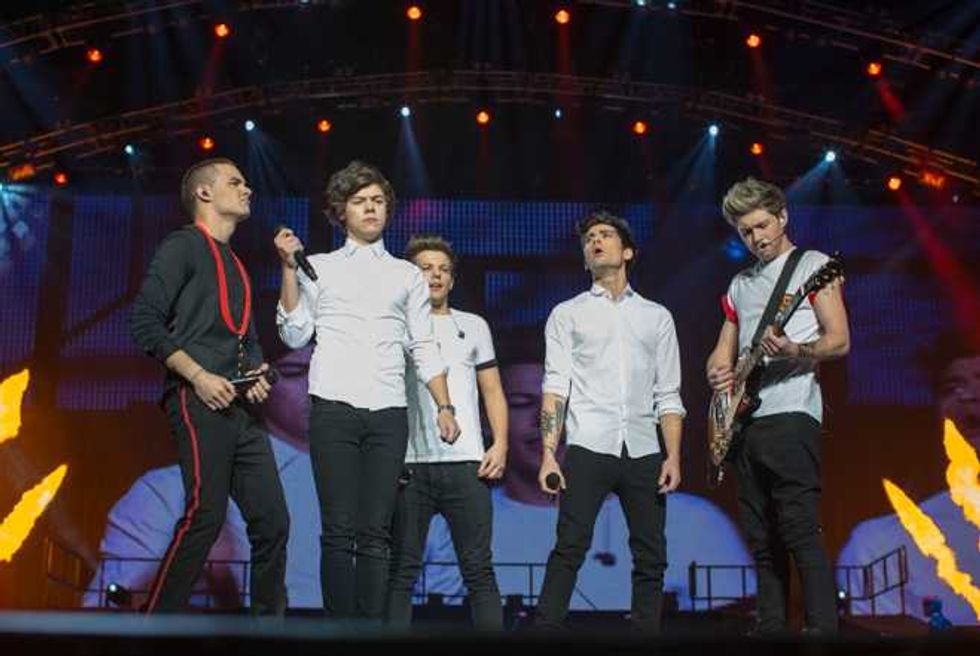 After months of anticipation, a few recent developments threatened to steal the thunder of One Direction's sold-out, headlining gig at Madison Square Garden. As expected, there Wheatus cover but zero mention of Harry's rumored new girlfriend, Taylor Swift, making the inclusion of Ed Sheeran as the night's opening act a lot less awkward.
The night truly belonged to the members of 1D and the people who helped them reach this plateau: performing for 20,000 screaming (and we mean a blood-curdling, shrill and powerful shriek) fans in "The World's Most Famous Arena," thousands of miles from home.
"We have never been so proud to be on stage," Harry said. "You got us here, no one else." It's a valid point, as 1D's meteoric rise from individual X Factor hopefuls to Billboard-topping boy band on the cusp of a world tour and feature-length film has depended largely on their instant connection with fans back home on the telly.
Don't cry cause One Direction are now famous and you think you have a low chance of meeting them, smile cause you got them there. #1DinMSG

— Im a HARRY Girl ✌ (@BeMineHarrehh) December 4, 2012
While they've picked up a few more followers since the days under Simon Cowell's televised watch, there was a feeling of pride among the devoted fan base that has such comprehensive knowledge of their backstory, likely only to be topped during shows in their home country. Family members and girlfriends (we repeat, no Taylor Swift) were also in attendance, making the moment extra special.
Each member appeared visibly shaken by such a positive response, alluding to the nerves they suffered from before they took the stage. "This has always been a dream of mine," Niall explained, echoing opener Ed Sheeran's comments about his father's belief that you haven't really "made it" until you perform at MSG.
"I'm from a small town. Stuff like this doesn't happen to me," added Zayn, who's the least comfortable expressing himself verbally, and more inclined to flower his solos with lengthy vocal runs that showcase him as having the strongest vocals in the group. Another theory: "Zayn is the Justin Timberlake," said the 1D fan to my right.
While they steered clear of too much schtick, save for the Twitter question portion of the show, each guy seemed to allow his own personality and role within the group to shine through. Louis served as the official mouthpiece, making sure to express his gratitude and appreciation throughout the show, while Liam was the musical director, singing lead on nearly half the songs (especially the Up All Night tracks) and keeping the crowd up to speed before stunning with the always-impressive falsetto, that shines even brighter on that "Teenage Dirtbag" cover. Zayn and Harry know how to smolder with the best of them, sending fans into cardiac arrest through either a head-shake or steely gaze.
And then there's Niall, the blonde, Irish one with braces, a "dodgy knee" and a award-winning Twitter feed. All members of 1D received massive cheers and probably caused a few immaculate conceptions, but it was Niall who seemed to have the crowd hanging on his every word. The recent addition of his guitar playing throughout the show reflects the additional control the group has now in their second album cycle, and gives some credence to those "we're not a boy band" statements that will ultimately begin to float around. He also couldn't look happier while doing so. It's in his Twitter bio for goodness sakes! You know it means something to him.
While the 90-minute set of pure pop bliss was heavy on Up All Night tracks, fans of Take Me Home were invite to take part in 1D's version of a guilt-free, YOLO-type anthem on "Live While We're Young" and endeared themselves even more to the crowd with fan-favorite, "Little Things." Ed Sheeran, who wrote the song, as well as "Over Again" and "Moments," off their first album, appeared out of thin air as the boys sat, legs dangling, to finish the second verse with Harry Styles' arm wrapped around his neck. 2012 has been a banner year for British pop acts making considerable traction in the United States and it felt important and special to see two friends, yet two very different artists, come together and revel in such an historic moment.
Boy band purists who came of age with the ridiculously outfitted and incredibly coordinated dancing acts of the '90s might feel like something's missing in 1D's stage act since there is absolutely zero choreography, save for the reliable canoe-dancing and some killer air-drumming. But diehards don't seem to care. In this day of instant connectivity, our heartthrobs and musical idols become much more of a daily presence than they were even in the TRL era. The five minutes spent addressing fans by name, searching for them in the crowd puts their personality on full display and shows of the rapport between group members—a little touch here, an inside joke there—in no way a Wade Robson dance routine could ever reveal.
"Tonight I single-handedly, and I'm sure the boys are going to agree, [had] the best night of my life," Niall said before closing out the show with "What Makes Me Beautiful," a song even parents were asked to sing along to at full volume. And in true boy band fashion, the group was showered in flying bras onstage—Harry picked one up, natch. The more things change, the more they stay the same.
SET LIST
Up All Night
Na Na Na
Stand Up
I Wish
Teenage Dirtbag (Wheatus cover)
Gotta Be You
More Than This
Live While We're Young
Tell Me a Lie
Everything About You
Moments
I Want
Save You Tonight
Little Things (with Ed Sheeran)
One Thing
Kiss You
Encore:
C'mon C'mon
What Makes You Beautiful