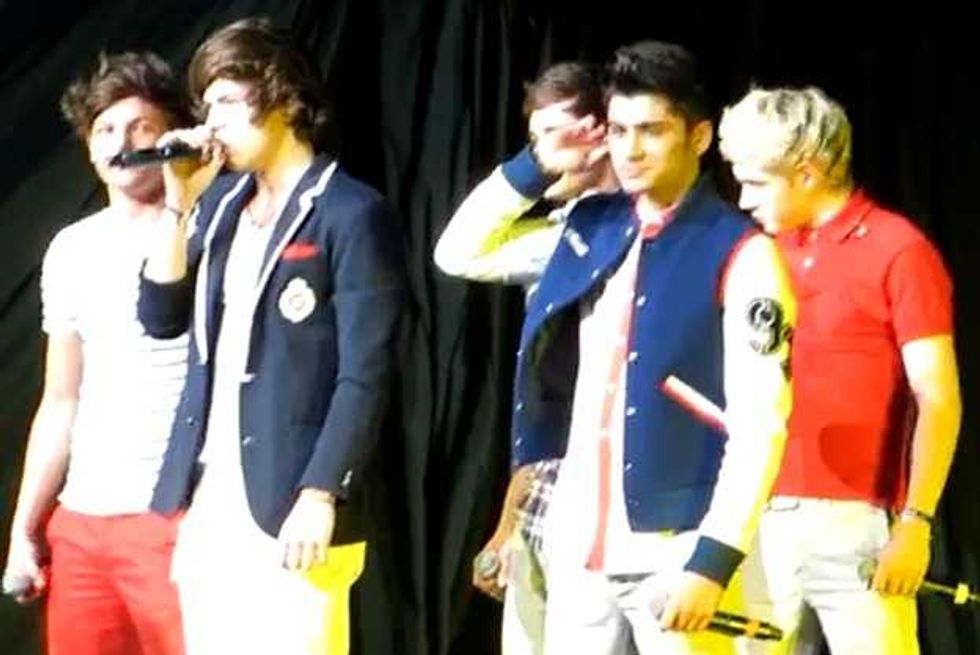 What's with the name One Direction? Well, it means whatever The X Factor thinks it means. Right now, though, it's pertinent; the group has one direction, and that is toward the United States. Last night, they played Radio City Music Hall (a fairly big deal); Monday, they'll release their album Up All Night here and appear on Today. It's all in hopes that the States will start to resemble a Directioner's carefully selected Twitter dashboard: all love, all the time, with a chance of sales and charts love too.
But enough about that. You're probably here for the videos. There's a chance you might be here mainly for this one:
WHAT MAKES YOU BEAUTIFUL
Or possibly this:
UP ALL NIGHT
This is kind of interesting:
USE SOMEBODY (Kings of Leon)
Oh, and this also happened. Turns out that fans race vans wherever they may be. Also turns out that concerts at Radio City Music Hall are major draws.
MACYS.COM'S MODEL FOR APPAREL.(Brief Article)(Statistical Data Included)
WWD October 20, 1999 | Hye, Jeanette NEW YORK -- Macys.com here is banking on advanced "virtual model" technology to boost apparel sales on its web site.
Apparel is the biggest-selling category in Macy's stores, but currently the smallest part of its online business. However, Macys.com has become the exclusive retailer on a new virtual model CD-ROM and plans to bring the technology to its web site in March with the aim of increasing online apparel sales, according to Gene Domecus, vice president of Internet Merchandising, Macys.com.
The virtual model and a selection of apparel from Macys.com is available on Cosmopolitan Fashion Makeover software, from Broderbund. The virtual model was created by Public Technology Multimedia, Montreal.
The software features a virtual model that can be used to "try on" apparel from Macy's private label lines as well as from Jones New York, Liz Claiborne, Esprit, Carole Little, DKNY, Guess and Anne Klein. this web site macys printable coupons
Unlike some virtual models on other web sites, the Macys.com model enables customers to enter their exact measurements and scan a photograph of their face to create a more accurate virtual representation of their body size and type.
Consumers are encouraged to enter dozens of measurements to get the most accurate representation possible. The software even provides the customer with a tape measure that can be printed out and taped together to get precise measurements.
All of the apparel on the CD-ROM is from Macy's. A "size wizard" feature takes into account size specifications for each line and recommends the right size for the consumer. "The image actually changes size so that when it appears on the model, it is representative of what it would look like in your size," said Domecus. site macys printable coupons
Once a customer decides they want to purchase the products, they can click on the "shopping" icon, which launches the user's Internet browser and connects to the Macys.com web site. The user is linked directly to the checkout feature on the site.
When users are connected to the site to make a purchase, Macys.com can also download new styles and product offerings. The styles available on the CD-ROM are available only for a limited time. Macys.com will update the styles every two to three months.
While the technology is currently available only on the software, it will be added to the Macys.com site in March, said Domecus.
The company hopes that making on-line apparel purchases less of a guessing game will bolster its Internet business.
"Internet selling for apparel has been the smallest part of the business for us," said Domecus. "Whereas, it's the biggest part of our stores' sales. We want to see it increase, and we think this is a way we can do it." Domecus said that Lands' End has experienced a four- to five-fold increase in apparel sales since the addition of its virtual model. Macys.com, he said, is aiming for a similar goal.
Hye, Jeanette