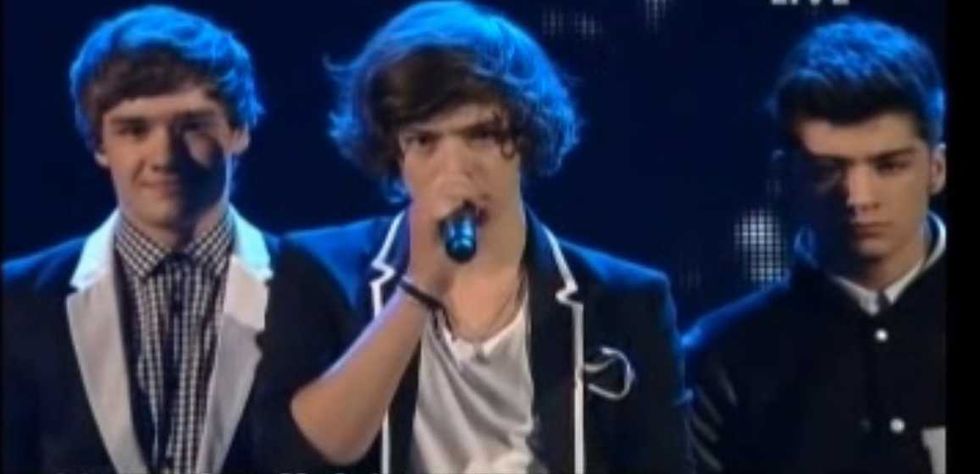 As their popularity continues to grow among shrieking American fans, One Direction visited the eye of the storm on Saturday, also known as the Nickelodeon Kids' Choice Awards. With echoes of "It's Gonna Be Me"-era 'N Sync, the group's performance of "What Makes You Beautiful" also served as validation of their popularity among their peers, thanks to an abundance of shots of dance-happy celebs in attendance. While Harry and Zayn crooned their way into hearts of many, Ashley Tisdale and professional hype women Taylor Swift and Selena Gomez could be seen losing their minds in the crowd, suggesting that Up All Night gets a lot of plays on the Spring Breakers set. Better hurry up with that new album, Bieber! As Nicki Minaj can attest, it's a good thing when these gals like your song.
Also in the audience was First Lady Michelle Obama, who was reportedly so taken with the group—or so thoroughly encouraged by her daughters—she invited them to the annual White House Easter egg hunt next Monday, which the boys were forced to decline due to a prior commitment in Australia. But don't worry! Mo and the girls are still quite smitten with the band—as seen during their performance—which appears to be mutual, as certain media outlets were sure to include a soundbite of Harry describing her as a "very attractive woman." Don't mess around with ladies nearly twice your age if you're not prepared for it to follow you around for at least five years after the fact.
While Justin Bieber took his Favorite Male Singer serving of slime like a champ, Big Time Rush took home the award for Favorite Music Group, which will be debated as either extremely deserving or an example of preferential treatment by their home network. Among the other music notables: Selena Gomez can head into her musical hiatus with an orange blimp for Favorite Female Singer, LMFAO's "Party Rock Anthem" lives another day as someone's Favorite Song and Katy Perry put another live, blue-haired performance of "Part of Me" in the books. Watch the latter below.