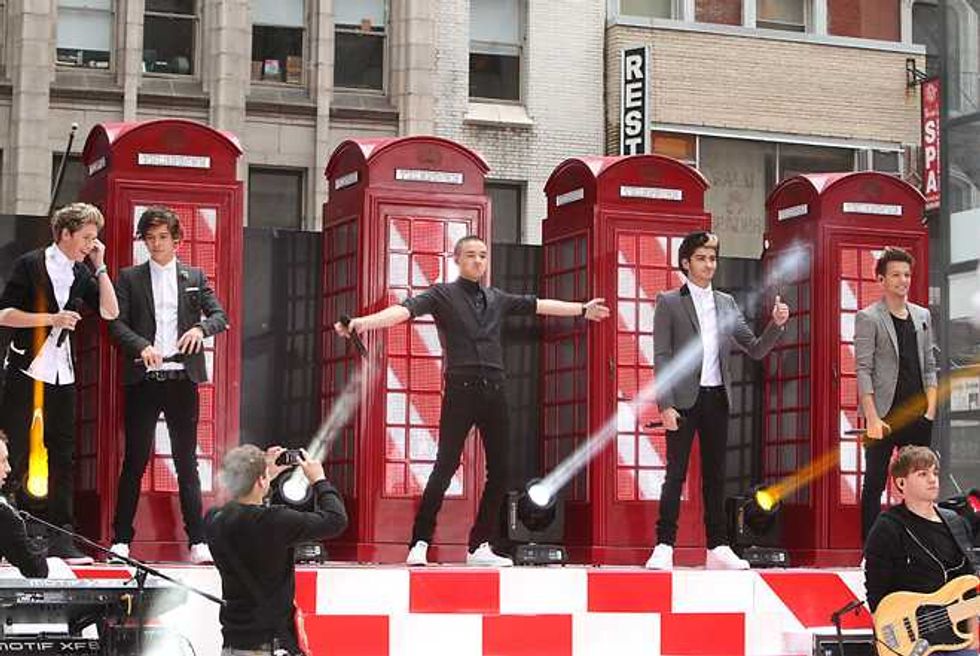 In March of 2000, 'N Sync—then the biggest boy band on the planet—released their second studio album, No Strings Attached. It sold an absolutely staggering 2.4 million copies in its first week of sales, a record that has never even been approached to this day. (Taylor Swift's Red recently scored the best debut week in a decade, and she only sold about half that.) This week, the biggest group of the next era of boy bands released their second album, Take Me Home, and they're going to sell...considerably less than that.
Not One Direction should really be sweating the sales disparity. Home is expected (by HITS Daily Double) to sell somewhere between 525-575k in its first week, which for its era is still really quite excellent—any number over 500k will be enough to get 1D the third-biggest first-week sales of 2012, behind only Taylor and the commercial juggernaut that is Mumford and Sons. Considering that debut album Up All Night—only released about half a year ago, lest we forget—sold about 200k in its debut week, this sales figure certainly marks progress for the Direction lads, if not quite the kind of historical cultural dominance that N' Sync could boast of at their commercial high.
And though he won't do anywhere near One Direction numbers, shout out to The Weeknd as well, who is expected to sell somewhere around 100k of his Trilogy set, a re-issue of the three mixtapes he released last year with a bonus track each thrown in. Not bad for a dude who hadn't had a single's worth of commercially released music up until that point (and who samples Beach House and sings a lot about drugs and such).