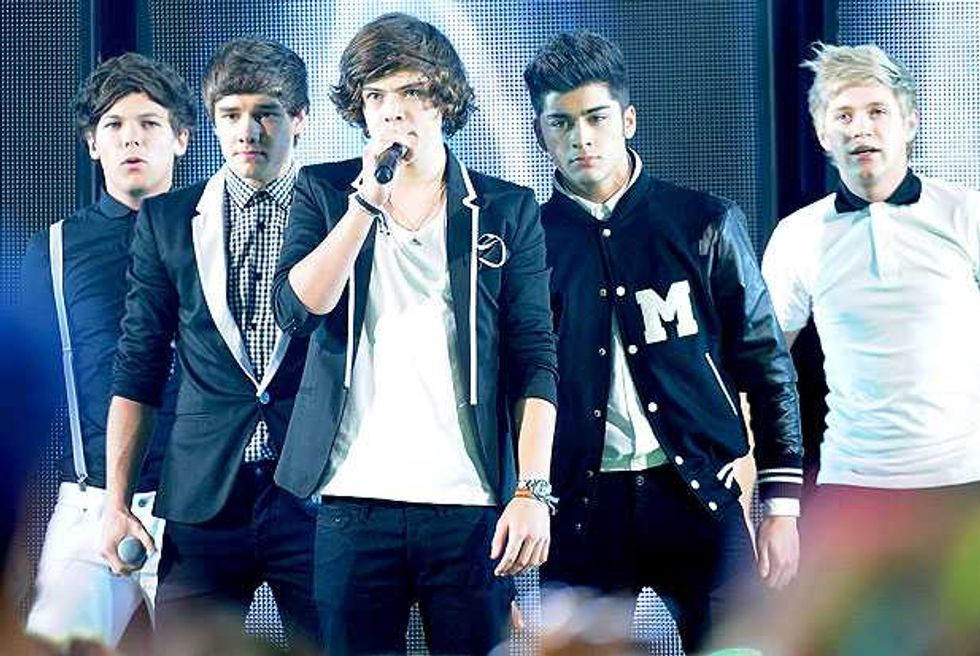 The stage just keeps getting bigger for One Direction. Following their performance at the Kids' Choice Awards, and with upcoming appearances on iCarly and Saturday Night Live scheduled for this weekend, the U.K. band is continuing to raise the bar when it comes to live performances. With their American debut, Up All Night, less than a month old here in the States, 1D has already been tapped to play New York's legendary Madison Square Garden on December 3. Start planning necessary safety precautions now, NYPD. And even though it's eight months away, the boys can hardly contain their excitement:
Cant believe we will be performing at MSG later this year! Tickets on sale at 5pm EST on 6th April http://t.co/XjIwAXNW pic.twitter.com/8QzDmylZ

— Harry Styles. (@Harry_Styles) April 3, 2012
Thanks to ALL the fans who always support us. Thanks to our UK & Irish fans and fans all over the world. We owe all our success to you!!!!

— Harry Styles (@Harry_Styles) April 3, 2012
Aww. They really do love us more than this. One Direction's North American tour kicks off May 24 in Fairfax, Virginia, with two stops in the New York area on May 25 and 26. With tickets selling out almost instantly, the band wanted to give back to those unable to snag those very valuable seats—and prove to any doubters that their age should not detract from their worthiness of playing 30,000-seat arenas. Along with being the birthplace of Linsanity (R.I.P.) the Garden is well known for being a classic tour stop by everyone from Bruce Springsteen to Jay-Z. Playing there is no small feat—heck, it was the premise of an entire Justin Bieber film. Hey, now that's an idea! Make sure to make our share of the royalties from the inevitable 1D 3D concert movie out to Popdust Inc. Tickets for the December show go on sale Friday April 6 on 5 p.m. EST. So get that holiday shopping out of the way now, moms and dads.