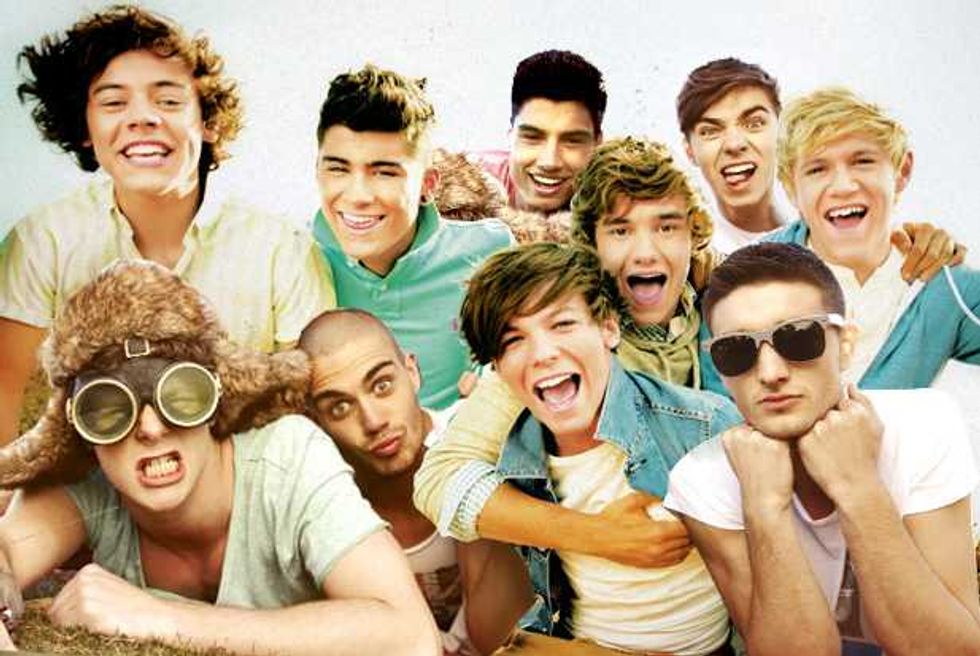 The United States is about to be gripped by déjà vu. Readers under age 18 know what's going on now; readers over age 18 know what went on before. We speak of this: One Direction vs. The Wanted, a boy band brawl the likes of which we haven't seen since 'N Sync vs. Backstreet Boys. Two groups of British guys are invading the charts with unabashedly poppy hits, but only one can star in America's fever dreams. One Direction got their start the same way bunches of British charters did: coming in third on the seventh season of the British X Factor and riding the Simon Cowell wave of popdom ever since. Television has been less generous to the boys of The Wanted, who individually tried their hand musical stardom (remember Avenue?) before coming together to find the perfect arrangement.
Who will be this decade's equivalent of last decade's TRL champs? Whose songs should you be slow dancing to? Who's larger than life? Who should go bye bye bye? This demands a scientific investigation, and fortunately for you, Popdust is here to meet that demand. Two of our own have bravely volunteered to stan for one band: Emily Exton for The Wanted, Katherine St Asaph for 1D. We'll judge them as objectively as our newly found fandoms will allow by all the musical, personal and fan criteria we can think of, before naming one the most TRL-worthy for the 2010s. Of course, we encourage you let us know what you think as well. If you already know enough to declare allegiance in this battle of British boy bands, vote in our poll!
For our side-by-side comparison of the guys' videos, style, significant others and more, click NEXT.
1. SONGS
Emily (The Wanted): Compared to previously established boy band standards, The Wanted's lyrics are naughtier and more adult (handing her ANOTHER drink, are we, boys?), which creates more of an active listening experience. Current single "Glad You Came" is all about getting people to the dance floor (and elsewhere) rather than just providing a sweet soundtrack about loving someone forever to the elaborate fairytale dreams of prepubescent girls.
Katherine (1D): Aw, but won't somebody think of the elaborate fairytale dreams of prepubescent girls? They need sweet soundtracks too. Every One Direction single is blatantly ripped off from something else, yes, but every One Direction single is ripped off from something undeniable. "What Makes You Beautiful"? Summer lovin', having a blast. You've got that "One Thing"? They want it—sudden, glorious pause!—that way. "Gotta Be You"? Anything that's played over the petal-strewn reconciliation scene of any romcoms. And yes, One Direction's music is more adorably innocent than even Radio Disney allows these days, but--this is crucial--it's not irrelevant. Any given One Direction song could be tweaked into a P!nk track with a little lyrical spiking, or maybe Weezer (or just Hot Chelle Rae), Katy Perry circa "Teenage Dream" or Kelly Clarkson circa "Since U Been Gone." When they grow up, they won't need any awkward "hey, look at me boozing and womanizing it up" shock singles. They can just age into a solid grown-up rock band, like Hanson did and the Jonases might still. And they might even be better at it.
MORE AWESOME: One Direction
2. VIDEOS
Katherine (1D): Every One Direction video is engineered to be as wholesomely adorable as possible. This is, let's say, a winning strategy.
Emily (The Wanted): Between Ibiza, the California desert and even Brooklyn, most of The Wanted's budget is clearly going to airfare. Screw adorable, I want to go on a holiday.
MORE AWESOME: The Wanted
3. HAIR
Katherine (1D): Five variations of Beatles moptop via Bieber flip via frat shag. None of these hairstyles have ever failed.
Emily (The Wanted): I'll see your Beatles-Bieb-frat shag and raise you a Robbie Williams-esque buzz cut, five o'clock shadow and fluctuating soul patch included. Along with these timeless male performer coiffures, Jay bravely sports the wild curls of a 10-year-old girl. More to love! Truly there's something for everyone here.
MORE AWESOME: The Wanted
4. STYLE
Katherine (1D): Tuxes and tees, hoodies and sweaters and peacoats: classic styles all. (A friend and menswear obsessive assures me that "they dress really, really well.") Believe me, I tried to find embarrassing outfits, but Google Images only has one iffy jumpsuit situation. For a pop group, that's downright astonishing.
Emily (The Wanted): England is gloomy, so jackets are a necessity. 1D might dress well enough for a teen group, but The Wanted takes the national peacoat uniform to a more sophisticated level, adding their own flair. Vests! Scarves! Zippers! Although, they also know how to pull off a classic pair of boxers—my Google Images search was much more fruitful—which could help with impending endorsement deals.
MORE AWESOME: The Wanted
To see who has the more devoted fan base and which boys you can bring home to mom, click NEXT.
5. HOBBIES
Katherine (1D): Guitar-playing, karaoke, football—regular-guy hobbies, all. Think about it. One or more of you, your guy, or your guy friend probably shares hobbies with one of the 1D guys. How more relatable can megacelebrities with hordes of fans even get?
Emily (The Wanted): Football is a big thing across the pond, sure, but how many performers also have had semi-professional careers in the sport? Before his boy band career launched, Max was recruited by Preston North End. A nice backup plan.
MORE AWESOME: The Wanted
6. FAN FERVOR
Katherine (1D): The unlimited-voting, act-against-act arenas that are talent competitions attract devoted fans by design. Directioners are not exceptions. They stampede. They perform scary feats of bum-grabbing. And almost two million Twitter followers means two million different kinds of fan freakoutery by Directioners whenever they post something.
Emily (The Wanted): This is probably the closest category we have. The Wanted also know how to sing straight to the tear ducts of their TW Fanmily, both in large arenas and more intimate, mobile settings. The boys have been at the center of stampedes, riots and a publicized window-licking, the last of which we don't fully comprehend, either.
MORE AWESOME: One Direction
7. THE PARENT TEST
Katherine (1D): Parents have asked the question "what is this noise my kids are listening to?" ever since those kids were in animal pelts and that noise was scratching mammoth bones across tree trunks. But there's enough heft to One Direction's sound, enough nods to classic pop-rock, that it's not implausible that they'll listen a bit then continue: "...I kind of like it." Or if you need actual, if anecdotal, proof, here are some actual parents gushing over One Direction. OK, it's their own parents. They still count as parents.
Emily (The Wanted): Those racier themes we described might not be the most parent-friendly of subject matters, but any cool mom or dad will always rather have it played in the house than elsewhere. "All Time Low" has been given the Baby Lullaby 101 treatment by Parent Choice Players, broadening the spectrum of acceptable lullabies.
MORE AWESOME: The Wanted
8. FAMOUS FRIENDS
Emily (The Wanted): Aside from various British stars, they've hob-nobbed with Britney Spears, opening for her during the UK leg of her Femme Fatale tour, and recently signed with managerial savant Scooter Braun a.k.a. the man behind Justin Bieber. Not bad...
Katherine (1D): ...but their X Factor mentor was Simon Cowell. Do we need any more names? That outweighs any other name, correct? Correct.
MORE AWESOME: One Direction
9. SIGNIFICANT OTHERS
Emily (The Wanted): Sadly Max is engaged to British actress Michelle Keegan, which should break a few hearts around the world, and endanger his fiance and her family if Wanted stans are anything like Beliebers. As for the rest of the boys: Siva and Tom are spoken for, giving single ladies even more reason to focus their attentions on Jay and Nathan.
Katherine (1D): One Direction's a group about whom the following sentencea can be written, with absolutely no irony: "Harry Styles' One Direction bandmates are slowly but surely abandoning their pact to stay single, leaving the curly-haired teen heart-throb on a bit of a downer." Yes: they had a pact, then they didn't have a pact, and there were four less lonely boys. (Harry eventually got one too.) Among the lot at one point was fellow X Factor contestant and realness-sufferer Rebecca Ferguson. This caused... let's call it rending of fan merch.
MORE AWESOME: The Wanted
To gauge the boys' Hollywood potential and review current tabloid fodder, click NEXT.
10. SALES
Katherine (1D): 1D's debut album Up All Night has sold about 800,000 copies worldwide and was one of the U.K.'s biggest-selling albums—not bad for a group that essentially didn't exist until The X Factor shoved them into existence, and bound to increase now that "What Makes You Beautiful" is a BRIT Award winner. (It won the BRIT Awards' sop to pop that the public—read: fans—votes on, but nevertheless, it won against, oh, Adele.) Even more impressive: it hasn't gotten a North American release yet, although that's coming.
Emily (The Wanted): But The Wanted have a North American release, and tons of momentum right now. With 188,000 downloads of current single "Glad You Came" in the past week, they've cracked Billboard's Top 5 for the first time, becoming the highest charting U.K. boy band in history and the first overall boy band in the Top 5 since the Backstreet Boys' "Incomplete."
MORE AWESOME: One Direction
11. TV & MOVIE APPEARANCES
Emily: Glee has proven itself to be a powerful taste-maker and sales booster over its three year run (just ask fun.) and February's performance of "Glad You Came"—as interpreted by a fictional all-boys Ohio show choir—set the band up nicely for a deserved chart bump. Gleeks abound in the U.K. as well, so in addition to being a fun thing to tell their friends, landing on Ryan Murphy's radar could set them up nicely for future side projects.
Katherine: But 1D has a fairly substantial head start in the TV-appearance race, considering they exist because of repeated TV appearances. Since X Factor, they've rounded all the television circuits: British TV; Canadian TV; U.S. TV, kids' division (i.e. iCarly), U.S. TV, family division (i.e. Today); and finally, their very own TV show. The way you get to be telegenic is to have been telegenic from day one.
MORE AWESOME: One Direction
12. TABLOID POTENTIAL
Katherine (1D): They're more apt to appear in the tabloids for love than drugs, breakups than booze, sweetness than scandal. This does not make them any less apt to appear in the tabloids. Tracking their hookups and breakups, as told by the U.K.'s ever-too-watchful rags, is practically a full-time job. Hey, is that Harry with Ronnie Wood's ex-wife?
Emily (The Wanted): This is more or less where the boys (read: one) really thrive. When Ellen DeGeneres announces you to the U.S. as the "bad boys of England," the least of your worries are a few unflattering photographs after one too many pints. Max already serves as the group's biggest paparazzi bait, with a celebrity girlfriend (see below) and history of taking his clothes off. A nice distraction when the other guys want to have a boozy night every now and then.
MORE AWESOME: The Wanted
POPDUST'S PICK FOR MOST AWESOME: THE WANTED
With a knack for partying, vast pin-up appeal and ridiculously catchy dance tracks, to us, listening to The Wanted most closely resembles the days spent hanging out with Carson Daly after school and scanning teen mags for updates on Justin Timberlake's relationship status. Between the tabloid similarities and lyrics that push boundaries for its teenage listeners, the band's slight edge seems to give them exactly that in today's newest boy band debate. But all is not lost, Directioners! We want to hear from you. One Direction vs. The Wanted: Who makes you sing along? Who makes you scream? Who is more awesome? Vote!
CHILD LABOR LAWS NEED ENFORCING.(Main)
Albany Times Union (Albany, NY) January 19, 1991 In a recent letter to The Times Union, a local employer called for ending the restrictions imposed by child labor laws ("An employer calls for a new look at child labor laws," Jan. 4). He argued that teens should be allowed to work on such equipment as automatic dishwashers and for whatever hours their parents decide. He also recommends linking work to school performance. His letter deserves a response. this web site child labor laws
A Government Accounting Office (GAO) study reported that 48 minors were killed and 128,000 injured in work-related accidents during 1987 and 1988. In a five-part series on child labor in the Boston Globe entitled "The Tragedy of Child Labor," reporter Bruce D. Butterfield wrote of working teens; "Often they are scalded and burned, sliced up by food machines, exposed to pesticides in the field and choking fumes in the factory. They fall and fracture their backs, and break their arms and hands frequently delivering and picking up things for us. Sometimes, they are left badly maimed or disfigured for life. Sometimes, they are killed." Working America's Children to Death, a report by the American Youth Work Center and the National Consumers League, cited scores of injuries and death to children at work including a 17-year old Portsmouth, N.H. boy who lost three fingers, had 788 stitches and fused knuckles after he put his left hand into the rotating blade of a cheese grater at a pizza shop.
The writer argues that cutting back on working hours for teens will have no impact on grades. Research tells a far different story. Laurence Steinberg of the University of Wisconsin and Ellen Greenberger of the University of California in their book "When Teenagers Work: The Psychological and Social Costs of Adolescent Employment" concluded that youngsters who have taken jobs do less homework, miss school more often and have lower grades. They found, for example, if sophomores work more than 14 hours a week, their grades fall by half to three quarters of a point. They also reported that working teenagers spent less time with their families and used more cigarettes, marijuana and alcohol. Linda McNeil in her book, "Lowering Expectations: The Impact of Student Employment on Classroom Knowledge," found similar results as did a recent study by the National Assessment of Educational Progress (NAEP) in a report entitled "Earning and Learning: The Academic Achievement of High School Juniors With Jobs." Donna Lynch, a Shenendehowa social studies teacher, reported similar findings to both Congress and the state Legislature based on a study at her school. this web site child labor laws
While one would hope that parents and children discuss the decision for a teen to work and the impact it will have on academic and home life, experience tells us that it rarely happens and young people often pressure their parents into letting them work to earn spending money. Jerold Bachman of the University of Michigan found that only 15 percent contributed to supporting their households. Three out of four spent some or most of their earnings on movies, stereos, clothes, eating out and similar activities.
A number of recent reports, including "The Vital Link: Motivating Student Achievement" released by the American Business Conference (ABC) and drawn from the research of Cornell Professor John H. Bishop, calls for improving the connection between school and the workplace. While these studies focus on work immediately following graduation, the same principles are also true for teens working while still in school. If employers, including small businessmen, would tie the opportunity to work with good performance in schools, everyone would come out a winner.
New York State Commissioner of Labor Thomas E. Hartnett's recent report, "Children in the Workforce: Setting Our Priorities" concludes that "going to school is a child's most important job." Child labor laws must be strengthened, not weakened, and enforcement needs to be vastly improved. Some work can be of both personal and academic value and it's up to all of us - parents, educators, employers and students alike to insure that work is a positive and constructive experience for teenagers. Gutting child labor laws is not the way to do it.
PAUL F. COLE The writer is secretary-treasurer of New York State AFL-CIO