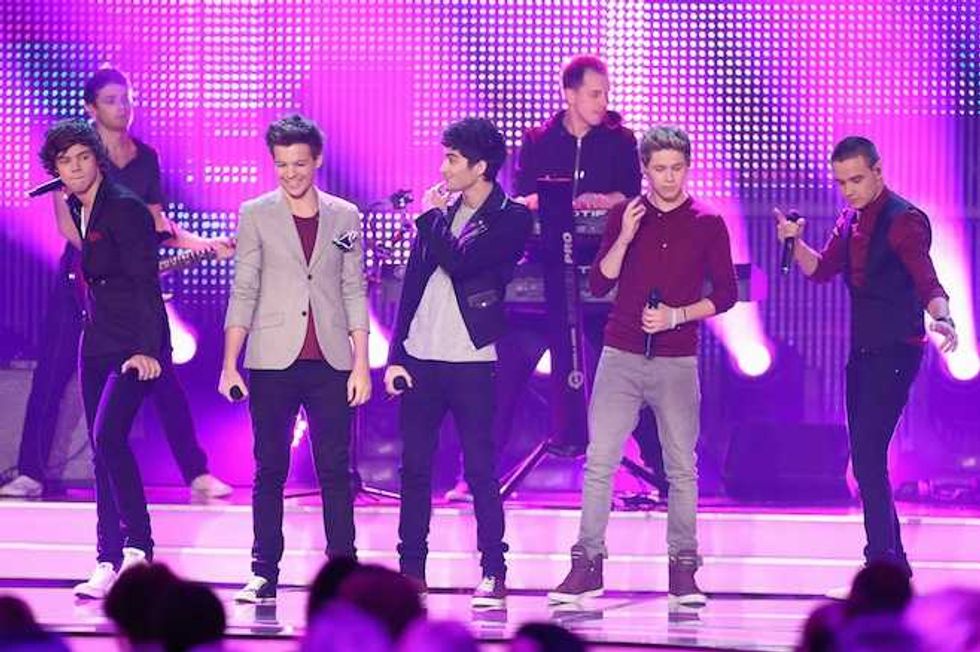 Happy December, Directioners. A new month is underway, and with it comes the preview of One Direction's 2013 world tour, the subject of both your daydreams and a future feature-length film directed by Academy Award nominee, Morgan Spurlock.
Before Monday night's show at Madison Square Garden, 1D hit the road on Friday for two "warm-up" gigs in nearby Uncasville, Connecticut at Mohegan Sun. Yes, the wonder of it all... In addition to creating a setlist that will please Take Me Home obsessives and Up All Night stalwarts, the boys gave love to one of Popdust's Greatest One-Hit Wonders of the '00s, "Teenage Dirtbag," by Wheatus. Pay no attention to the fact the guys were all of eight years old when the song became a hit; Brendan B. Brown is a legend in the U.K. and still actively touring around the world. And judging by the loose and playful approach each member takes with the song, as well as the casual (skinny) jeans and t-shirt dress code—save for Liam's Run DMC garage sale find—"Dirtbag" is obviously the jam of choice on Directioner bus. Just look at Niall the rock star! We feel like a proud mother on graduation day.
Really really enjoyed last nights show! Amazing crowd, love playin guitar too!

— Niall Horan (@NiallOfficial) December 1, 2012
Between the pyrotechnics and Liam's pants (we reserve the right to judge only after we've seen them with our own eyes come Monday night) we hope this cover becomes a regular within the 1D repertoire. What a difference six months makes...
Watch below.