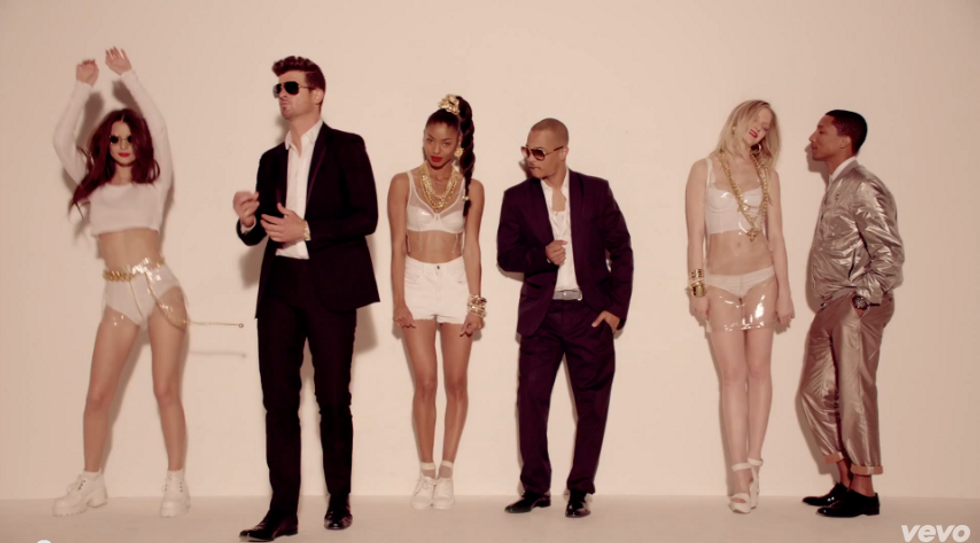 This time last year, Carly Rae Jepsen was already well on her way to ruling the radio with her unavoidable smash "Call Me Maybe," spent most of the season at #1 on the Hot 100 and without a doubt won the summer. If there's a song destined for a similarly unanimous ruling this year, it hasn't made itself totally known just yet—Macklmore and Ryan Lewis' two monster hip-hop jams both peaked a little early, as did Justin Timberlake's first two 20/20 Experience singles, and no other song appears to really be laying siege to the charts to take over from them. The race for Official Summer Jam status seems as open as ever.
However, there's no shortage of candidates for the open position. As we speak, songs are gaining momentum, starting to cross over, or even just premiering for the first time, all of which may one day soon lay claim to warm-weather pop music's iron throne. Here's our take on the jams most likely to end up the conquering hero.
Big Hits That Are Still Building
ICONA POP, "I LOVE IT"
It's a little weird to still be talking about "I Love It" being a potential song of the summer, when it was already a big part of our lives last summer, probably defining the season for many whose primary music exposure doesn't come from radio or TV. But the song's mainstream crossover has been a gradual proposition, snowballing from its use in an episode of Girls last January, and only finally hitting the top ten a few weeks ago. If the song's reach still has one more gear to shift up to, it's not hard to see a song this populist and unignorable being the biggest pop hit of the summer.
DAFT PUNK FEAT. PHARRELL, "GET LUCKY"
Already the biggest-selling hit of Daft Punk's career, and Pharrell's first real smash in ages, "Get Lucky" has done an impressive job of hanging around after its record-breaking debut week, lingering on the pop and dance charts. The song's feel-good disco groove and pro-hookup lyrical hook make it a summer jam no-brainer, and though Daft Punk's robo-filters have always kept them one level short of mass mainstream acceptance in the U.S., "Lucky" might finally (after nearly two decades) be the song that conquers American radio for the duo.
ROBIN THICKE FEAT. T.I. & PHARRELL, "BLURRED LINES"
Of course, "Get Lucky" might not even the best chance that Pharrell-has here. Robin Thicke's Pharrell-produced "Blurred Lines" is already well on its way to takeover status, slowly bubbling on radio and on iTunes (and gaining exposure through a RadioShack commercial that basically doubles as a second music video), and with its performance on The Voice last night, the song's impossibly funky groove appears to have gotten the final push it needs towards megahit status, propelling it to #2 on iTunes. The sound of Pharrell's voice (as well as the trademark clang-and-shuffle of the Neptunes' beats) was the unmistakable sound of the summer a decade ago; in 2013, it appears we may have finally come circle.
ARIANA GRANDE FEAT. MAC MILLER, "THE WAY"
Few artists of the last 20 years have a summer jam resume as strong as Mariah Carey, so it would hardly be surprising to hear "The Way"--which calls back to those mid-'90s Mariah classics with disconcerting accuracy, with an assist from Big Pun's "Still Not a Player"--win this summer for Nickleodeon starlet Ariana Grande. (Of course, MC herself might have a little something to say about that, but we'll get to her in a minute.)
SELENA GOMEZ, "COME & GET IT"
Speaking of TV celebrities turned pop stars. Surprising for a singer as famous as she is, "Come & Get It" is Selena Gomez's first top ten hit, up to #6 and still climbing, its Stargate-provided Eastern-tinged groove finding a happy home at pop radio, likely to shed the "TV-turned-music" qualifier from Selena's pop star credentials for all-time. We already named it our Song of the Month for May, so world domination seems the logical next step.
Bubbling Up
MARIAH CAREY FEAT. MIGUEL, "BEAUTIFUL"
Yes, Mariah herself has a song with which to recapture her summer-owning status, with her rapturously received Miguel collaboration "Beautiful." The love song is a little down-tempo by traditional Summer Jam standards, but considering Mariah once dominated the season with an outright torch-song ballad, we're certainly not gonna disqualify her for that. We've already made our case for the song, so now it's up to you guys to make it happen.
JASON DERULO, "THE OTHER SIDE"
You just knew Derulo was eventually gonna get the formula right with one of these EDM-type rave-ups, and it appears he might have finally hit paydirt with "The Other Side," which is starting to cross over. The song's not incredible, but it has all the right elements, and in the absence of a big Swedish House Mafia, David Guetta or Calvin Harris song (though the latter may weigh in with his "I Need Your Love") to dominate dance-pop radio, the space may be Jason's for the taking. On the EDM front, though, keep an eye out for Zedd's long-building "Clarity," though, which still might be a ways from reaching its commercial peak.
A$AP ROCKY FEAT. SKRILLEX & BIRDY NAM NAM, "WILD FOR THE NIGHT"
It's hard to know what to do with a song like "Wild for the Night," since there's no real commercial precedent for a hip-hop / dubstep hybrid like this, but oftentimes in pop music, great party music will out, and that's what we have here. "Wild" is slowly creeping up the Hot 100, and if the song gets one well-timed placement in a commercial or a TV show or something to get it over the hump, it's not hard to envision clubs full of people yelling "I'M GOIN' WILD FOR THE NIGHT / FUCK BEING POLITE!" across the country this summer.
DJ KHALED FEAT. DRAKE, LIL WAYNE & RICK ROSS, "NO NEW FRIENDS"
The Khaled/Drake/Wayne/Ross dream team ruled the summer two years ago with their unkillable hit "I'm On One," topping the R&B charts for 11 weeks (and the rap charts for 13). "No New Friends" isn't quite as awesome, but it does have an equally worthy Drake singalong hook, and the starpower is hard to deny. You could also look at this entry as a kind of placeholder for Drizzy, who should be releasing a trickle of new songs throughout the season leading up to the release of his upcoming third album Nothing Was the Same, any one of whom could easily turn out to be a Summer Jam contender.
FERGIE FEAT. GOONROCK & Q-TIP, "A LITTLE PARTY NEVER KILLED NOBODY"
The Great Gatsby soundtrack is already something of a hit, and has two songs that are selling well, Lana Del Rey's ballad "Young and Beautiful," and Fergie's flapper-stylized "Party" jam. The song's saloon piano and roaring '20s sax would be a little out of place on 2013 radio, but the Goonrock-produced build-up-and-drop is much more modern-day-friendly, and lest we forget, there was a time not all that long ago when just about anything Fergie touched went supernova. The song might be just an eye-catching video away from becoming a smash.
Click next to find out the dark horses for Song of the Summer!
The Dark Horses
CAPITAL CITIES, "SAFE & SOUND"
Capital Cities' trumpet-and-synth led alt-pop gem "Safe & Sound" has been steadily taking over rock radio for much of 2013, and made its first appearance on the Hot 100 last week at #99. It's still an unlikely crossover smash--the West Coast indie-rock duo certainly don't look the traditional pop star part, and the song is pretty old (February '11 was its initial release) to only now be getting popular--but at a certain point in pop, catchiness trumps all, and "Safe & Sound" certainly has that in spades.
DROP CITY YACHT CLUB FEAT. JEREMIH, "CRICKETS"
The little-known Bay Area hip-hop trio's debut single might not catch on quite in time for summer, but it's hard to imagine that radio can ignore a song as sweet and smile-inducing as "Crickets" forever. At least they have Jeremih on their side, who's had some summer success in the past with hits like "Birthday Sex" and "Down On Me," and who provides the chorus here with the title-explaining "Told her we should kick it / But all I heard was crickets." Gotta love those actual cricket sounds in the background, too.
CHANCE THE RAPPER, "CHAIN SMOKER"
Getting an incredible amount of well-deserved internet buzz for his fun, creative and impossibly charismatic debut mixtape Acid Rap, it seems like just a matter of time before Chance the Rapper makes his presence felt on the airwaves and MTV as well. The triumphant-sounding, self-introducing "Chain Smoker" seems like the album's best shot at a spin-off hit--to compare it to another Chicago hip-hop breakout single, it has the same kind of feel as Kanye West's "Through the Wire" did a decade ago, and might be a lot of people's intro to a rap career that could end up being nearly as promising.
BETTY WHO, "YOU'RE IN LOVE"
The indie pop world is full of starlets right now that seem like they're just an opportunity away from breaking into the mainstream--Jessie Ware, Charli XCX, Lauren Mayberry of Chvrches, many others--but perhaps it's Betty Who who has the best song with which to do it, the impossibly catchy, spirit-lifting "You're in Love," which is almost "Call Me Maybe"-worthy in its crush-outlining giddiness. (In this case, though, it's Betty trying to get a guy to acknowledge his crush on her, so don't get mad at your turf getting stepped on, Carly Rae.) Can we get a twitter shoutout for this one too, Biebs?
DAFT PUNK FEAT. PHARRELL, "LOSE YOURSELF TO DANCE"
As if the two hits he's on this summer already weren't enough, Pharrell may very well have a third on the way, with his second Random Access Memories Daft Punk collaboration, "Lose Yourself to Dance." The song's disco groove is easily the equal to "Get Lucky," and Pharrell's falsetto is even more on point than on the first single, so if that one doesn't wear the public down, this one will officially deplete the last of their defenses.
Which of these songs do you think will reign victorious as the Summer Jam of 2013? Or did we completely miss out on the most obvious choice? Let us know in the comments, or hit us @Popdust on Twitter.