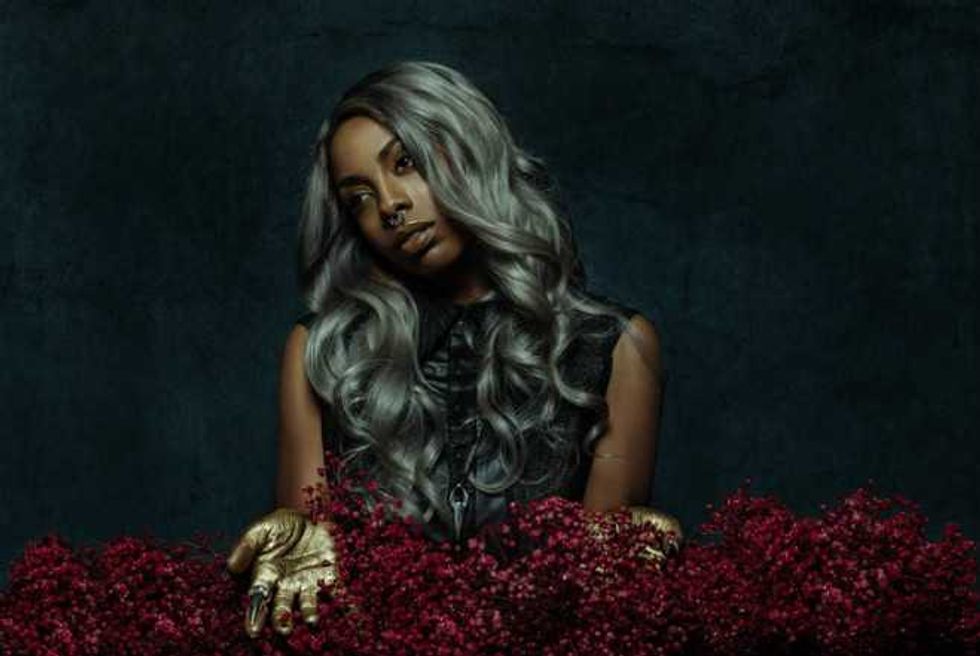 Moxiie is a NYC-based singer-songwriter who's been doing the rounds on the music blogs since 2011. She's experimented with multiple genres over the years, from tribal all the way to new wave, but seems to have found her groove this year after settling into emotionally-charged electronica and synth-pop.
After garnering attention from the likes of MTV, Popjustice, and Stereogum for her single Anyway earlier this year, Moxiie's now back with the gorgeous Jilted.
Produced by Swedish hitmaker Fredro (whose best known for his work with top-tier K-pop and J-pop stars like Wonder Girls, TVXQ, and Namie Amuro), Jilted is a futuristic synth-pop power ballad that plays like the musical lovechild of Santigold, Lady Gaga, and Róisín Murphy at her most commercial.
Yes, I know that's an intimidating list of ladies to compare Moxiie too, but it makes more sense once you get what she's trying to do as a black female artist in today's sex-crazed industry.
"Growing up, I didn't see myself represented in any artist," Moxiie recently told The Bholdr. "The struggle of a female pop artist is one thing; the struggle of a black female pop artist is another layer."

She continued, "Being black and not being sexual in the way that sexuality among black women is marketed is a challenge... I know that the time is now for there to be black artists that don't just do Beyonce or Nicki Minaj. [They're] great artists that I love and I'm a fan of, but there's more. Why is it that there can be Madonna, Jewel, Sheryl Crow, Kesha? It's all these varieties and personalities. I wanna do that for younger girls that don't see themselves represented. You can [do Beyonce and Nicki Minaj] if that's you, but that's not all there is for you to aspire to."
How FKA Twigs of you, my dear!
Anyway, you can check out the incredible Jilted music video from Brooklyn-based art and production company DREAMTIGER below.
[Photo Credit: Holly Burnham, Britt Layton, Caitlyn Meyer]