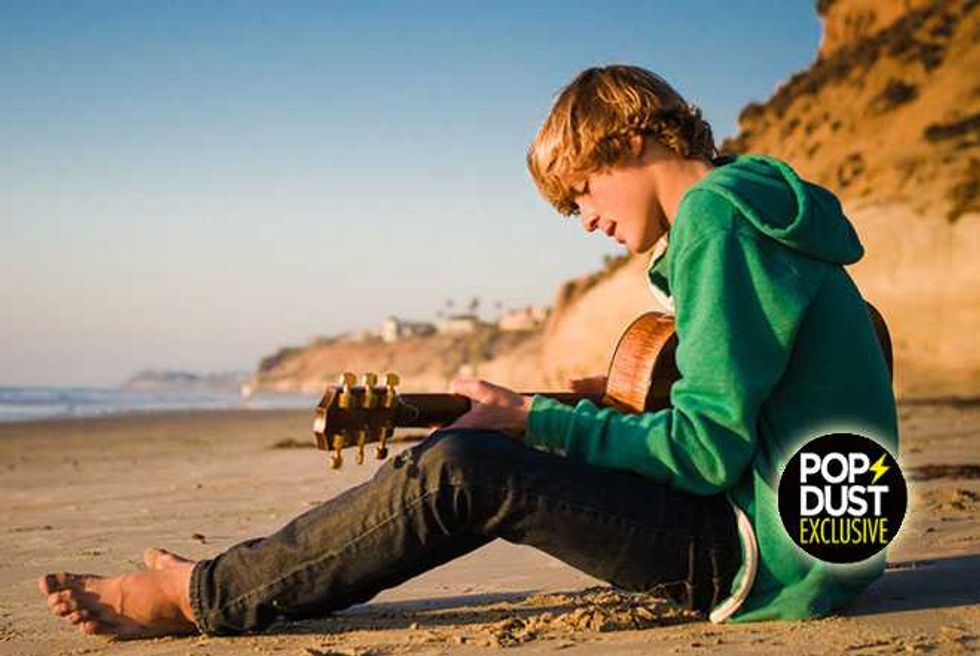 As Popdust's One to Watch, Cody Lovaas will soon be a name on everyone's lips. Spinning in the pop galaxy somewhere between Justin Bieber and Jason Mraz, this talented 16-year-old has spent the past couple years sharpening his musicianship and vocal skills, positioning himself as music's next shining superstar. Despite having not yet released an album, he has already garnered attention from much of the industry, Mraz included. The singer-songwriter titan enlisted Lovaas as the opener on numerous shows earlier this year, taking him under his wing and showing him the (musical) ropes. As Lovaas continues to define himself (both personally and professionally), he's quick to understand the implications of the spotlight and what it means to change lives.
On his YouTube channel, he has covered everyone from Amos Lee and Passenger to Maroon 5 and John Lennon. His talent speaks for itself. You can check out a slew of videos right here.
Popdust recently caught up with the budding singer about his upcoming new music, how his friends are handling his fame, what it's like to build a fan base and so much more!
Check out our exclusive Q&A-style session below:
Having support from someone like Jason Mraz must be really surreal.
Yea, it's amazing. He actually discovered me in a coffee shop. He was playing some songs. I got to play some after him. It was one of those nights that doesn't happen twice, you know? It was so special. Everything just came together. He basically said 'I love your stuff. I wanna help you in whatever way I can.' He kept his promise. I opened up six of his U.S. shows. I got to have the full touring experience, which is incredible. It was a blast.
What's the reaction been like from your friends?
I've always chosen my friends who wouldn't care if I was performing in front of a billion people or never picked up a guitar. We still do the same things. They have always been super supportive of my music. It's amazing to have people like that. When I was on tour, they were at the shows. Nothing's changed [between us]. We still go out and surf and have fun.
How have you been working on developing your own sound?
Every artist has their own sound. Even if I were to go into the studio with the same songs as any other artist and the same intentions, the songs would come out completely different. I don't believe you can duplicate music. Finding out who you are as a musician and what you love, everyone has their own opinion. Everyone's gonna like something different. I had an important show, and a guy came up to my dad after and said 'are you Cody's dad?' And he was like 'yea.' He went, 'I just wanted to give Cody some critique. I didn't like the show because of this and this and this.' My dad was really upset, and he told me. I said 'that's awesome. I love that!' [I said that] because everyone is an expert of music. Everyone has their own ears. You can't say, 'oh I'm writing this song and you'll like it.' You can't predict that.
What styles of music have you toyed around with?
I've always been into singer-songwriter stuff. Growing up, I was always attracted to that kind of music. Mraz, Jack Johnson, John Mayer, Ben Howard, Ray LaMontagne, all those guys. I love that kind of music. Picking up the guitar, I started playing covers and writing my own stuff like that.
Throughout history, there have been a ton of singers who started out really young and then had major personal problems later on. Why does the entertainment industry carry such a heavy weight?
The people I've surrounded myself with, my family and friends, have been so amazing. They keep me grounded. I think any industry can ruin someone. Anything can change anyone. Maybe that's just how that person is. If they get ruined, how can you say it's the music industry? I try to stay away from that side of things. I just write my music and have a good time.
How do you make sure you take time to be a normal teenager?
I was home schooled for the last two years. I basically fast-tracked it, too, and did double-time. I finished three years of work in a year and a half and graduated early at 16. That has definitely freed my schedule up. If I were going to school, I'd be doing all my work for eight hours, go home do homework for two and then maybe get to see my friends. Now, I work on my music 24/7 unless I'm with my friends. I surf everyday, too. I'm doing everything I used to do, just more music now.
When did you start surfing?
I started surfing when I was probably six or seven. That was just long-boarding every summer on and off. I really started getting into it about six years ago. Ever since then, I do a ton of short-boarding. Surfing has been something that's changed my life completely. It just clears my mind. It goes hand in hand with my music.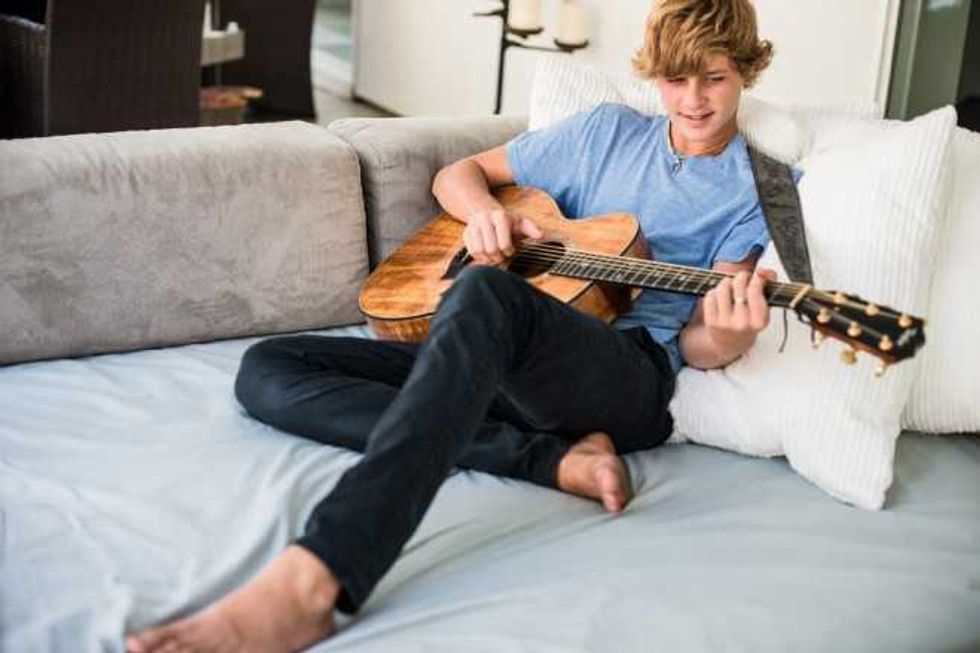 You recently posted a quote that said: "Write down every song idea you have, or else it'll float away." Is that something you live by daily?
Ideas are always coming. You can never shut it off or say 'I'm going to set aside an hour to write at 3 pm tomorrow.' It won't happen. It comes when it wants to come. I have a notepad in my phone that has pages and pages and pages of ideas. Most of [my notes] are complete crap but some are good. [laughs] Jason actually told me 'write down everything or you'll forget it.' I woke up the other night, I think at two in the morning, with this idea and I knew it was bad. I was like 'I'm not gonna write it down.' So, I started to go back to sleep. It was like Jason was hovering over me, 'you have to write it down!' I had to get up and write it down. The worse thing ever is when you're out in the water and you don't have a pen or paper or a phone or anything to write down on. You're car is parked far away. You have to get out, go run all the way to your car and then write it down and then go back in. Whenever you have one idea, it comes to five, so you have to keep going to your car.
Writing is my favorite thing in the world. If I had to pick my favorite thing about music, it would be songwriting. It's the most incredible feeling to create something out of nothing.
You play a ton of instruments already (including mandolin and piano). I hear you are learning to play the bass.
I'm trying. That one's slower. I don't have a bass. I'm learning whenever I can grab a bass and play.
Do you find yourself having a ton of control over your career?
Everyone has an opinion, and I love hearing opinions. It all comes down to what I like. It's my music, and it's what I feel and what I see. I don't really let anyone else have a say in what I'm going to do, as in 'you will do this.' With my creating music, I have a good hold on whatever I do or envision for a song. I love people's input, though, and critique. My management team has been amazing to me. They're giving me enough time to really develop my sound and figure out what I love exactly. I'm really grateful for that.
What's been the hardest part of building a fan base?
The hardest part is probably when people see a picture of a young kid with blonde hair and guitar, they think Justin Bieber. A lot of older people have told me 'my granddaughter dragged me to this concert. I did not wanna go, but then when I heard you, I was so excited. I thought you'd be some sort of other musician.' A lot of people think my music is not for them, and afterward, they enjoyed it. I've had five-year-olds to 90-year-olds love my music. That gap is amazing. If I can touch people with what I create, that's incredible.
When are you expecting to release a single to radio?
I'm getting in the studio pretty soon. Right now, I'm looking for a producer and hashing all that out. I'm hoping to get out an LP or just a single. We do not know yet. That's in the works.
What else are you excited about this year?
I'm doing a ton of shows all around the country. Dallas, Santa Barbara, a bunch of other places. I'm really focusing and learning as much as possible. I just got a taste of the touring life, and I love that. I'd love to keep doing that more and more this year.
Find out more about Cody Lovaas on his official website.
[PHOTO CREDIT: Sparks Fly Images]
Stay tuned for Cody Lovaas updates. Be sure to follow @Popdust and @JasonTheScott on Twitter!