Michael Aronov, Jefferson Mays, and Anthony Azizi
Photos by T. Charles Erickson
When Israel and Palestine come up at the dinner table one of two things usually happens. Polite coughing and a gentle prompt to move on, or a biting argument. It feels like there has never been a time when the Gaza Strip has been more than a few moments away from rotating back in to the twenty-four hour news cycle. There isn't a circumstance where it is not a divisive topic of conversation, and yet, many of us seem to have only the barest grasp of the issues at end. Myself very much included. I had not heard of the Oslo Accords until I did preliminary reading before reviewing this play. The historic treaties that were meant to create a lasting peace between Israel and Palestine were as much a mystery to me as synchronized swimming likely is to guinea pigs. I would say that, thanks to Oslo, the play now gracing Lincoln Centre's Vivian Beaumont Theatre, I am better informed. But is that the only measure of political theatre? Political theatre needs to be truly didactic, to teach and entertain. How does Oslo measure up to those standards?
This first thing to know about Oslo is that the pacing is ferocious. J.T. Rogers's script has a lot of ground to cover and fast. Bartlett Sher's direction ensures that this happens. Between light narration from Jennifer Ehle's Mona Juul and projections on the back of the stage (designed by 59 Projections) we get the details we need to launch in to the quagmire. Terje Rød-Larsen (Jefferson Mays) is a Norwegian diplomat (married to Mona). They plan an officially unsanctioned meeting between representatives of Israel and Palestine on the neutral ground of his home country, Norway. He is met at every turn with skepticism, and occasionally ridicule, but his unconventional approach eventually leads to a meeting between convivial, well-connected Israeli professors (Daniel Oreskes, Daniel Jenkins) and hair-triggered senior figures of the Palestinian Liberation Organization (Anthony Azizi, Darisuh Kashani). Though there is no shortage of animosity, shockingly, the talks begin to yield results. As the process gathers steam and credulity, more senior figures are brought in (Michael Aronov, Jeff Still). Eventually it seems like an agreement may be reached, but the process is intensely fragile, and threatens to self-destruct at any moment, but the potential promise of a peace drives everyone onward.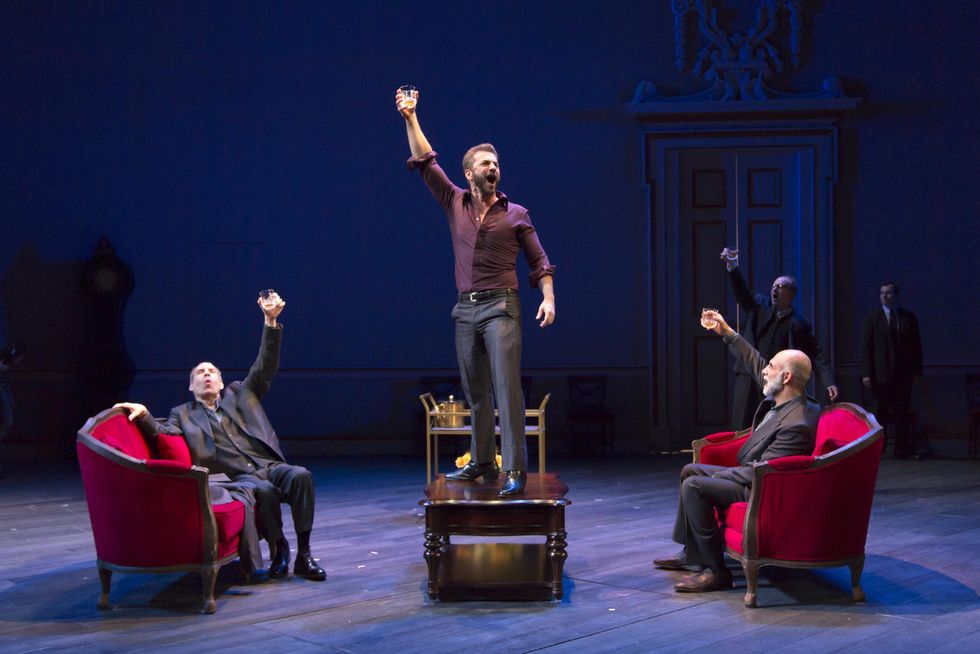 Daniel Oreskes, Michael Aronov, and Anthony Azizi (foreground) with Daniel Jenkins and Jeb Kreager (background)
You couldn't ask for a better cast here. They are a formidable force. Each of them carries the weight of the situation their characters are living through, and yet also, titanically, are able to find the humor in the piece. There is rich a vein of dark comedy running through Oslo that the cast plumbs with great regularity. The mercurial Michael Aronov as Uri Savir is particularly good at this. His anecdotes and flights of fancy are a thrill to watch. Oslo's humor serves as a much needed counterpoint to the severity of the situation presented, and allows the world to feel real and human. Which is what this play speaks to the most: The common humanity of all the people involved. When nationality, geopolitics and ideology are stripped away, these are all just human beings. They have families, senses of humor, and a love for drink and waffles. Oslo is a decidedly humanist play, as well as a political one.

As the action of the play ramps up further and further, as sets are switched round with increasing complexity (using an intricate pattern devised by Michael Yeargan and Cambra Overend), and as the tension at the negotiating table gets higher and higher… it becomes easy to forget that the Oslo accords never produced the results they were hoping for. Oslo is such a dynamic, gripping piece that the watcher periodically forgets the reality of the world they live in. So much time is spent at the edge of the seat, that when the play's final moment of reflection comes, after the accords are signed, the tone is glisteningly uncertain. Terje re-affirms his mantra "Trust the process. Look back, not forward," and he's not wrong, but he's not wholly right either. The cast impersonally share anecdotes about the (often tragic) fates of the real people involved. A disturbing ennui strikes up in the audience. However, we are given one last reminder of the humanity of these people to offset the dissatisfactions of reality. As long as there is the possibility of dialogue, the play seems to posit, there is hope. Oslo is a triumph, and everyone should see it.