Arts
Ethan Lipton's one-man show at Joe's Pub is quirky, absurdist, and surprisingly down-to-Earth.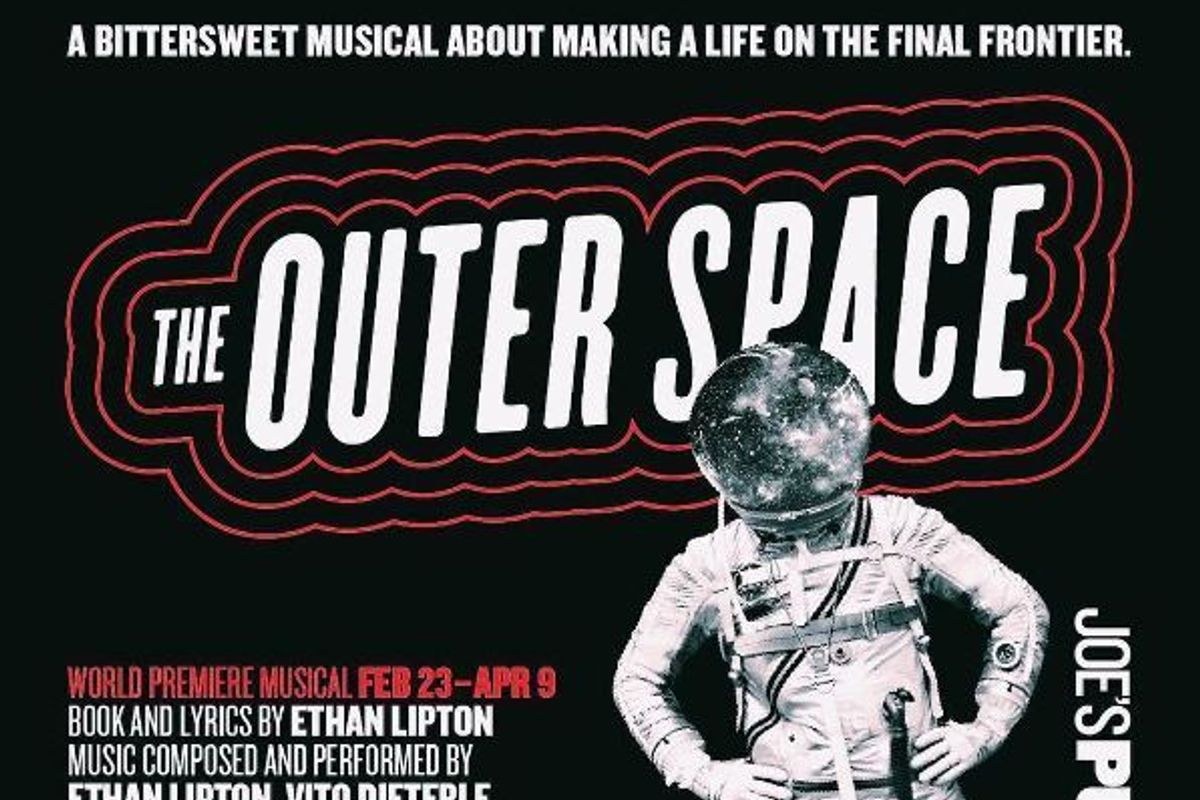 Instagram / joespub
Hating New York City is a favorite pastime of New Yorkers, and some are more serious about it than others. But most people know in their heart of hearts that leaving the city, or any place for that matter, isn't an instant roadmap to happiness. But for those who have no desire to get out, as Ethan Lipton, writer, composer, and performer, describes in The Outer Space at Joe's Pub, moving far away isn't necessarily a recipe for misery, either. At least, not permanently.
The Outer Space is a one-man musical about a couple who, facing gentrification and a changing neighborhood, moves out of the city. To a space colony. Lipton, backed by a three-piece band (all of whom wear cobalt space suits throughout the duration of the show) tells a story about a husband and wife, who remain nameless, using humour and musical numbers. The whole thing has a very folksy vibe to it, not least of all, the songs. It may be science fiction, but it's an old story at its heart: husband who loves the city, but loves his wife more, agrees to move out. Feels out of place. Tries to be happy anyway. The only difference is that instead of Long Island or Westchester, it's space.
Lipton focuses more on the couple's domestic and social life, giving us just as many imaginative details as we need to understand their life on a rocket. It's charming to hear about "outer space," the object of fascination for most of human history, worked in as something sort of…mundane. It was almost 50 years ago a human being walked on the moon for the first time, and as of next year two rich tourists are going to make their vacation the stars rather than the Caribbean. It won't be long before outer space is going to be little more than a background to the same old human dramas. What can you say—marriage problems are going to outlive any scientific development or cosmic excitement as long as our species lives.
The Outer Space knows this, and tells this story incisively, making clever and apt parallels between suburban life and space colony life. Space, like the great outdoors, might always have a charm for some people, but for the rest of us, it'll be a neutral good. Glad it's there; don't need to visit it often, or ever. But what the show really does is address the problem of being happy in a place that doesn't feel like home. As the husband in Lipton's story comes to accept, often part of being unhappy is just being stubborn. Sometimes happiness takes more work than other times, or places, or situations, but that doesn't mean it's impossible.
But for a story about happiness, it manages to avoid dipping too far into the saccharine or the holier-than-thou "zen" culture, even going so far as to tongue-in-cheekily broaden the definition of "yoga" to include such activities as brushing one's teeth and eating chips. (Downward dog and green juices just aren't everyone's thing.) The wit is just biting and cynical enough to get the message across without a note of nagging shrillness: as Lipton sings, all lifestyles come with their own set of frustrations and headaches. Happiness is just bargaining for the set of problems you prefer.
The Outer Space runs through April 9 at Joe's Pub at The Public Theater, 425 Lafayette Street.