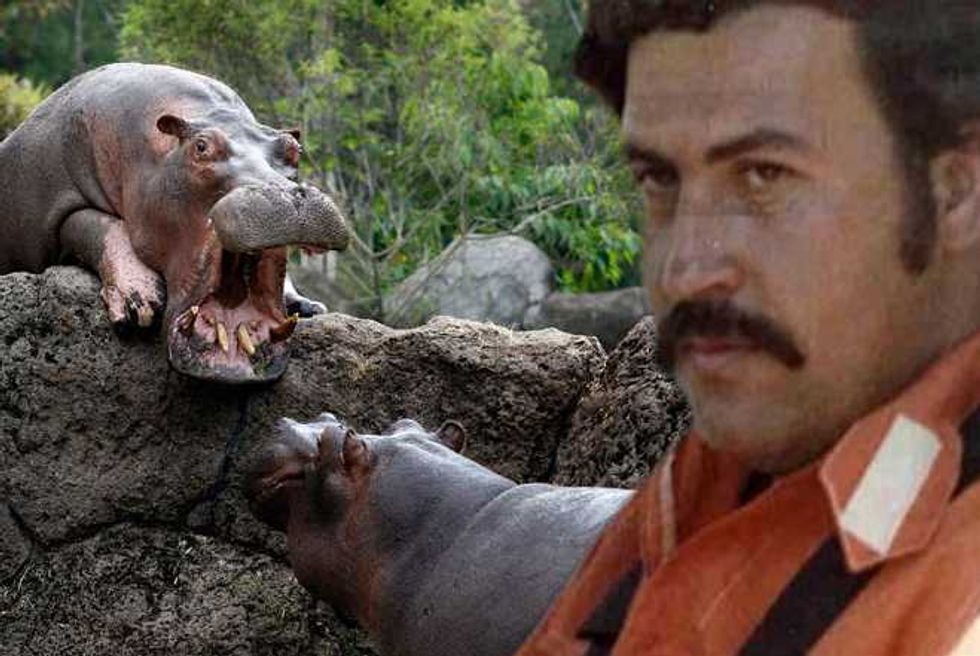 Pablo Escobar may be long gone but he continues to wreak havoc throughout Colombia way after his death.
In the early '80s Escobar was solidifying himself as the world's largest distributor of cocaine. Through complex methods of smuggling and the use of extreme violence he built a drug empire like the world had never seen. However, at the same time, he was building something else, a zoo.
Don't Pet The Three-Legged Tiger, How Many Times Do You Need To Be Told?
Escobar built a mansion called Hacienda Napoles, 200 miles outside of Bogota, where he shipped exotic birds and animals which included elephants, tigers, giraffes and yep, hippos.
Following his death in 1993, Hacienda Napoles became abandoned (It was briefly turned back into a zoo at one point and then into a theme park, complete with water slides) and while the other animals were transferred to existing zoos around the country the hippos remained, and in the agreeable Colombian climate began to multiply at an alarming rate, which does not bode well for the Colombian people.
Woman Busted Trying to Smuggle Cocaine In Breast Implants
Known as the most dangerous animal in the world, the Colombian government is at a loss of what to do with this growing epidemic of dangerous hippos.
People started phoning in sightings of a mysterious animal roaming the countryside in rural Antioquia, 200 miles north-west of Bogota, back in 2007—14 years after Escobar's death.
"They found a creature in a river that they had never seen before, with small ears and a really big mouth," Carlos Valderrama tells BBC, going on to explain that as the head of a local wild life charity he was tasked with informing villagers that the mysterious creatures were actually hippos.
World Cup Fatal Fanaticism—Tragic Tale Of Colombian Footballer Andres Escobar
"The fishermen, they were all saying, 'How come there's a hippo here?'" he says. "We started asking around and of course they were all coming from Hacienda Napoles. Everything happened because of the whim of a villain."
Escobar started out with just four hippos—three females and one male—but they've bred at an alarming rate and although no-one knows the exact number, it's estimated there are now between 50-60 hippos running wild.
And, they are rapidly expanding their feeding and hunting ground, with hippo sightings reported up to 155 miles away from Hacienda Napoles.
Read the full story here