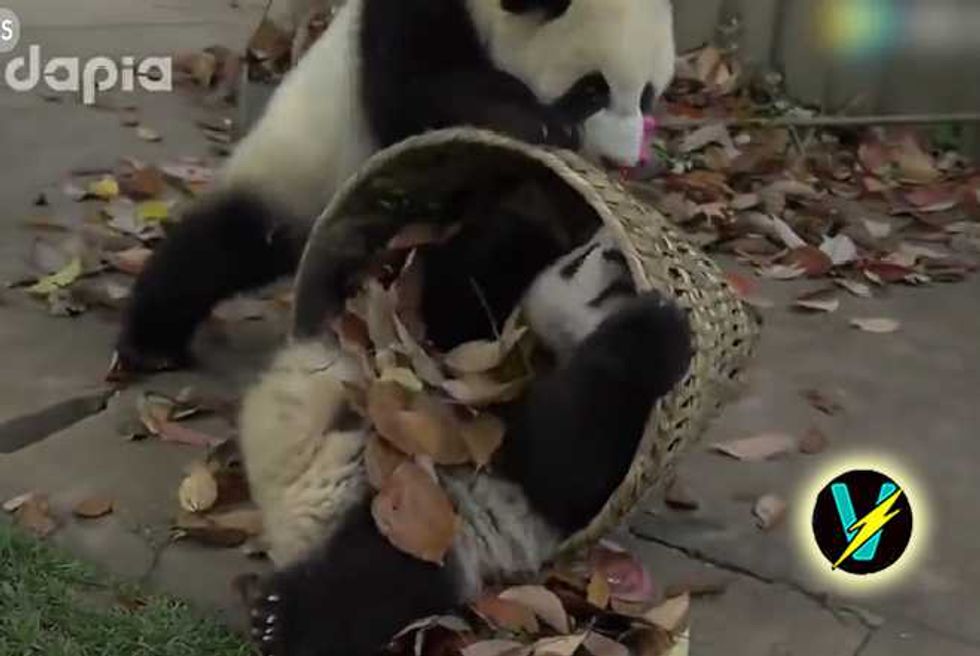 panda breeding base cleaning time is a gloriously adorable and chaotic affair—don't believe us? Well, watch the video!
Ever thought about just throwing it all in?
Leaving the grind of the 9-5 office job, and following your heart?
Saying goodbye to the stress, the office politics, the mind-numbing boredom?
Doing something rewarding, fun, and adventurous?
Well, how about heading to China and working on a giant panda breeding base.
While away the working hours by rolling around and playing with adorable big fluffy pandas day-in-day-out….
Well, be careful what you wish for.
Video of the panda breeding base cleaning time proves every job—even the most seemingly fun and cool—is not without it's headaches.
Because, panda breeding base cleaning time is just yet another excuse for pandas to play basically.
And, play they do.
Whether you like it or not.
You spend a half hour sweeping up the dead leaves and putting them into a basket.
You turn your back for one second, and boom!
Pandas are all up in your basket, rolling around and spilling leaves everywhere.
You try to sweep up the leaves again, and boom!
Pandas are all up on your broom, hanging off it and refusing to let go.
It's friggin' adorable to watch—seriously, check out the panda breeding base cleaning time video below.
But, as the poor woman attempting to clean-up makes only too clear—it can wear thin pretty damn quick!
Scroll down to watch the panda breeding base cleaning time video
Just Some Video Of An Orangutan Saving A Baby Chick From Drowning
Cute Young Tiger Found In Texas Wandering Along The Street!
Kittens Puppies Koalas Sloths Bunnies! Cutest Animal Video Ever Alert!
Costa Rica Stray Dog Shelter Is Heaven On Earth For Canines
Watching Sleeping Pig Wake Up To A Cookie May Make You Rethink Bacon
Watch the panda breeding base cleaning time video:
Russian Monkey In A Snowsuit Will Warm Your Cold Cold Heart
Micro Pig Twerking To Rihanna's Work Is Perfect Way To End The Week
All We Want To Do Is Watch This Adorable Guinea Pigs Eating Video
Tiny Kitten Riding Tortoise Video Puts The World's Wrongs To Right
Meet Toby The Two-Nosed Dog, Cutest Rescue Pup Ever!
Lisa Vanderpump Rescues Abandoned And Suffering Pomeranian Pup!
Dolphins Rescue Suicidal Girl, Continue To Be Absolutely Awesome
Diane Von Furstenberg Paid $100k To Have Her Dog Cloned
Penguin Swims 5,000 Miles Every Year To Visit The Man Who Saved His Life