"Daddy," the voice of a teenager exclaimed to her father. A large and gruff sort, he was dressed in a vaguely businesslike polo. He found his daughter and they were reunited quickly and proceeded to enjoy the evening's Panic! at the Disco concert at Madison Square Garden, the kind of bonding experience you would drag your dad to while he did business on his phone. Elsewhere, I overheard mothers letting their children go at the entrance, but imploring them to text them if the evening's entertainment lasted past midnight. No worries: Brendon Urie was out of the building, sans encore, before the clock struck eleven. Noah Schnapp, the twelve-year-old actor who plays Will in Netflix's Stranger Things and performed that evening, retired at his bedtime.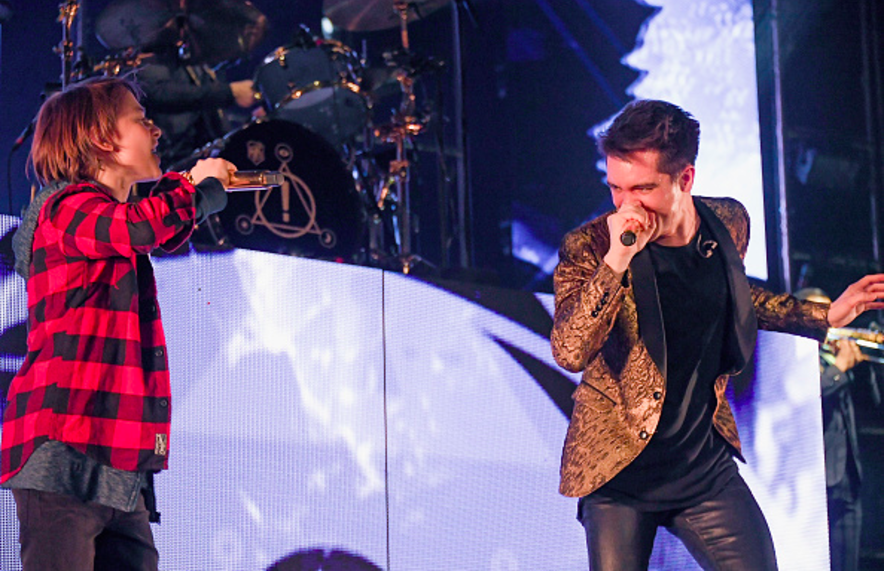 Noah Schnapp busting some rhymes on "LA Devotee." At twelve, the Stranger Things-star was among the fans present last week who were barely born when A Fever You Can't Sweat Out was released in 2005.(Mike Coppola/Getty)
Most bands age with their fans, but Panic! At the Disco is a unique outlier. Like time spent chasing the bare-chested Pied Piper that aims for the erstwhile devotees of The Wiggles, Panic! is a band abandoned when adulthood starts but newly discovered by fresh-faced teens next to additional hair follicles. Around me, their clumsy bodies with temporary tattoos caught mid-fade waited through two agonizing openers. "Head, shoulders, knees, toes" chanted somebody named "A/J Jackson," who fronted an LA unit called Saint Motel. He was dressed in a red Rushmore-era jacket and implored the crowd of unkissed lips to make love tonight. The sea of virgins, holding on to their parents or sweating through their hoodies, remained unmoved. Later, an unpleasant Brooklynite named Mandy Lee, leader of a gang of rogue UMG-distributees, barked through a cover of Chance the Rapper's "Same Drugs." I think they played Gov Ball once.

"Didn't know they were still around," a friend of mine told me earlier that day. The headliner's latest effort, Death of a Bachelor, was released this January on Fueled By Ramen, the label that signed Urie's band after Pete Wentz, Fall Out Boy's sometimes bare-bassist, discovered them on the internet. The last we heard from Fall Out Boy, their limp second or third comeback album was being remixed with Migos, A$AP Ferg and Azealia Banks. Death of a Bachelor, however, debuted at number one on the Billboard 200, was nominated for a Grammy, and its lead single "Hallelujah" was the best the band has done chart-wise since 2006. Among the youth, Panic! is making a comeback.
Which is say that Brendon Urie is having a comeback. Much like, say, the Smashing Pumpkins, the equally dexterously-titled Panic! is now a one-man affair, powered by on-tour hirelings. Spencer Smith, the band's original drummer, was the last to leave two years ago. Urie is a talented multi-instrumentalist and in one of last night's intermissions, he treated the sold-out Madison Square Garden to a heavy metal interpretation of Rihanna's "Bitch Better Have My Money" powered entirely by a drum solo. Shots of fire would roar.
A piano would occasionally roll out to center stage and, on it, Urie would perform songs such as the older "Nine in the Afternoon" and the newer "This Is Gospel," the latter performed on a raised platform on the opposite end of the stage, recalling the floating pavilion steered by Kanye West at this stadium late last year. I was not offered a chance to review West's live show, but I can guess it did not involve basking in a glow of glitter.
For most of the show, Urie performed in the personage of a spandex Sinatra, complete with trumpets (Mark Brown/Getty)
Where is Brendon Urie? He's been abducted in an expensive low-budget spoof that proceeded a sparse, glittering, yet charming performance of 2013's "This Is Gospel" (Mark Brown/Getty)

In Urie's hands, Panic!'s live show was a jarring mash of sensibilities: the elevated Elton-esque assent followed an intermission where Urie disappeared backstage and jangled clips of a horror movie played on the big screens. Later, Warhol mock-ups of gay and lesbian celebrities such as Ellen Degeneres and Anderson Cooper were projected while Urie waved around a rainbow flag and belted "Girls love girls and boys," the chorus from a single on Too Weird to Live, Too Rare to Die! about, per Urie's verified Genius annotations, "the first threesome I ever had." Following this, the piano rolled out again, "A song by my favorite gay singer of all time," Urie proclaimed, and proceeded to knock out a version of "Bohemian Rhapsody," a tune that he covered in the studio last year on the soundtrack for Suicide Squad. Strangled, springy and clocking in at exactly the length of the Queen original, its well-rehearsed perfection reminded me vaguely of Weezer's cover of "Paranoid Android." It was the second cover of the evening, following a performance of Billy Joel's "Movin' Out," announced as a tribute to the singer's residency at the venue, though Urie has been playing a version of the song at every stop on the Death of a Bachelor tour.

For us old dogs, who had memorized every word to A Fever You Can't Sweat Out and still keep a CD copy in an archaic jewel case somewhere in our childhood homes, two singles and a curious deep cut ("Camisado") were smashed together, Super Bowl Halftime Show-style toward the beginning of the show. Like any band that's been around for well over a decade, the sing-alongs reached fever pitch on the old material. Ditto a suddenly spry and punked-up version of "I Write Sins Not Tragedies" that appeared shortly before the concert's end.
It was all very perfect and, apart from Noah Schnapp's sudden appearance in "LA Devotee," (Schnapp also appeared in the music video for the song) nothing felt like it will not be replicated at the thirty or so stops that Panic! has ahead of them. The staged intermissions and emotionally choreographed covers suggest, however, that Urie's sensibilities remain in touch with his teenage fans. It was like the best rock opera you could ever imagine in high school, The Rocky Horror Picture Show soundtracked by Queen. "Is it still me that makes you sweat?"
Panic! at the Disco Death of a Bachelor tour dates:
---
Andrew Karpan took most of his observations from a friend and colleague who was at the show and is a better writer than he is. Follow him on Twitter.