Top Stories
The '80s queen discusses Madonna's early work, the story behind her stage name and love of Johnny Cash.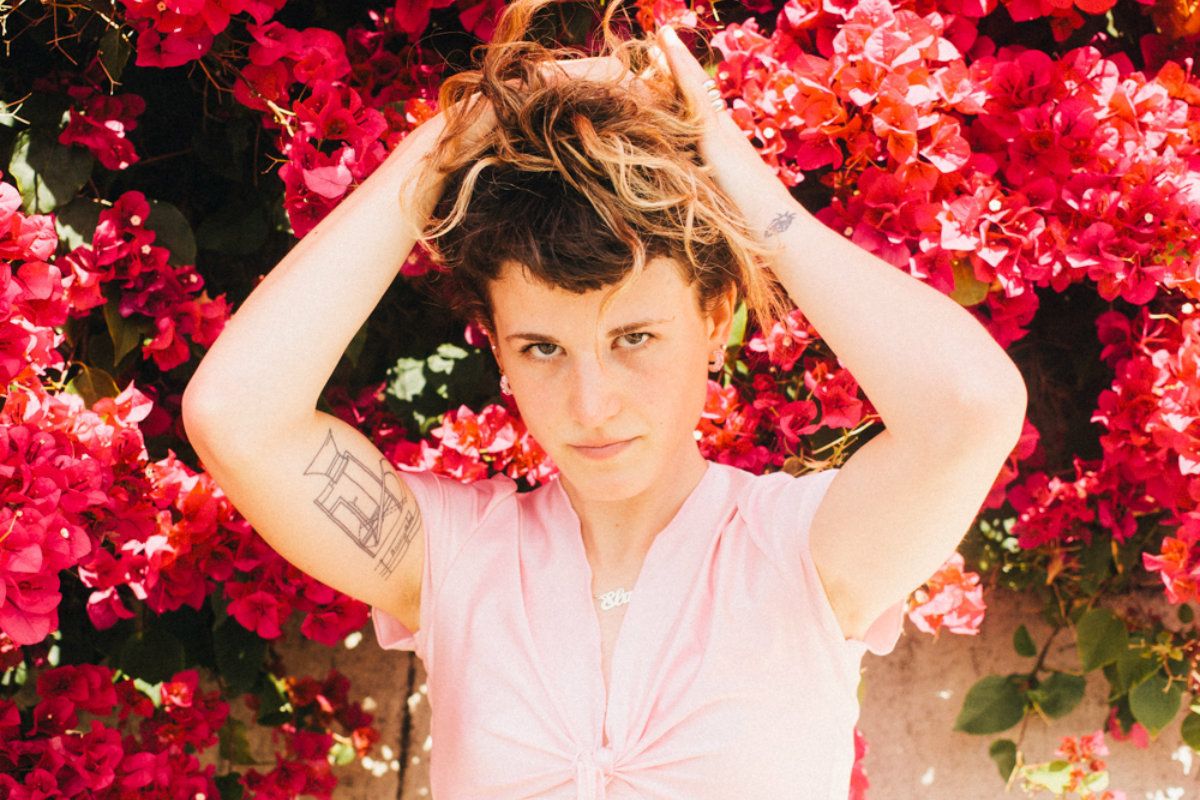 Roman Koval
"San Junipero," a remarkably joyous episode of hit Netlfix sci-fi drama Black Mirror, is a stark reminder of the obsession with youth, capturing the flighty spiritedness of two 20-somethings falling in love in '80s America. Of course, it's cloaked in a much larger conversation of the deadly implications of industrialization and technology. But it's the closeness by which the episode weaves together the stories of Yorkie (Mackenzie Davis) and Kelly (Gugu Mbatha-Raw) that is both charming and tragic. That seems to be the approach synth-pop starlet Party Nails undertakes with her music--her debut EP, Come Again, dances between heartbreak and freedom, of feeling every scar and being liberated by them. "Even for music that isn't very lyrical, it means a lot to hear joy and sorrow in the same phrase," she reflects over a recent phone call. She speaks in poetic terms, retelling a moment in which it hit her like a bolt of lightening. "The other day, we had Beethoven on in my house. I was like 'damn, this is that.' There was a time when that was mainstream music. I've always been fascinated with that bittersweet, happy/sad thing."
But, as she points out, it's not a new, revolutionary idea. "As far as pop music and lyrics and making it all relevant, that's where my work is. You can't just be 'I feel bad' and have a good beat and have that hit you. I want it to feel like someone's almost reading their own journal to themselves," she tells Popdust. "It's not always my exact experience. It's a conglomerate of experiences. Sometimes, though, it is my exact experience."
Recalling the first song she ever put out, the blustering heartbreaker "Break," Party Nails (born Elana Belle Carroll) says it "was literally straight from my broken heart. I was like 'I don't know what else to say, this is all I can say, this is how I'm going to sing it.' Somehow, it worked out. But the trick is being able to do that all the time. We're not just waiting for inspiration to strike. You draw upon other people's stories and what you perceive other people's experiences to be."
"There's something empowering about being able to dance to your sadness. I always turn to [Robyn's] 'Dancing on My Own' as the complete reference for that feeling because that's what that song really is," she continues. "There's an amazing acoustic version that she does that is so heartbreaking. And it's such a fun song. It's an anthem of 'everyone have fun tonight,' basically, without anything too risqué in the lyrics. She says herself that it is a really sad song. When you hear it, acoustic, you're like 'oh...it really is.'"
Come Again dresses up her brokenness and transition with glossy synths, new wave stylized production and "Borderline" era Madonna hairspray. It's fun, wild and free--but doesn't skimp on the heavy stuff. "The one thing I wanted to capture is the new wave side of the '80s. I hear it now and then, but I mostly hear reverbs and chorus guitars, which I love modern production inspired by '80s production," she says of the EP's musical storyline. "These songs are also a nice jumping off point to grow from. New Wave is so fun to me. It's literally dance music and punk music mixed together. I don't know why anyone wouldn't want to sound like that. [laughs] There are people who hate the B-52's and I'm like 'whattttt.'"
Landmark films like Blade Runner and The Breakfast Club tapped into those idealisms of escape and euphoria, which subsequently bled over into the music scene. "The spirit is the people behind it really being in it. That's not to say artists today aren't in their music. I just think there's a little bit of fear of being too different that affects people's work. I don't know if anyone realizes it's happening," Carroll notes. "It's not quite a full performance; they're not quite unleashing. They almost do. When you listen to older music, those people were struggling to get things into the world and they didn't know what would happen. A lot of band origin stories are crazy. It affects the music. That's part of what you ought to be giving people, a real experience. That recording is going to be forever. You might as well put some blood, sweat and tears into it."
From the gritty title track (which opens the record) to the rhythmic empowerment bookend ("One by One"), Carroll drives her words into the air, swiveling between honoring the past and pushing the boundaries out and away. She might not have a hit single (yet) but her wisdom is insightful. "There's something to be said about being able to really hone in on a few key elements of a song and try to write a simple hit song. You can't just put all this stuff in the blender and hope that you are going to get something. There still needs to be people behind it. I believe that's the best thing for listeners. You don't want to just mute people's emotions by giving them a bunch of work that never really goes there."
Carroll then explains the story behind her stage name Party Nails, her obsession with Johnny Cash and Madonna and building her live show. Dig your teeth into our exclusive Q&A session below.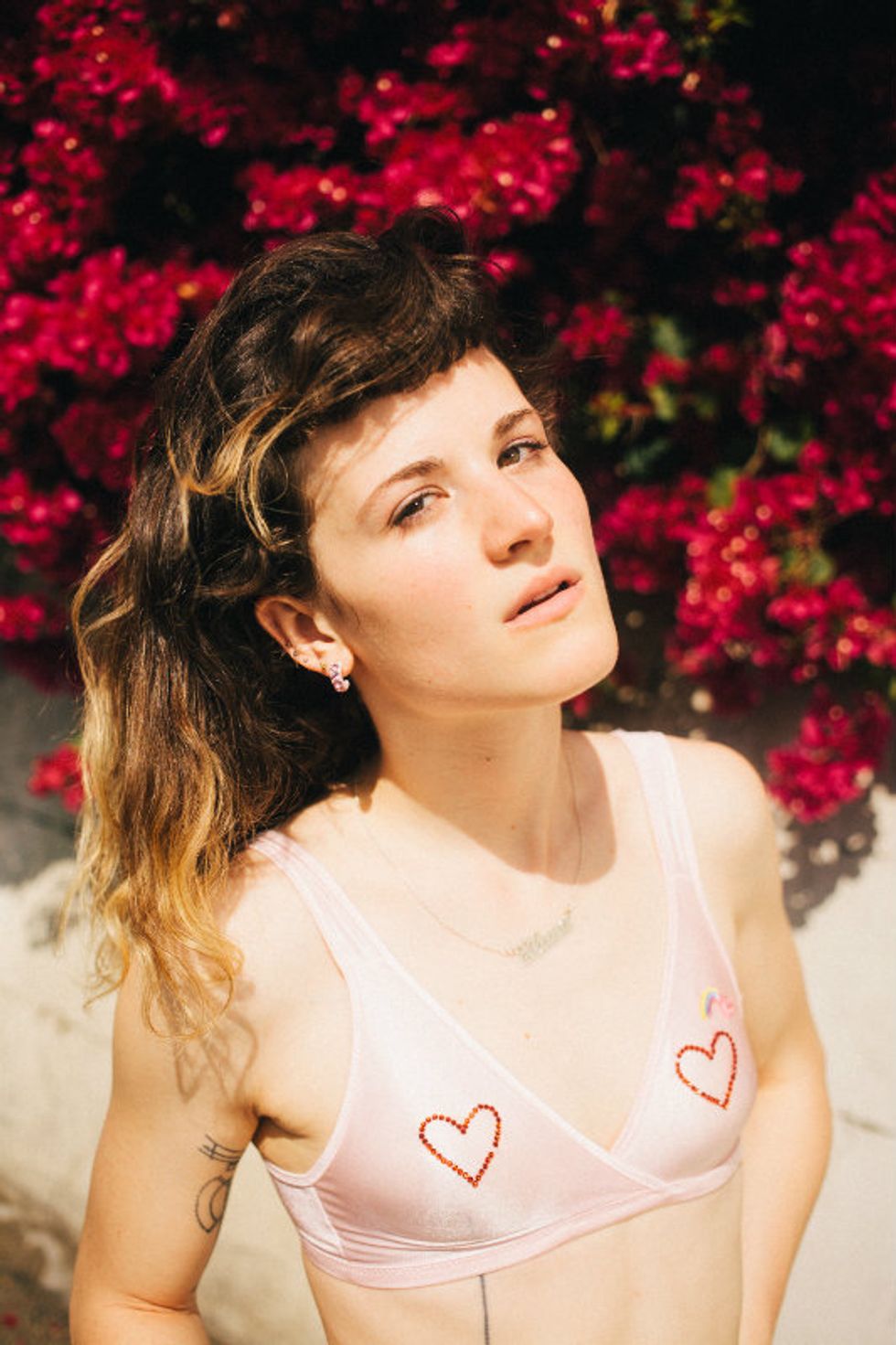 What's the story behind your stage name Party Nails?

I was looking for a name really quickly. I was writing songs with this guy, and we were both doing other projects. We were trying to figure out something that we could do that was new and different. We needed to come up with a name for this batch of songs. It's not a very glamorous story...but I did end up seeing these girls at a party. A friend from Mexico City was visiting in Green Point where I was living at the time, and we visited her. She was with all these people from all over the world. They were having so much fun relating to each other when they were doing their nails and getting ready to go out.
I just loved this idea that this meant so much, even though it doesn't. Doing your nails doesn't change anything about your connection with somebody or how you look, really. It ended up being this huge armor for them. Totally based on their own experience, not based on getting noticed; it's not like doing your face or your outfit. It's literally for yourself. Something about it just made sense at the time. It's stood the test of time, as well. I'm happy we stumbled upon that name.
How did this EP start?
I had put out two singles at the end of 2015. Since then, I was like I've gotta do an EP. It never felt like the right group of songs. I had tons of songs from that period. We were constantly meeting people and writing and coming up with new ideas since then. At that time, it was like "OK, obviously, people like this in some shape or form, it would be great to continue to release work, so that it's a consistent operation." But I really wanted to make sure the group of songs we did put into the world was something I could come back to years later. I didn't realize this at the beginning of the process, but over time, Madonna's first release [1983's self-titled LP] really helped me figure out the things I wanted to touch on. "Borderline" is one of my favorite songs.
The first release she ever did was just a really simple thing but had so much energy behind it. She really made use of her resources at the time. It's five or six songs, "Lucky Star" and "Burning Up." Not to say my music is any way like Madonna's, but I really did want to do something like that. I wanted it to feel very up and like I'm introducing myself. I wanted it to feel like years from now I can be like "that was so fun starting there." As opposed to a batch of more serious songs or something that's more well-rounded as far as tempos and moods. I wanted it to be a bang.

How did you narrow down to these five songs?
My two producers, Caleb Shreve and Jon Siebels, and I have a very vast relationship that's not just producer/artist. We work as a team on a lot of music together. We just communicated a long time about every song that was happening and which songs we were excited about and wanted to show other people. We mostly wanted everything to feel like really sound, good pop songs. We didn't want it to be any more complicated than that. We had a couple other things we thought that up until the very last minute would be included, but it's easy. You can only have five before it becomes a short full-length record. Everything we couldn't put on there, we are saving for the next release.
In an interview with The Young Folks, you talked about growing up on Johnny Cash. That's so cool.
It was amazing. My in-house listening (until I started listening to my own music) was Bob Marley and Neil Young. That's what my parents always had on. When I was a teen, I became really obsessed with old school blues like Blind Boy Fuller, who was my favorite, and I was really into Gary Davis. From there, country music was born through a more complicated series of events, but I became obsessed with Johnny Cash. As far as what I like about songwriting and to do, it's so similar. Basically, it's about heartbreak, but it's upbeat (most of the time), and you come up with these great, simple ways to say something like "I'm wild; I'm lonesome; and I'm blue." There are these rhyming couplets. It's like pop music now. You figure out one or two hooks people can take away and relate to.
When I started playing guitar, in the little town I lived in, my guitar teacher created a community of musicians that came out of the woodwork. When I was 13, he was like "Elana, here's this guy who has played country music his whole life." He was this old man, and his fingers were blue from the calluses. He had to play a 12-string guitar because his calluses were so deep, and they wouldn't press anymore. Suddenly, we were playing country music. It was great. My teacher had been trying to teach me chord progressions and bass lines and how it all comes together and make a song pretty quickly. It kind of demystified it, in a way. Then, we listened to a bunch of Johnny Cash records.
Were you drawn to any other country artists?
I really like Loretta Lynn, Hank Williams. I love Patsy Cline. She's technically country but a little more glam. Dolly Parton is incredible. When I was younger, "Jolene" was one of the songs I'd always do. It's such an incredible song.
You had a previous record deal. What were some of the lessons you learned from that?
The one thing that I'm happy to have under my belt now is I want to be my own boss. It's not a new idea. It's something a lot of artists admire. They take the time to create their own little world, and once it's self-sustaining, they are able to grow it larger through other deals. As opposed to finding a support system and hoping that all your ideologies align in such a way that you can start putting out music. It was a big commitment to figure that out. I don't have any time or money as a resource. It's very much a day-to-day thing. I've worked like a dog at thousands of day jobs at this point. Not everybody in the music business does that.
There's a lot of people who have the time and try it out and may or may not hit upon success. That's totally fine. It's just that there aren't a lot of role models that I meet in my life who do that. It did take me a second to realize "oh, I am to willing to commit in that way and in order to do that, I need to make sure I'm surrounded by people who understand me and are willing to work with me in that sense." That's what I've found with Caleb and Jon and all the people we've brought together. That's been the biggest turning point for me.
You've also previously discussed the challenge of pop music and learning to perform onstage. Was it difficult to translate any of these songs to the live setting?

Yes. Our live setup is relatively simple. It's just drums, bass, guitar. We're able to be flexible, so the guitar player or I can switch instruments and pick up keyboards and have it ready. That's basically it. We don't have multiple synths or percussionist. I try to keep it really simple so there's not a lot of choreography. We can be energized. Having those parameters helped me make decisions about how to organize things and focus on singing the parts really well. The songs are definitely challenging.
With her Come Back EP gaining steam on Spotify--each track has collected thousands of hits so far--Carroll plots an upcoming tour. "We're going to be in New York at some point this year. We're going to start hitting cities a little bit between now and then," she teases. "We are in the planning stages of some really exciting shows. Hopefully, we'll have another release by summer, as well."
Looping back to the pluck of the '80s, she considers her placement in culture's overarching infatuation with youth. "I was on a bus with a bunch of high schoolers the other day. I was just like 'it's so bizarre how beautiful youth is.' That's what [director] John Hughes was doing with his stuff. It made me think, too, about Party Nails and pop music and fashion and Madonna. I don't know if you saw Madonna's Billboard Speech. She basically talks about how we're obsessed with youth and that it's a miracle she still has a career."
Take a listen to Party Nails' Come Again EP below:
---
READ MORE ABOUT MUSIC...
Premiere: Maiah Manser shows her "Second Skin" with new choral version
Premiere: Fake Shark drops "Heart 2 Heart," reveals new album and tour
Premiere: C. Shirock's "Back Against the Wall" gets a feverish facelift
---