It's been a busy week for penises. Iggy Azalea, Tom Ford, Sony pictures, even Nancy Grace have penis on the brain.
As Popdust previously reported, Iggy Azalea made a quip about her penis in response to an idiotic rumor.
Nancy Grace did an interview with The Hollywood Reporter about a character in Gone Girl who was clearly her fictional counterpart. Asked if she's seen Ben Affeck's appendage in the hit movie, Nancy replied:
I'm sorry, I was too focused on the blood to notice Ben Affleck's penis, so I apologize to the penis because I did not notice it.
Oh that Nancy Grace!
Getting in on the penis action this week is designer Tom Ford, who is offering some lovely penis-themed jewelry for Christmas. This pendant with a penissy crucifix has ticked off some penisphobes on Twitter, but that's their problem. At $795, it's an ideal stocking-stuffer.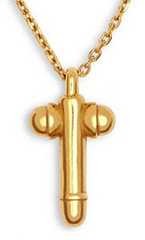 Finally, the Sony email hack scandal has given us a producer confessing to screenwriter Aaron Sorkin that actor Michael Fassbender:
'makes you feel bad to have normal sized male genitalia'
I think that's it, at least so far.
I'm up for the necklace, but speaking for myself, I hope to God that Michael Fassbinder won't be climbing down my chimney.