Trending
A deep-dive into the a cappella group's impressive career so far.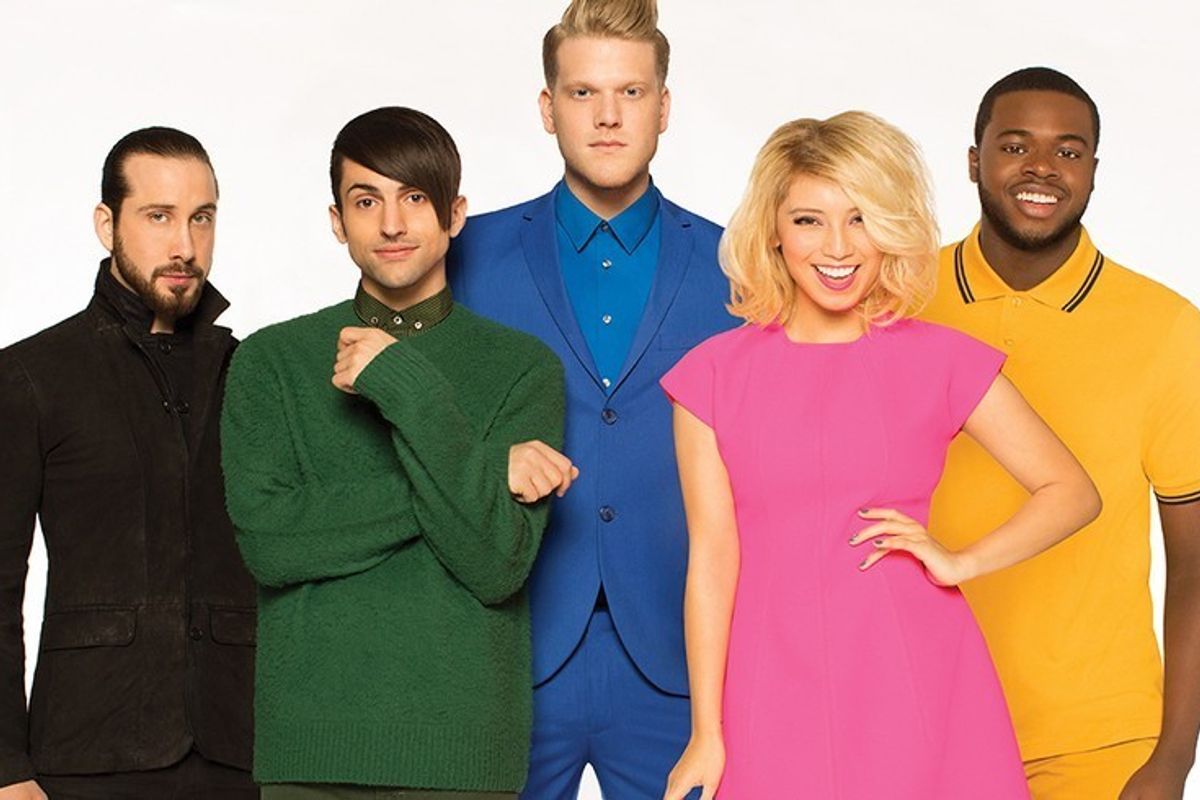 Who could possibly have guessed "The Sing-Off" would spawn a legitimate pop force as mighty and uber-talented as Pentatonix?! Better yet, the five-piece (comprised of Scott Hoying, Kirstin Maldonado, Mitch Grassi, Avi Kaplan and Kevin Olusola) have gone on to sell millions of records, dominate the social conversation and collect two Grammy Awards. They originally stole our hearts with such blockbuster covers of Daft Punk, Beyonce and Michael Jackson, have since staked their claim on Christmas music and released a proper all-original studio album packed with big hooks and explosive vocal acrobatics. While the group has yet to score a major Hot 100 hit (of a self-penned original), they have nonetheless changed the pop game in immeasurable ways. Along with the popularity of the Pitch Perfect franchise, a cappella music is bigger and better than ever.
Popdust takes a look at PTX's impressive career and has curated the group's 10 Greatest Performances ever. Read on for our picks and leave a comment below with your all-time favorite PTX moment.
10. "New Year's Day" (New Year's Eve with Carson Daly, 2016)

In many regards, sweeping ballads are their sweet spot. You think you know what to expect with this album deep cut, but you'd been in for a delightful surprise. Hoying takes the lead with one of his finest and most magical vocals to-date. Live shows got nothin' on this group.
9. "Elvira," Oak Ridge Boys Cover (2015 CMA Awards)
The chart-topping group made an unlikely and wonderfully unexpected appearance at the CMA Awards and ahead of presenting Vocal Group of the Year, they launched into a hearty version of this classic country tune. As you can see by the country stars in the audience, everyone was in awe of their vocal talent, and rightfully so. In less than 90 seconds, they stole the show.
8. "Cracked" ("The Today Show," 2015)
One of the standout cuts on their 2015 self-titled album is this barn-burning anthem. Hoying's lead vocal is absolute fire, and his band mates meet that level of intensity with grit and unfiltered charm. They are somewhat of a morning show staple at this point, and there's nothing better to get the blood pumping in the morning than seeing PTX work. it. out.
7. "Starships," Nicki Minaj Cover (104.3 MyFM, 2012)
The group built their career on covers, cementing their accomplished musicianship with smart and tight rearrangements. No matter the setting, even in intimate venues such as radio tours, they don't let the physical boundaries contain their high-octane energy. Simply put: this performance is lit.
6. Evolution of Michael Jackson (2016 World Tour, San Diego stop)
Where there is incomparable live vocals, there is PTX slaying the game. Michael Jackson's wide-ranging catalog is tough for anyone to cover, but the group stares the challenge down and rips the roof off with a mashup of such songs as "Billie Jean," "Beat It" and "Man in the Mirror," and a ton more. The message couldn't be any clearer: PTX runs the world.
5. "Video Killed the Radio Star," The Buggles Cover ("The Sing-Off," 2011)

One of the group's standout moments on the show came with this '80s throwback gem. Complete with a vocal skip (mimicking a record player), the performance not only demonstrated their knack for expansive musicality but risk-taking--which propelled them on to take the crown that year.
4. "That's Christmas to Me" (2015 "CMA Country Christmas" special)
Wanna be wrapped in warm fuzzies? This performance should do the trick. The melody is one of the group's more subdued and straightforward they've ever recorded, but it is as smooth and satisfying as eggnog. Sometimes less is, indeed, more.
3. Beyonce Medley ("The Ellen Show," 2013)
What's better than a PTX cover? An "Evolution" mashup. Taking on Beyonce's songbook (up to the R&B diva's 2013 self-titled LP), the group digs into Bey's Destiny's Child days all the way through pop standards like "Irreplaceable," "Single Ladies (Put a Ring on It)" and "Best Thing I Never Had." If you don't weep with joy, what's wrong with you?!
2. "Dog Days Are Over," Florence + the Machine Cover ("The Sing-Off" 2011)

Their propulsive reading of this pop smash remains as their defining moment on the singing competition. As the viewer, we were staring the future in the face and didn't even know it. Lo and behold, they would launch their superstar, Grammy-winning careers that night. And they've been chugging along ever since--this year, they are nominated for Best Country Duo/Group Performance for their reinvention of "Jolene," featuring Dolly Parton herself. Bloody terrific.
1. "Hallelujah," Leonard Cohen Cover ("A Pentatonix Christmas Special," 2016)

We've already sung the praise of PTX's sterling rendering of Cohen's signature from the mountain tops, but this performance sees the group hit on all cylinders. From their vocal inflections to their pin-point focus, they are captivating onstage. PTX is in a masterclass of their own. Related note: this Popdust writer witnessed this stellar performance at Newark's Prudential Center, where they held the audience in the palm of their hands. What you see is what you get. #dropsmic
Honorable Mention: Star Wars tribute at the 2015 American Music Awards [watch here]
---
READ MORE ABOUT MUSIC...
Exclusive Premiere: Cody Jay Strips Down Debut Album 'Off The Vine'
Kate Crash & The UFO Club Elicit "Anarchy On The Dancefloor" In New Video
Brielle Von Hugel Finally Feels Comfortable In Her Own Skin
---