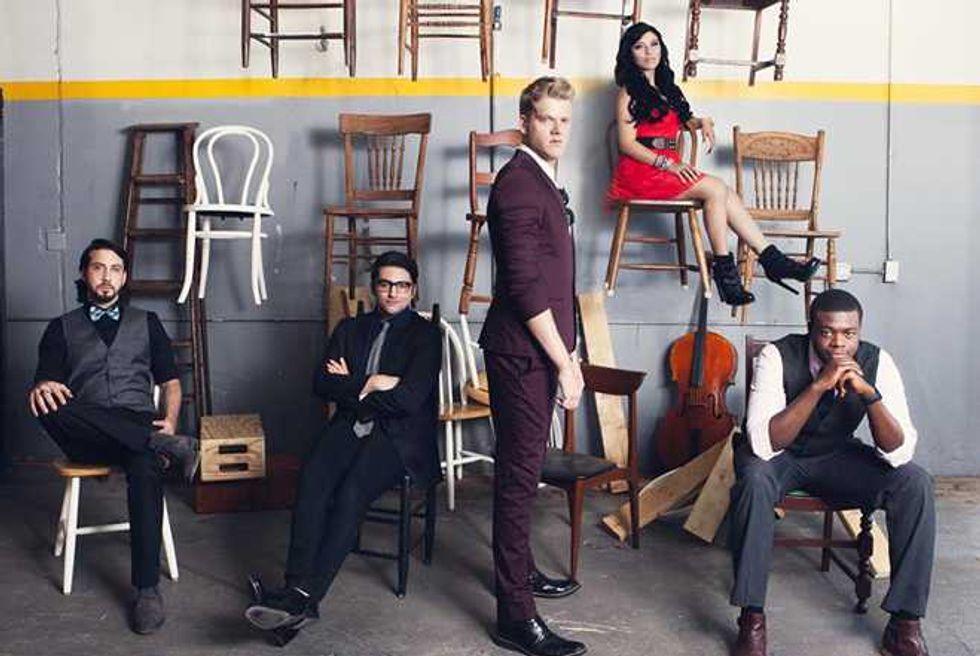 Another day in Pentatonix land, and another sensational cover falls from the Youtube sky. This time, the quintet—comprised of Scott Hoying, Mitch Grassi, Avi Kaplan, Kirstin Maldonado and Kevin Olusola—does something they've never done before: tackle a song in a foreign language. Picking up Stromae's hit "Papaoutai," a track about a son's languish over his missing father, the group flips it into a haunting orchestral piece, with the help of Youtube sensation and accomplished musician Lindsey Stirling.
Grammy.com was the first to exclusively premiere the new track.
"Papaoutai" is lifted from the group's upcoming PTX: Vol. III, dropping next week, and follows such releases as "Problem," "La La Latch" and yesterday's "Rather Be."
Band mate Olusola recently chatted with Popdust about the new cut, saying, "The trio [Kirstie Maldonado, Mitch Grassi, Scott Hoying] got a French tutor to teach them. They first listened to it and learned it that way. Then, they got the tutor and learned it line by line."
"Recording it, they definitely did the absolute best they could. Once they got a first draft, they let some french people listen to it and give feedback. It did take time, but I think it's such a standout," he shared. "It's so different than anything we've ever done. We were like, 'this is gonna be a song people are gonna think 'why are they doing this?' or they are gonna be completely with us and think 'this is insane.' We're praying it is the latter."
Big surprise coming your way next week! In the meantime, don't forget to pre-order #PTXVol3 before it's out on 9/23! http://t.co/e762mVDJMX

— Pentatonix (@PTXofficial) August 29, 2014
Take a listen now:
Stay tuned for updates. Feel free to follow @Popdust and JasonTheScott on Twitter!