"It's the most wonderful time of the year. There'll be much mistletoe-ing and hearts will be glowing when loved ones are near," 2014's breakout a capella group, otherwise known as the illustrious Pentatonix, powers through on the classic holiday track. That particular line seems to succinctly summarize the reaction The Sing-Off champs are receiving with the release of their brand new EP, That's Christmas To Me, and rightfully so. You've never heard the holiday season quite like this. Taking the reindeer reigns on a vibrant stocking-full of Christmas-themed standards, Mitch Grassi, Scott Hoying, Avi Kaplan, Kirstin Maldonado and Kevin Olusola ride a one-horse sleigh straight through wintry, often blisteringly bold, arrangements. With a truly remarkable, pinpoint precision that would make even the coldest of hearts melt, the pop supergroup has created a magical snowflake in time.
HAPPY HOLIDAYS! Our holiday album featuring the original title track #ThatsChristmasToMe is out on @iTunesMusic NOW! http://t.co/tRfAR3dU9u

— Pentatonix (@PTXofficial) October 21, 2014
Not so surprisingly, the group offers up a warmly-knitted version of "Let It Go"—yes, that song that's never, ever gonna go away—but fortunately, for us, PTX does it in a completely exhilarating way. Grassi, especially, reaches the dizzying heights of his range with poise, confidently shattering any expectations. Of course, Maldonado's equally enchanting alto delivery is a nice, icy blast of enjoyment. As the EP's closer, the snowy Frozen anthem is a lovely capper to a project that captivatingly portrays the heart-warming meaning of Christmas. Of course, this follows 10 other tracks that shift from fun-loving ("Sleigh Ride") and effectively haunting ("Mary, Did You Know," probably the highest of highs) to floaty (a medley of "Winter Wonderland" and "Don't Worry Be Happy," led with soulful flourishes from Tori Kelly). There's seemingly not one bad track of the bunch, ultimately leading to several other project standouts: the delightfully hip-hop spun "Santa Is Coming To Town," the celestial instrumental-tinged "Dance Of The Sugar Plum Fairy" [giving bassist Kaplan, beat-boxer Olusola (and Grassi again) a chance to glow] and the incandescent rendition of "Silent Night."
Despite releasing PTX: Vol. III only last month (Popdust reviewed that one, too), Pentatonix doesn't let quantity subtract from their quality. As far as holiday-tinseled sets go, That's Christmas To Me is poised to become 2014's Merry Christmas (Mariah Carey's game-changing 1994 album which features the now-iconic "All I Want For Christmas Is You"). Quite fitting that exactly 20 years separates the two discs. Anyways, where is this full-length album, you guys?
Must-Listen Tracks: "Mary, Did You Know," "Silent Night," "Let It Go"
i got the honor of singin w/ the amazing @PTXofficial on their new Christmas album!! 🎄❤️ #ThatsChristmasToMehttp://t.co/h50b2Ch65c

— Tori Kelly (@ToriKelly) October 21, 2014
Grade: 4.5/5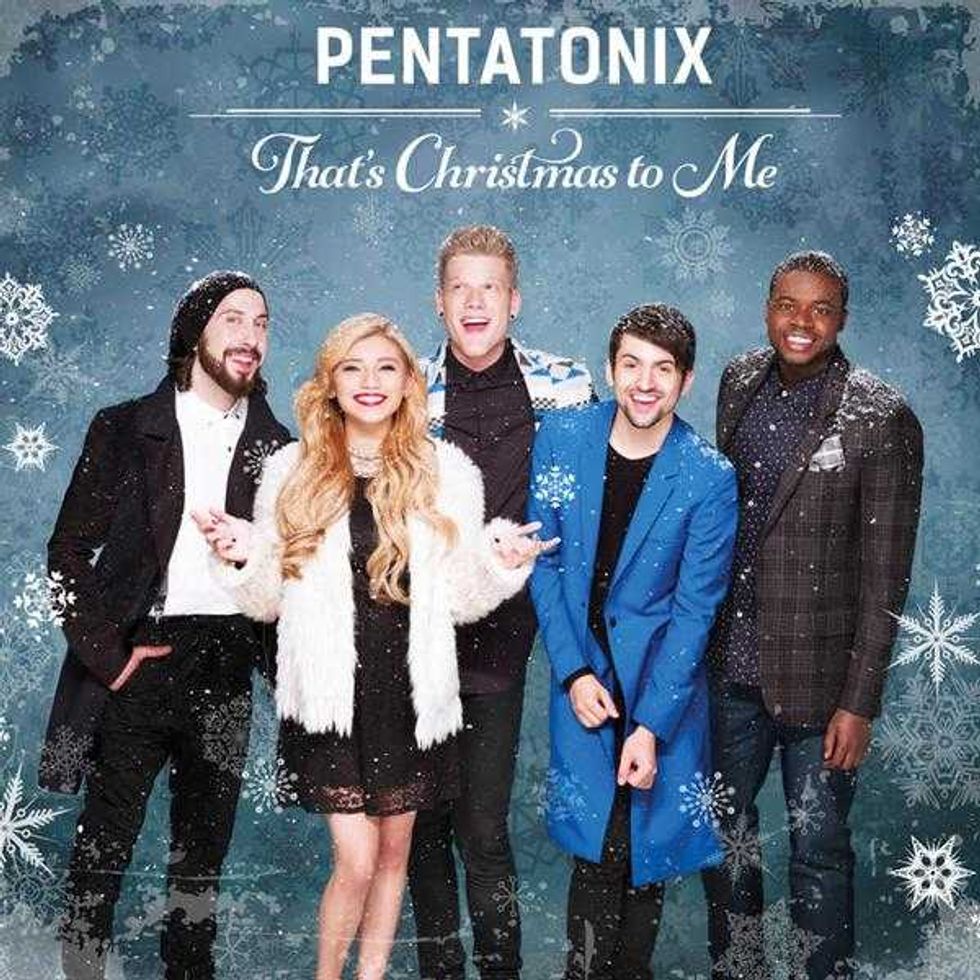 [PHOTO CREDIT: Jiro Schneider/RCA Records]
Stay tuned for updates. Feel free to follow @Popdust and JasonTheScott on Twitter!