You could say Pentatonix is rather radioactive these days. Through the steady release of cinematic music videos and cohesive EP projects, the quintet, which celebrates its third anniversary since winning The Sing-Off this December, has cultivated a commercially viable business model. On Sept. 23, their story continues with the release of their third non-holiday EP, featuring the lead-in, a cover of Ariana Grande's hit "Problem." The seven-track disc also features an original called "On My Way Home," which happens to be singer-beatboxer Kevin Olusola's favorite track. "I absolutely love [that one]. I listen to it all the time. I can't wait for fans to hear this one. It's a cool one. It's very anthemic and chanty," he says in an exclusive Popdust interview.
Phoning in from the west coast ("I'm in my bed, enjoying these interviews," he shares quite freely), Olusola ponders his personal evolution since his Sing-Off Days. At first, he is quite speechless that another year is closing. "Oh my goodness. Wow," he says simply, at first. After a couple moments,  he gathers his thoughts. "I will say my fashion sense has grown tremendously," he laughs, of how he's changed. "You have to understand, when I was in undergrad, and I did not care about fashion. All I wanted to do was make sure I could pass my classes."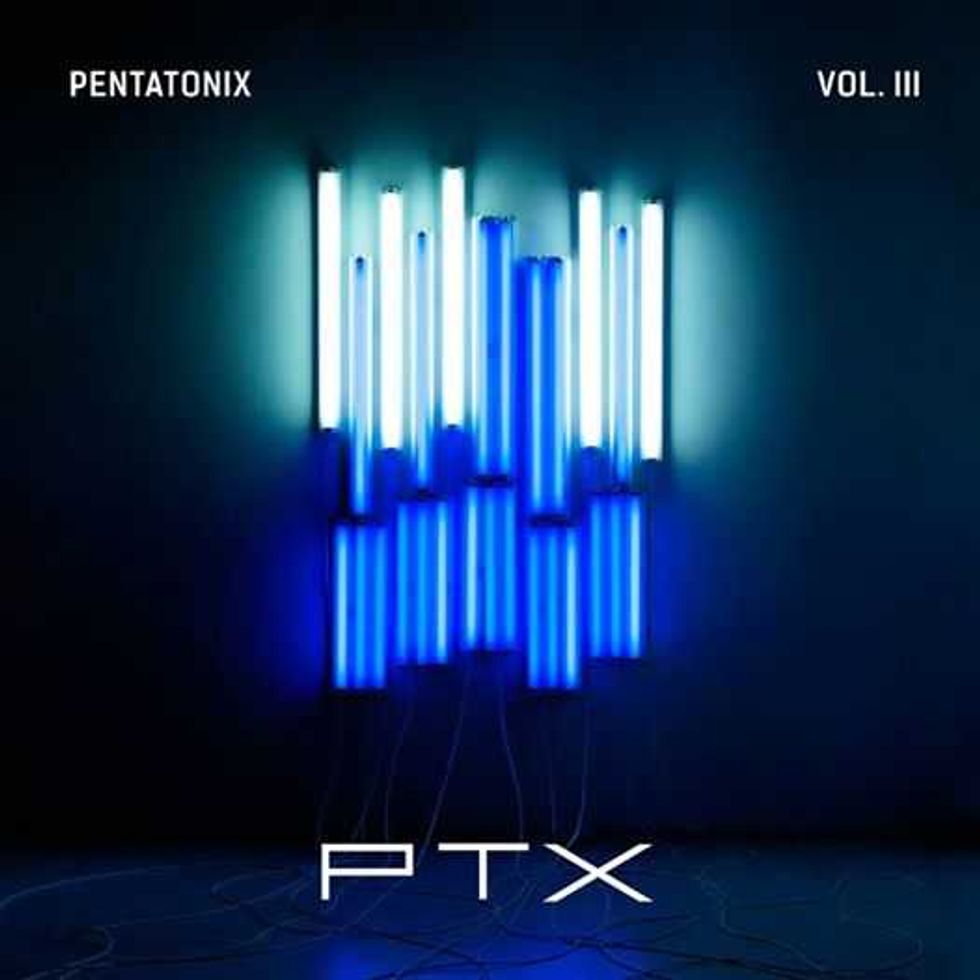 He continues, "Now, I'm at the point where fashion is really important to me. I never thought I had any fashion sense. As I've grown, I realized 'oh wait, I can be fashionable. This is cool. I like the way I look now.' Then, I've become more and more confident in my own abilities and understanding that this is an industry that nothing will be handed to you. You really have to make your own decisions. You're responsible for it. That's been our motto: we are responsible for our success. We will take the reigns of our career. We said that, and we are so surprised and thankful for all the success we've had because of that."
Looking at the group's catalog so far, which includes such blockbuster covers as "Royals" and "Say Something," Olusola reveals his favorite music video to-date. "I'd probably say 'Radioactive,'" he says. "We went to the middle of a desert and shot this video. We all have these really cool, post-apocalyptic clothes on. That was a fun shoot. And honestly, I have to say 'La La Latch' was really fun to do, too. I really liked doing that one. Our music video concepts have gotten more and more complex. With this one, it was kind of cool just to be together and jam, which we hadn't done in a while. This is jam we wanted to show people 'hey, we're just five people doing what we love to do. We just love to jam.' It was dope."
Speaking of "La La Latch" (a mashup of Disclosure's "Latch," with Sam Smith and Naughty Boy's "La La La," also with Smith), with its mysteriously cool texture and explosive arrangement, he explains the creative process of piecing together two tracks into a whole. "First, we kind of do an outline and see what works organically. I mean, we'll go through and see 'ok, maybe we can put this here from this song' and get something we think might work and properly represent each song well. After that, we start doing an arrangement like we do any other one--doing basic beat box and get those sets glued and figure out who is singing melody on each song. Then, we figure out harmonies. Once you get those, we try out moments--maybe a cascade here or a rewind inflection here. That's really worked well. We did a mashup on 'The Sing Off'; that's when we started learning how to do this more efficiently. We have a process that works well."
But when it comes to structuring their originals, the process is quite different. "When we started off, we had no idea what we were doing. Now, because we've arranged so much, we have a really good idea of what our sound is like. If we write a good song, then we'll know how to arrange for it. One of the things, especially that we do, when it comes to writing a song, is we always keep the feel and style in mind. We know what sounds we can do very well. When we are writing, we have a better idea of how we are going to arrange it."
Elsewhere on the forthcoming PTX: Vol. III, Pentatonix does something they've never quite done before: an exploration into Stromae. Their cover of "Papaoutai" is one of the set's most bold, broadening recordings and by far, the group's most adventurous so far. "The trio [Kirstie Maldonado, Mitch Grassi, Scott Hoying] got a French tutor to teach them," Olusola says. "They first listened to it and learned it that way. Then, they got the tutor and learned it line by line."
"Recording it, they definitely did the absolute best they could. Once they got a first draft, they let some french people listen to it and give feedback. It did take time, but I think it's such a standout. It's so different than anything we've ever done. We were like, 'this is gonna be a song people are gonna think 'why are they doing this?' or they are gonna be completely with us and think 'this is insane.' We're praying it is the latter."
Of course, their own music isn't the only thing this talented five-some is up to. Recently, they were featured in a music video for the new Teenage Mutant Ninja Turtles action flick. The experience was "surreal," Olusola admits. "It was definitely a lot more high budget," he then laughs. "We had never really had so many dancers before, which was really cool. It brought this energy to what we were doing. We were just so amped up afterward. We were like 'this is cool. We should add dancers to our own live show.' The product was so cool for us."
As fans know, Pentatonix will also be featured in the upcoming Pitch Perfect 2 film. "It was very, very cool to be on a major motion picture set--to see everything that goes into it. The Bellas are cool. They're all hot, every single one of them is hot," he says of already having filmed their cameo scenes, noting how movies like this are one of many factors contributing to the surging popularity of a capella music. "People are looking for a more organic, pure sound now that you don't get to hear so much on the radio. It's overpopulated with overproduced tracks," he explains. "This is a cool way to show people, 'hey, we can have a very catchy sound, but just with our voices.' This is something that we just love to do. When we got together for the first time, we sang everywhere in Arlington, Texas--in random coffee shops and things like that."
By now, they are virtually a household name, credited by their simmering EP releases. "EPs are a way to get music out quickly and show people what you're thinking about in your mind at that moment in life," Olusola says, of building a brand in quite an unconventional style. "We want to do an LP in the future, but EPs are good a way to connect with fans. People sometimes don't care necessarily about 'oh, when are they gonna release a full length album'; sometimes they are like 'I just want to hear new music from a band I really like.' Fans are what we are thinking about. It's what we love. EPs have been very, very fun. They've also been a great way to experiment and find out how we want to continuously grow and develop."
Big surprise coming your way next week! In the meantime, don't forget to pre-order #PTXVol3 before it's out on 9/23! http://t.co/e762mVDJMX

— Pentatonix (@PTXofficial) August 29, 2014
Stay tuned for updates. Feel free to follow @Popdust and JasonTheScott on Twitter!