Since 2010, my ringtone has been the introductory chord progression to Phoenix's 2009 hit song "1901."
The track's resilience in my life reflects the prominence the überly successful record Wolfgang Amadeus Phoenix album as a whole gave the already decade-old French band. It was weird and quirky in its references (the song "Lisztomania" is literally referring to a 1975 comedy film exploring the life and scandalous romantic life of nineteenth century Hungarian composer Franz Linszt), but housing a danceable beat and upbeat feeling that kept millions of listeners playing it during the last summer of the first decade of the new millennium. It seemed to incorporate all of the emotions surrounding a good sunny season: lots of fun, lots of love, and lots of odd thoughts relating to the conflict between feeling something and just wanting to have a good time.
The album went gold in the U.S., and earned the band a platinum single for the song that would become my ringtone. It would also earn them a Grammy Award for "Best Alternative Music Album." Quickly, the Frenchmen, who started as a "garage band" based in the lead vocalist Thomas Mars's house in the suburbs of Paris, were making the festival and talk show rounds. They weren't quite a household name, but their songs were likely on the family playlist.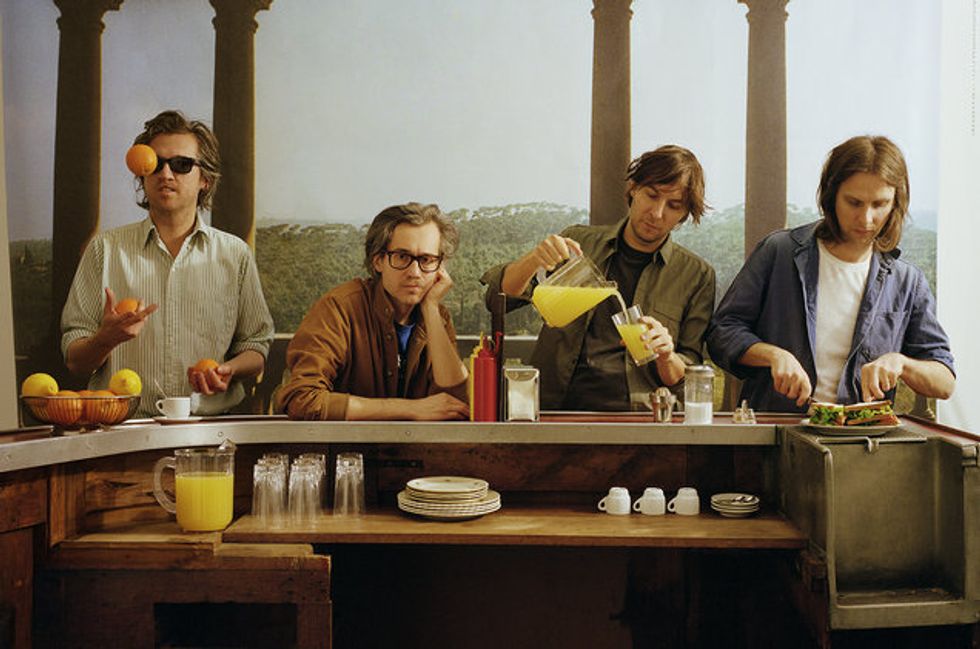 To follow up the success, four years later, Phoenix released a similarly summer-saturated album, Bankrupt!. It was reactionary to their success, staying true to their abilities to create music that, depending on the day, could make you think about something or could just make you get out of your seat and dance. And, with the marriage of Mars to director Sofia Coppola, had one heck of beautifully directed music video for the single, "Chloroform."
Another four years later, they are back with another attempt at having the perfect summer album with Ti Amo, a project they worked on the project in an old Opera house outside of Paris. This might explain its strongly European disco sound which erupted over the course of three years. They experimented and collected the material they liked best to create the new, extremely sunny and romantic album.
The problem is, they've been here before — twice.
In full, the album is just over half an hour. In that time, we get the sounds and sentiments we expect from the quirky band: we fall in love, we feel confused, we dance and sing along except for the sections that sample different languages (hence the title). And in every track, we experiences the numerous shifts and changes over the course of two to four minutes that make Phoenix's work noteworthy in the first place.
The singles from the record give us the world we are accustomed to hearing from the group. "J-Boy" is a tale of romance and science-fiction, wild and wonderful and odd in the way Phoenix is able to carry gracefully and be respected for.
Even more dance-friendly is the title track. It is the kind of song your shoulders automatically start moving to when you feel the rhythm moving through you from the intense beat and repetitive chorus. It's got flavor and it's not lyrically deep or peculiar enough to distract from its fun qualities. However, neither song is necessarily one you are going to have going through your brain over and over again as some of the past work of Phoenix has the ability to do. The infiltration process will stop after a few months, when the song moves out of radio circulation.
In general, this could be said for many of the tracks on the album. While it can be appreciated that the band is trying out new things while still trying to maintain their old sound and style that fans fell for, these songs do not quite meet that expectation. They are too similar to what we've already heard, except we probably won't like them as much as we did the first round.
A couple of songs that likely won't get the attention they deserve are scattered throughout Ti Amo. They don't escape from sounding similar from old material, but they deliver it in an overall more successful manner.
"Tuttifruitti" is playful and sweet, just as it's name suggests. It doesn't try anything wild while remaining true to the upbeat, carefree style of the group. Again, it's nothing in comparison to the old stuff, but it will do. Somewhat deeper and more satisfying is "Lovelife," a real declaration of a loving someone despite flaws and not being able to help yourself. It's arguably where the experimentation of keyboards and electronic sounds work best on this album, because the storytelling has matured here. It is similar enough but different in that we're getting an emotional narrative — something we don't tend to expect from Phoenix.
The concluding track on the record, "Telefono," is, similarly, able to find a good balance of old and new. It mixes in various languages and samples conversations in a unique, experimental way, but by keeping the typical alternative pop sounds of a Phoenix track and including a slightly more grown up narrative with reflection on feelings and relationship (what does it mean to be unable to sleep when your partner is also wide awake?), they've shown they've done the work to find out how to grow and change while remaining true to their original ambitions. If only the entire album felt the same.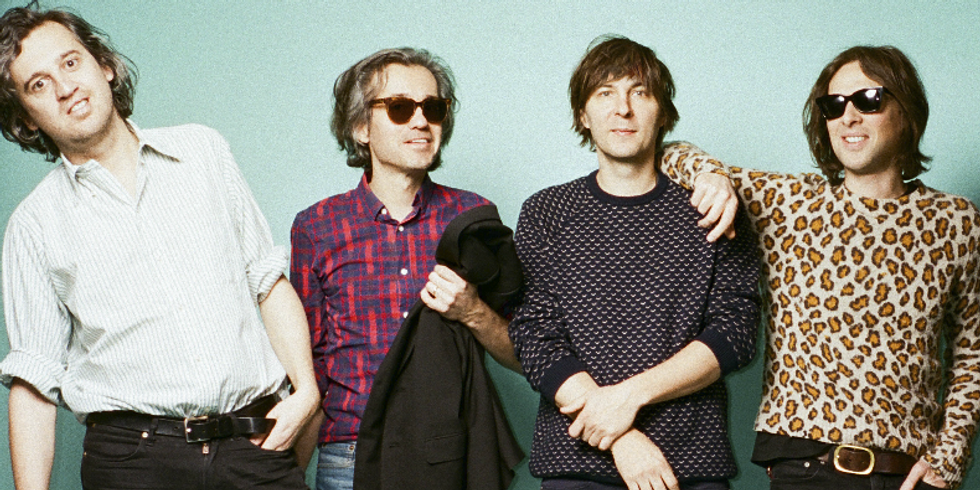 In an interview with The New York Times, Phoenix's bass player, Deck D'Arcy said, "The landscape is too wide and we're having too much fun to stop," in relation to the band's rehearsal. That could be exactly the problem with these songs: they needed to stop while they were ahead.
Phoenix have proved themselves to be an incredibly diligent, ever-lasting band in the past. That still doesn't feel up for debate with their latest efforts. However, there's nothing quite like your first summer love, and like their work following Wolfgang Amadeus Phoenix, we just can't experience them again like we did the first time. The flourishes and tricks don't elicit the same reactions anymore. It's not quite old, but it's definitely overly familiar.
Ti Amo won't help you find a new ringtone, though it could assist in a few summer playlist additions, and perhaps that is more important in the long-run.
---
Rachel A.G. Gilman is a writer, a radio producer, and probably the girl wearing the Kinks shirt. Follow her on Twitter.
READ MORE ABOUT MUSIC...