Arts
it's a tale of desperation, heartbreak and, ultimately, senseless tragedy....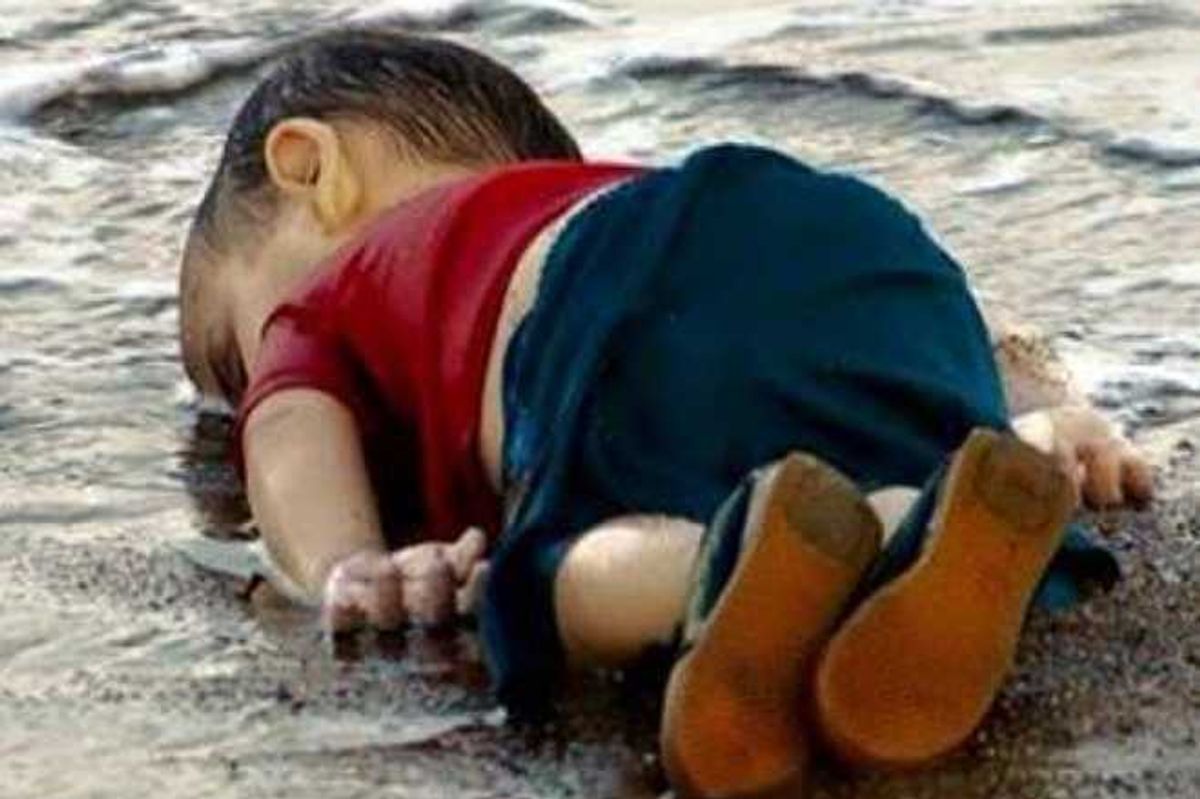 It's the photo that's on the front page of newspapers all around the world today.
A 3-year-old Syrian boy, named Aylan Kurdi, pictured, laying face down, dead—his little body washed up on a Turkish beach.
The disturbing and horrifying photo has rocked even those who have previously felt indifferent to the plight of thousands of desperate Syrian refugees fleeing their war-torn home—prompting a surge in pressure on Western governments to step up and provide safe asylum to those seeking it.
Throughout the day details have surfaced regarding the story behind the photo—and, it's one of desperation, heartbreak and, ultimately, senseless tragedy.
Aylan's aunt, Teema Kurdi, who has lived in Vancouver for the past twenty years, told the National Post, that Aylan's father, mother and brother embarked on the treacherous boat trip from Turkey to the Greek island of Kos, in the hope of traveling on to Canada to join her.
The family originally hailed from Damascus, where Aylan's father, Abdullah, worked as a barber—the civil war forced them to flee north to Kobani however as fighting intensified—and then once again, over the Syrian border, into Turkey.
Abdullah dreamed of a peaceful and safe future for his family in Canada, and with that aim in mind, he borrowed $4,500 to pay human traffickers for four places on a five meter long dinghy that would set sail from Bodrum, Turkey, and land in Greece.
From there he planned to eventually travel on with his family to Canada.
Abdullah's hopes were destroyed however, after one hour into the journey the dinghy capsized in rough seas, and Alyan, Abdullah's wife, Rihan, and his other son, Galip, drowned, along with nine other refugees.
According to survivors, after the boat capsized, Abdullah tried desperately to hold on to his wife and two children as he clung to the side of the overturned boat, but, "one by one they were washed away by waves."
Kurdi offered yet more insight into her brother's traumatic ordeal, telling the National Post:
There's a terrible story he told about swimming from one [child] to the other, finding one [son] who seemed to be alright and then going to another, finding him drowned... and then going back to the first boy and finding him drowned.
He made it, but his wife didn't.

Clearly struggling to come to terms with the death of his wife and two sons, Abdullah spoke briefly to reporters, telling them, "I just want to see my children for the last time and stay forever with them."
Abdullah went on to say that his only wish now is to return his family's bodies to Kobani and then "be buried alongside them."
Over 4 million refugees have fled Syria since the breakout of war in 2011—with around 1.8 million landing in Turkey, 600,000 plus in Jordan, and 1 million in Lebanon.
As those countries struggle to absorb the huge influx, and temporary housing camps become more and more over populated and dire, desperate refugees are starting to turn to Europe in ever increasing numbers.
Germany has been shouldering the main brunt of the refugee influx into Europe—which, according to the UNHCR, totals in excess of 300,000 people so far this year—and is comprised mainly of Syrians, but also includes refugees from Afghanistan and Iraq.
German chancellor, Angela Merkel, announced earlier this week that her country is expected to take in up to 1 million asylum seekers by the end of the year, and called on other European countries to increase their intake quotas.
In contrast, over the past 12 months, between June 2014 and June 2015, Great Britain has accepted only 166 Syrian refugees—placing it behind Germany, Sweden, Hungary, Malta, Switzerland, and 13 other countries when it comes to the number of accepted refugees in proportion to its population.
David Cameron, the British Prime Minister, has steadfastly opposed Merkel's proposal for a quota system to be introduced to ensure that refugees are fairly distributed among all 28 European Union states.
When forced to comment on Britain's record regarding the current humanitarian crisis, Cameron has persistently downplayed the plight of refugees, describing them as a "swarm of people" and insisting that taking in more asylum seekers isn't the answer.
Cameron argues that instead, working on achieving peace in the Middle East, and meeting "big challenges" is the only way forward.
The majority of the British press, for their part, have been persistently and faithfully propping up Cameron's anti-refugee stance.
The UK's best selling daily newspaper, The Sun, has previously likened refugees crossing the Mediterranean to cockroaches, and run front page headlines such as, "Halt the Asylum Tide Now" "Draw a Red Line on Immigration or Else" and "Rescue Boats? I'd Rather Use Gunships To Stop Migrants"
Britain's second best-selling newspaper, The Daily Mail, has run a slew of their own anti-immigrant front page stories—including, "The True Toll Of Mass Migration" "The Swarm in Our Streets" and "Migrant Influx Fuels New Crisis in Schools."
However, the tide suddenly and mysteriously changed Thursday morning—due to a surge in readers' levels of concern for immigrant safety, following the emergence of Alyan's photo—leading to both The Sun and The Daily Mail performing a drastic 180.
The Sun's front page on Thursday featured the photo of Alyan, accompanied by the headline, "Mr. Cameron, Summer Is Over ... Now Deal With the Biggest Crisis Facing Europe Since WW2"
The Daily Mail's cover featured Alyan's photo alongside the headline, "Tiny victim of a human catastrophe"
Even Cameron was moved to change his stance, telling reporters, "Britain is a moral nation and we will fulfill our moral responsibilities.
"Anyone who saw those pictures overnight could not help but be moved and, as a father, I felt deeply moved by the sight of that young boy on a beach in Turkey."
Maybe, just maybe, something good can come from this unbelievable and sickening tragedy.
To find out how you can help the Syrian refugees, go to Concern Worldwide and Mercy Corps
---
READ MORE.....
Inside The Tragic World Of The Dancing Boys Of Afghanistan

Six Iranians Sentenced To 91 Lashes For Making Pharrell Happy Homage Video
411 On Baltimore City PD Corruption, Racism, Witness Coercion And Coaching
Good Morning Pyongyang! Video Offers Eery Glimpse Into Everyday Life Inside North Korea