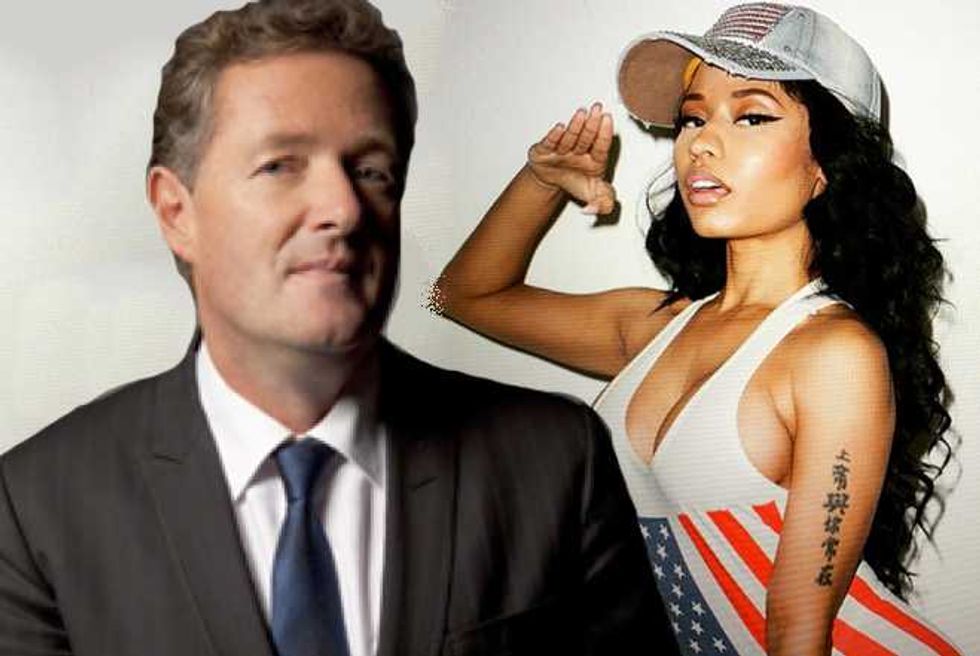 Since his much maligned CNN show was axed in March 2014, everyone's favorite smug, smarmy, annoying British phone hacking scandal dodger hack, Piers Morgan, has scrambled for ways to stay relevant.
As usual, the 50-year-old managed to land firmly on his feet following his fall from grace—landing an Editor At Large gig at the Daily Mail—providing Morgan with the perfect soapbox from which to spout his drivel non stop.
Nicki Minaj Is Driving The Daily Mail Bonkers
Morgan's column also provides him with the perfect trolling ground—fertile, receptive to his bountiful bullshit, and read by millions throughout the world.
Now, if that doesn't prove there's no such thing as Karma…
Nicki Minaj Sings At Bar Mitzvah—Because $200,000, Duh!
Morgan was at his nasty, angry, petty little troll best on Wednesday—taking a bite out of the Nicki Minaj/Taylor Swift VMAs beef—flaunting his arrogant privileged white man heritage—and ensuring himself a trending Twitter spot all at the same time.
Holy troll trifecta! Good job Morgan!
As Popdust previously reported, Minaj found herself on the wrong end of a legion of Swifties after their idol, Taylor, decided to make Nicki's VMAs snub tweets all about HER.
"@NICKIMINAJ I've done nothing but love & support you. It's unlike you to pit women against each other. Maybe one of the men took your slot," Swift tweeted in response to a Minaj observation that, "If your video celebrates women with very slim bodies, you will be nominated for vid of the year"
Donald Trump Is Truly The Most Amazing Troll Of Our Times
Taken in context, with the rest of her missives, Minaj was clearly pissed at the music Industry NOT at Swift personally, and she was quick to point that out, tweeting back in responce, "Huh? U must not be reading my tweets. Didn't say a word about u. I love u just as much. But u should speak on this. @taylorswift13"
Swift declined to speak on the issue, but however, was gracious enough to tell Minaj she could come up on stage with her to accept her award with her if she won! How sweet! Hahaha...
Donald Trump Hair Mystery—Combover, Toupee, Transplant, Follicle Faux Pas?
Not surprisingly, given his well earned tabloid hack stripes, Morgan was quick to sniff out the perfect opportunity to unleash his inner troll on the world once again—courtesy his odious Daily Mail column.
Branding Minaj "just a stroppy little piece of work whose video wasn't as good as Taylor Swift's" Morgan went on to maul the 32-year-old in an obviously bitter little butt sore bitch manner.
Nicki Minaj's 'Only' Lyrics Analysis Uncovers Surprising, Deep, Hidden Meaning
After kicking off by crowing over the fact Minaj was fired from a Bronx Red Lobster back in the day—Oh, the indignity! (Even worse than being fired from the Editor position of the Daily Mirror after refusing to apologize for publishing hoax photos purportedly showing British soldiers abusing Iraqi prisoners, we imagine)—Morgan goes on to lay out his case for why Minaj is "just a stroppy little piece of work"… and basically, it's because she didn't want to hang out with his kids backstage when she appeared as a guest on America's Got Talent.
Hahaha…. talk about holding a grudge.
Piers Morgan Slams Monica Lewinsky—Says She Brought Humiliation On Herself
Obviously still smarting over the perceived slight, Morgan was delighted to find the perfect opportunity to strike back, salivating over Minaj's "toxic firecracker" tweets.
In a classically crafted and worded Daily Mail masterpiece, in which Morgan accuses Minaj of "raging" "sneering" and "flounting" during her "temptestuous tirade" he goes on to (of course) either completely miss the point, or, more likely (given the fact he's way more pro troll than dumb idiot) completely sidestep it, to come down firmly on the side of #TeamSwift.
Nicki Minaj Hints At Losing Baby At 15, Secret Engagement
Morgan then goes on to rail against "the self-styled 'Black Twitter'" which he describes as, "a very large, vocal and aggressive social media group of mainly black Americans who collectively leap on any perceived racial insult or bias to expel their indignation."
Ah! Thanks for the heads up Piers—they sound like a very unpleasant and dangerous group indeed!
And, it turns out Morgan knows first hand just how unpleasant the group can be, as, he explains, "By coincidence, I myself also ran foul of Black Twitter yesterday when I responded to the current popular activist hashtag '#BlackLivesMatter' by tweeting: '#ALLLivesmatter."
Taylor Swift Really Does Hate Katy Perry
Oh Piers, such a glorious pro troll move! We salute you!
"I was trending in America for several hours as Black Twitter vented its wrath at my supposed attempt to 'delegitimize black lives'" Morgan fumed—in Daily Mail parlance—before going on to flounce, "One person even dubbed me a 'white supremacist' as the bile spewed in, despite the fact that I spent much of my time at CNN - when I wasn't confronting gun nuts – fighting for racial equality and justice for murdered young innocent black men like Trayvon Martin."
Yes, we bet you even have some black friends Piers! Maybe own a Bob Marley album or two!
Taylor Swift's Been Accused Of Feuding With Just About Everyone You Can Think Of
Morgan completes his wondrous troll piece in truly commendable troll fashion.
For Nicki Minaj, who is indisputably very talented, to play the race card just because her video didn't get the nomination she wanted is a cheap piece of faux outrage deliberately designed to stir up unnecessary racial tension where it shouldn't exist.

Shame on you, Ms Minaj.
Shame on you indeed Ms Minaj! Everybody knows when it comes to stirring up "faux outrage" that's the sole domain of Pierced Organ and his merry band of trolls.
I mean, why else, #ALLLivesmatter ?!!