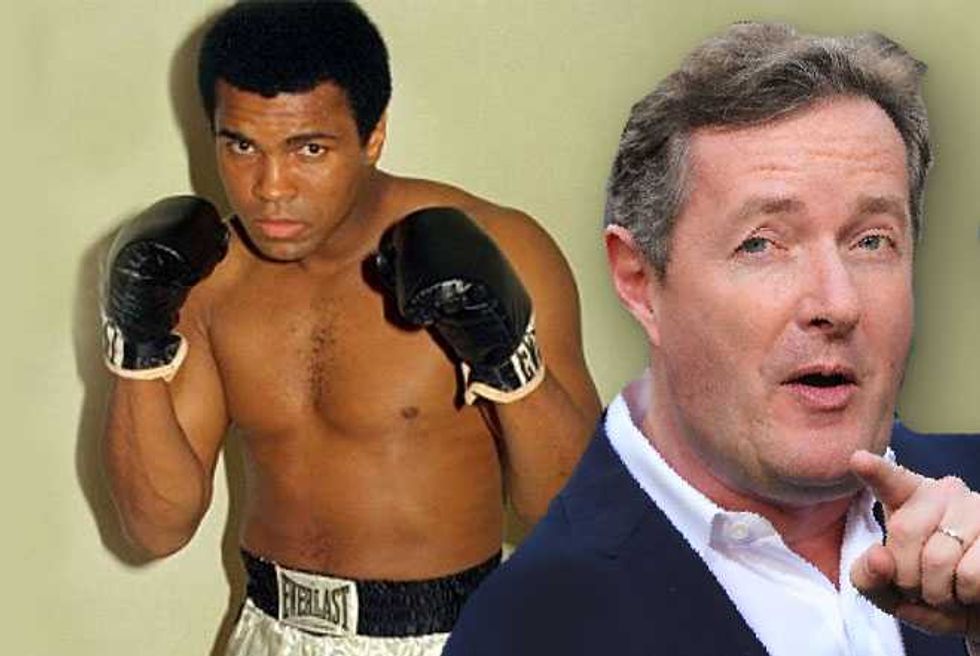 Piers Morgan Muhammad Ali white privilege fueled racism claims are ludicrous and the ever smug and odious Morgan needs to stop trollin' trollin' trollin'
Piers Morgan needs to STFU with his white privilege-fueled Muhammad Ali "racist" bullshit—seriously.
As Popdust reported, Ali passed away last Friday, following a long battle with Parkinson's disease.
He was 74-years old.
Social media was flooded with tributes to the boxing legend—celebrating his sporting prowess, philanthropy, commitment to political and social causes, civil rights work and his embracement of black power and pride.
Then there was Piers Morgan.
Morgan took to Twitter to partake in what he does best:
Trollin' trollin' trollin'……..
Tweeting:
Muhammad Ali said far more inflammatory/racist things about white people than Donald Trump ever has about Muslims. #fact.

Why sugar-coat what Ali said or stood for? He never did that to himself, or when speaking to others.

I hope people don't make me sound too perfect when I die. No coats of sugar please.

Why would stating that Muhammad Ali made a lot of inflammatory, race-charged statements in his life be remotely controversial? He did.

I'm sorry for 'saying inflammatory things for attention' That's the last thing Muhammad Ali would have condoned.
You know what Piers Morgan? There's a saying about walking a mile in someone's shoes.
We're going to go out on a limb and guess that a 51-year-old English white man has never walked a single inch in the shoes of an African American born in Kentucky during times of racial segregation.
Racial segregation that prevented blacks from using the same facilities as whites, and subjected to Jim Crow laws that treated them as lesser humans.
A time when even after winning an Olympic gold medal at age 18, upon returning home, Ali was refused service in a whites-only diner and other public facilities.
A time when whites would routinely refer to blacks as "niggers" and "boy".
A time when the Klu Klux Klan publicly carried out disgusting acts of violence against defenseless and innocent blacks.
A time that included horrific race-motivated crimes, such as the senseless murder of 14-year-old Emmett Till and the Birmingham Church bombings—where 4 little black girls were blown to pieces and 22 other church goers badly injured.
We're guessing if you had, then you would frame Ali's outspoken take-down of white privilege in a drastically different way than "racist."
We're guessing if YOU yourself had witnessed and lived through such unbelievable and disgusting systematic oppression and senseless murder of people that looked just like you, then you yourself would have been an outspoken critic too.
But, no.
Instead, you're a whiny butt sore little white privilege punk who bitches about black people being "racist" towards you.
Because, yes, Piers Morgan, when was the last time you witnessed a white man being lynched by those "racist" blacks?
When was the last time you were refused service somewhere, purely because of the color of your skin?
When was the last time you were stopped by the cops, beaten, shot in the back, purely because of the color of your skin?
When was the last time the IRS audited your tax return, purely because of the color of your skin?
When was the last time you were offered a completely different set of options in life—a sub-standard education, lower FICO score, less job opportunities, higher rate of incarceration, purely because of the color of your skin?
Once again, we're going to go out on a limb here, and guess never.
Never, because you are a white man.
And, because you are a white man Piers Morgan, you need to shut that white privilege mouth of yours when it comes to the subject of black "racism."
We're not the only ones to think so either.
Chrissy Teigen and husband John Legend went AT IT with Morgan on Monday—calling him out on his bullshit.
Teigen and Legend, took on the smug and insufferable journalist over his Ali tweets—and slayed him!
Like owned him—knocked him the fuck out.
Which is appropriate, seeing as they were sparring over the late great Muhammad Ali.
Legend was first to jump into the ring, tweeting:
You could test us by announcing your retirement
Teigen was quick to follow:
From what? Trolling isn't a job (I've tried)
Cue Morgan:
Maybe I should take up a proper job, like modeling?
Teigen:

It keeps me nice and not-racist so sure, give it a go
Morgan:
I'm not racist either, so that makes two of us.
Teigen:
Remember when Bruce Willis didn't know he was dead? It's like that
Cue Morgan with a shameless attempt to promote his odious Daily Mail column:
You may want to read my new column about Ali & racism, @johnlegend @chrissyteigen — you may learn something
Yes, because we're sure John Legend could learn a LOT about racism in the USA from a white English man.
Over to Teigen:
Sorry can't read, just a model doing modeling.

Troll recognize troll.

I can't tweet him anymore.

He has fans somehow and they … they aren't quite 'all there', as they say.

My newborn just looked up at me and said 'mommy, why is piers morgan so unequivocally douchy?' i didn't know what to say

Piers Morgan searches his name every 4.8 seconds. Hi, Piers. I know you're reading this. You unequivocal douche.
Last word to whiny butt sore little bitch Morgan—with a lovely touch of misogyny thrown in for good measure:
Hi Chrissy. No I'm not, you ludicrous swimwear accessory.
Damn—we just like Chrissy Teigen more and more each day.
The 30-year-old is basically the honey badger—albeit a super hot honey badger.
Because, just like the honey badger, Teigen don't give a fuck.
And, just like the honey badger, Teigen just won't back off.
And we love her for it.
For more entertainment, music and pop culture updates and news, follow Max Page on Twitter
Piers Morgan's Nicki Minaj Rant Is The Perfect Bitter Angry Little Troll Piece
Piers Morgan Slams Monica Lewinsky—You Brought Humiliation Upon Yourself
Airbnb Racist Host Banned After Inundating Woman With Hateful Messages
Bank of America Employee Fired Over Insanely Racist Facebook Rant
Snoop Dogg Calls For Roots Boycott—Focus On Success Not Oppression
Riff Raff Knows How To Stop Racism—Because DUH! Of COURSE He Does
piers morgan muhammad ali white privilege
411 On Baltimore City PD Corruption, Racism, Witness Coercion And Coaching
Starbucks to Solve Racism, Finally!
Kanye West—Racism Is Not an Actual Thing, It's Just a Silly Dated Concept!
Justin Bieber Gets Baptized In Bathtub, Racism Magically Washed Away
Inside Colbert Report's Epic Twitter Fail That Led To Cries Of Racism…. #WhoopsOhShit
piers morgan muhammad ali white privilege
Bill O'Reilly Slams Beyonce For Being Too Sexy—Shows Off His Thinly Veiled Racism
The First 48 Accused Of Racism, Compromising People's Freedom For Sake Of TV Ratings
Lorde On Royals Racism Claims, 'I Didn't Know Then What I Know Now' 
Ice Cream Shop Workers Rally Against Racist Harassing Two Muslim Women
Racist Arizona Sheriff Joe Arpaio Turns His Focus To Bestiality
piers morgan muhammad ali white privilege
Blake Lively Blunders Again With Racist Booty Instagram
"Homeland Is Racist," Graffiti On Homeland Set Declares
Atlanta Guy Fired For Racist Facebook Post About Coworker's Kid, Says He Was 'Targeted'
piers morgan muhammad ali white privilege
Giuliana Rancic Rises Above Ruckus Over Kelly Osbourne's Racist Remark
Hulk Hogan Ditched By WWE Over Reported Racist Rant
piers morgan muhammad ali white privilege