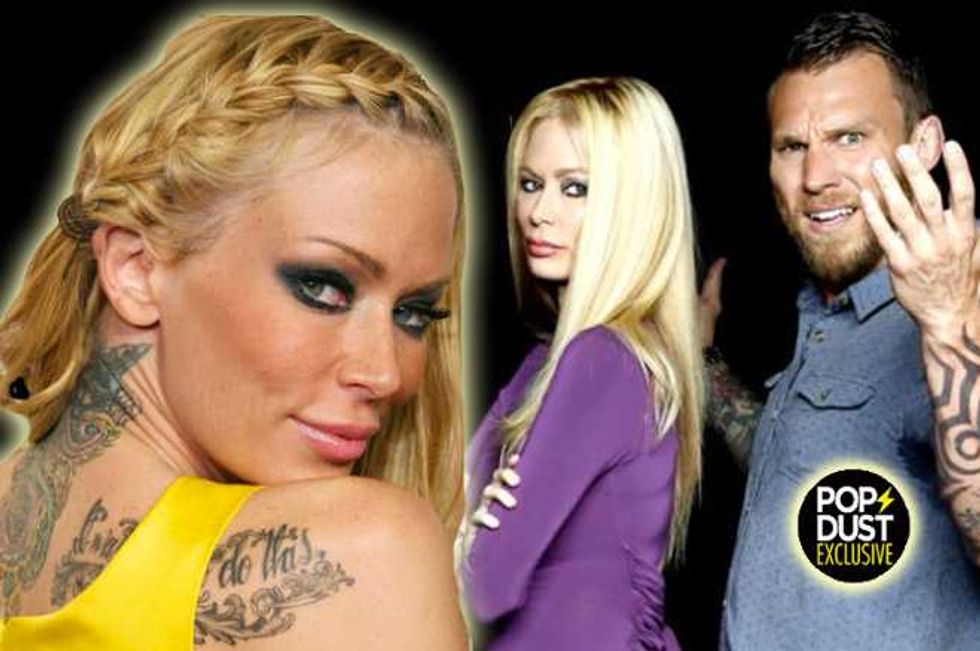 As a veteran adult actress it's pretty much a given that Jenna Jameson has faked a thing or two on camera over the years.
And, it seems the 40-year-old is continuing to hone her acting skills, this time for the benefit of Couples Therapy viewers—as a source tells Popdust exclusively that Jameson is totally feigning her "troubled relationship" with John Wood, 34.
According to the source, who has known Jameson for twenty plus years, not only are the retired porn star and the MMA coach pulling the wool over everyone's eyes—including VH1 executives—when it comes to their supposed relationship woes…in reality, they're not even in a relationship….
"Jenna and John are totally faking it," the source says. "They're not even dating each other, let alone fighting, or concerned about their future together—pure and simple, it is all for the money.
"Jenna was bragging that she got $250,000 to be on the show, and although that's probably an exaggeration, it's likely she did actually get somewhere around the $200,000 range.
"John and Jenna did have a couple of drunken hook-ups back in the day, after she found out Tito was cheating on her with John's ex, Amber Nichole, but the only reason that happened was because she thought it would fuck off Tito—and that plan didn't pan out well at all. Tito couldn't have given less of a shit if he tried—in fact, he was relieved to have Jenna off his back, albeit for a brief time.
"Jenna made the decision to fake a relationship with John for monetary and publicity reasons, she's absolutely desperate for cash and publicity. It's crazy when you consider how much she was worth back in the day, but she's totally hurting for money right now—her life is spiraling out of control and she will do pretty much anything if the price is right."
As Popdust previously reported, Jameson has been struggling to keep it together since losing custody of her twin sons to Ortiz last year, following her arrest on DUI charges—fast forward a year, and she's not finding it any easier.
"Jenna's an absolute mess right now," the source says. "Each time I've seen her recently she's been totally wasted—she's really not coping. I would put money on Tito's accusation that she's hopped up on Oxycontin, she's certainly displaying all the signs, and she's eating Xanax like candy.
"It's a truly sad state of affairs, and she's doing a really good job of isolating and pushing away all and everyone who has ever genuinely cared about her. I don't know how this is going to end for Jenna, but I have a sinking feeling that it's not going to be good."
Meanwhile, according to a well placed VH1 source, Jameson and Wood aren't the only faux couple currently undergoing therapy courtesy reality TV doc Jen Berman—Todd "Too Short" Shaw is also allegedly faking it for the cameras, pretending he wants to rekindle his romance with ex-girlfriend, Monica Payne.
The source claims show producers flipped a lid recently after it became apparent they had been duped by the rapper, who was paid a whopping $200,000 for his appearance.