Pirates of the Caribbean: Dead Men Tell No Tales has no reason to exist. No one was asking for it, no one needed it. And yet here we all are. Six years after On Stranger Tides opened to critical disclaim, a full decade after At World's End brought the original trilogy to an acceptable (if not mind-blowing) close, and fourteen years since the original (and arguably only genuinely great) film took the box-office by storm. At this point we've all lost interest in the mythology, pirates aren't especially cool, and Johnny Depp's Captain Jack Sparrow has been over-exposed, over-parodied, and over-exploited to the point where we can't take it seriously anymore. Dead Men Tell No Tales drives of all of this home in the dullest two-hours possible.
"Everything in this movie has been done better in a previous Pirates movie"
Drawing from the franchise's basket of recycled plot-devices and macguffins, this film sees Sparrow and co. facing of against Javier Bardem's Captain Salazar, and his crew of undead Spaniards. Salazar hates Sparrow because he tricked him to his death (and subsequent un-death). When Depp gives away his magic compass, this allows Salazar to find him (for some poorly explained reason). Depp teams up with Henry (Brenton Thwaites), the son of Will Turner (Orlando Bloom) to find the Trident of Poseidon. The Trident maintains all the curses of the sea. If they break it, Salazar will become mortal and killable, and Will Turner will be free to leave the Flying Dutchman and return to land. They are joined by Kaya Scodelario-Davis as Carina Smyth, a woman working out her daddy issues through science and a magic book of astronomy. Geoffrey Rush returns as Captain Barbossa to alternately antagonize and protagonize depending on what the script needs at that moment.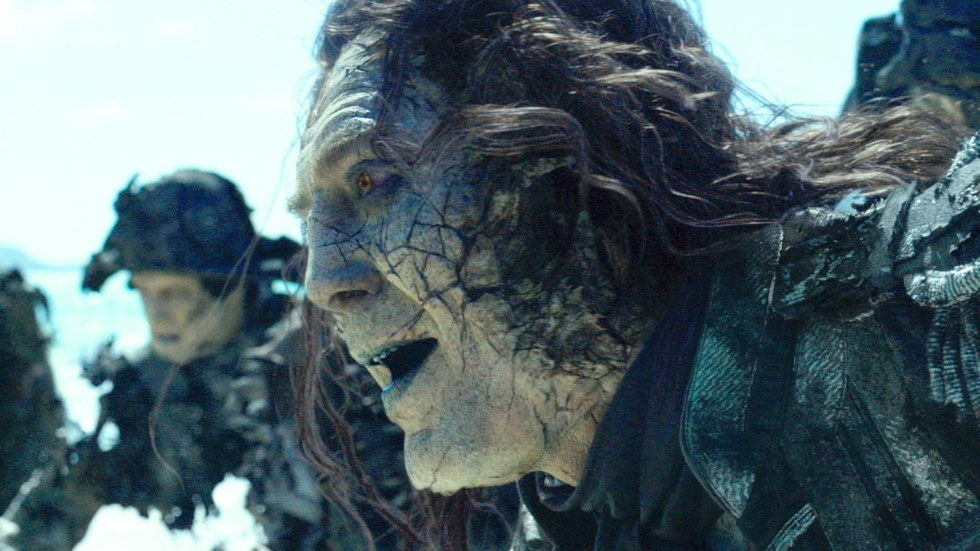 It would be nice to think that Joachim Rønning,and Espen Sandberg (or even Jerry Bruckheimer) had something new, exciting and unusual in mind when they began working on this, but, aside from a few highlights, everything in this movie has been done better in a previous Pirates movie. And usually the first Pirates movie. Undead sailors? Check, but not as cool or creepy as the crew of the Black Pearl. Magical macguffin that will turn everyone mortal again? Check, but not as cool as the gold in the first film. Young romantic leads yearning for adventure, one a starry eyed boy, the other an unladylike tomboy, who find love in each other along the way? Check, but we did this story pretty well already… and those same characters we did it with are also in this movie.
"Only Paul McCartney looks like he's a having a nice day out"
There are a few glimmers of cool. A scene with shark zombies is a funky addition. A few of Depp's Jack Sparrow moments feel vaguely fresh and fun. A scene at the beginning with a bank heist has some of the old luster on it, but no one in this film feels like they're doing much more than cashing a paycheck. Sparrow is old news. Geoffrey Rush (the series' quiet MVP) looks worn out and bored. Brenton Thwaites and Kaya Scodelario-Davis are youthful and energetic, but bland writing makes them largely forgettable. Bardem is a champ, but this character is pulled right out of page one in the book of cliches. Only Paul McCartney looks like he's a having a nice day out. Unfortunately his cameo is the king of all redundancies. The producers should have taken a leaf out of McCartney's work for this franchise, and just let it be.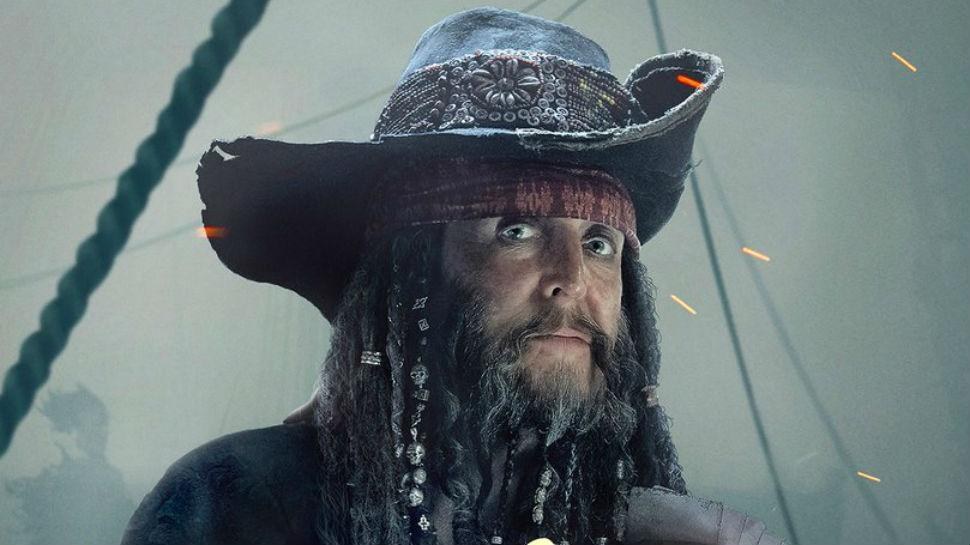 Unless you are monumentally and unhealthily invested in the Pirates of the Caribbean franchise and/or the career of Johnny Depp, there is no reason for you to see Dead Men Tell No Tales. Everything it does, any of the other films do better. Give the money to charity that you would have spent on your ticket, and you will save two lives today.