MUSIC
OGs of '90s fuzz light up Brooklyn Steel
Andrew Karpan
The Pixies, right?
My date had seen them five years ago, and the blonde woman the age of Ke$ha's mother who asked me to take a picture of her and her daughter had caught them at the Ritz in '91. That space was now a Broadway theater and the headquarters of a securities LLC. Meanwhile and on the other side of the East River, Charles Michael Kittridge Thompson IV, known to most as Black Francis but also for some time as Frank Black and Frank Black of Frank Black and the Catholics, arrived on stage in a spiffy MacDougal Street jazz club jacket, glasses with thick frames and an acoustic guitar, held troubadour style. He begins with no ado and no thanking us for coming here. The show, like many the band has played since their reunion in 2004 is sold out. The first words he utters tell us why: "With your feet in the air and your head on the ground." Umph. Blow it up, Brad Pitt. Blow me up.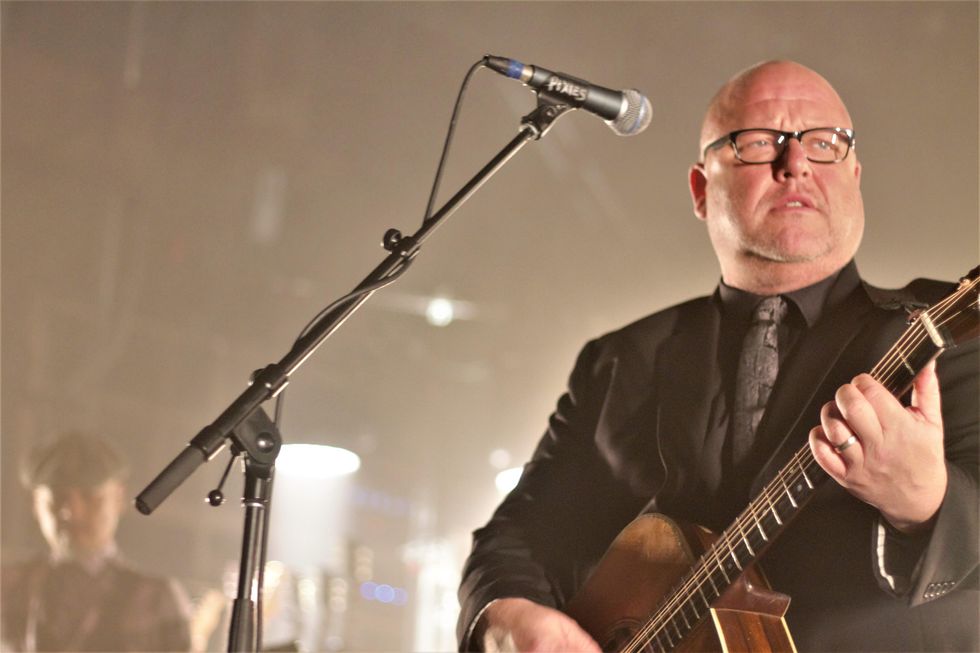 (Andrew Karpan)
Reunion tours are embarrassing figments of nostalgia, they have names like "Not in This Lifetime" and "Hell Freezes Over" which suggest, to some extent, they should not be happening. I ask my date, who had seen these Debasers from Boston at some point in between their first sold-out reunion run and this one, what she expected. "I just want it to be the same." Is that an embarrassing thought, to want the same thing as before, to openly reject the idea of being surprised? The Pixies seem less content with this than some of their peers, they have recorded two albums since '04, the newer recordings consist, now, of an entire third of their collected recordings.

Francis was joined by original guitarist Joey Santiago, original drummer David Lovering and long-since imported bassist Paz Lenchantin, of A Perfect Circle-fame, who joined the band after Kim Deal dipped in the middle of recording the first of those post-reunion albums. Lenchantin was studiously versed in the finer things of her newfound band's old material. Two B-sides, "Winterlong" and minimalist encore number "Into the White," the former a Neil Young cover, were applied to with the haunting force of sneezing insects. Bilious cumulous clouds flood the stage and colorful strobes piece the air above them like the warm and paced breath of an approving god.

Other islands of the band's discursive discography appear suddenly and with the pleasure of little Whitman chocolates. "La La Love You," once called "the stupidest track on the otherwise unimpeachable Doolittle" by NME's Jeremy Allen, floats to the surface in a blur of whistles and noisy sputter. In it, the love song argues for its right to reject banal metaphor and consist, instead, of ironized sequiturs like "First base/second base/third base/home run." I first heard it on a girlfriend's mix CD, complete with the squiggled sharpie writing.
I survey around. "She looks like a passable Kim," I am told. A lot of attention is dedicated to Ms. Lenchantin, still an interloper to ears that have not listened to Head Carrier (PIAS, 2016), where she helms such stuff like "All I Think About Now," three minutes that manage to repurpose "Where is My Mind?" and speculate how it would have sounded closing the devastation on American Beauty instead. An earlier attempt at "Indy Cindy," the title song from their first post-reunion effort, was met with cell phones whipped out and checked on in passive and en masse derision. But the Brooklyn Steel crowd is more forgiving and, maybe, curious at just what Ms. Lenchantin can do. Her voice is a few pitches more shrill than Kim the first (initially replaced by Kim Shattuck, of pop-punkers The Muffs-fame who was then fired for not being good enough) but the mass of heads finally begin bobbing diligently and keep from their cell phones. The lights then recasttheir focus on Francis, who immediately begins digging into "Monkey Gone to Heaven." Circles of slight moshing can be seen forming in far-off corners. It's all hits from here.
Openers Cymbals Eat Take take their name from a Lou Reed quote and produced a series of noise-pop vignettes that eventually exploded into a ten minute teutonic rave.

---
Andrew Karpan was not alive in the '90s. Follow him on Twitter.
More concerts:
Live from New York, It's MASTODON
Bare-chested and Scottish, BIFFY CLYRO are back
Related Articles Around the Web