Heather Christian is standing in the middle of the stage, singing.
All around her are ghosts.
---
That's one way to summarize Animal Wisdom, Christian's visionary live musical seance, which is now an interactive film courtesy of the American Conservatory Theatre and Woolly Mammoth Theatre Company.
Teacup of Rain - Animal Wisdom Clip www.youtube.com
Another way to summarize the show, courtesy of The New York Times, is "part exorcism, part dialogue with her dearly departed; part slide show and part ontological theorizing."

Vogue describes it as a "combination requiem mass, séance, revival meeting, metaphysical lecture, rock concert, and autobiographical one-woman (plus band and choir) show," and also something "stranger and deeper, more powerful and more haunting, than that description implies."
Culture Bot calls it "a requiem mass, a wrecking ball...a conversation regarding God with regards to human nature and evolution and music and mathematics and physics and quantum mechanics and finally space-time looping back to God and music and so on and so forth, a ritual consumption of Coca-Cola, an evocation, bearing witness to a dragon-slayer in the body of a waif, a campfire circle, a hymn in which past becomes present, a faking it until making it, a loss of chronology, a body and soul topography, a plea for mercy, a scar tattoo, a universal collision, a parlor trick, a silver lining."
In short, Animal Wisdom is a bit inexplicable and a bit uncontainable, much like the ghosts it revolves around. We do know some things for certain, though. Animal Wisdom began as a live off-off Broadway show that played at the Bushwick Starr in 2017. During COVID, Christian and her team turned the show into a film that audience members could watch from the safety of their own homes.
At the beginning of the film, Christian requests that audience members grab a bell, a drink, and a candle — objects that will come in handy later. She continues to talk directly to the audience throughout.
This was part of her efforts to speak through the screen, to make contact with the audience members who would be watching the show in the solitude of their own living rooms amidst a global plague. Christian does this admirably, making you feel like you're there with her the whole time as she makes contact with the beyond.
The show is autobiographical and deeply personal. Early on, Christian tells us that like many of the other women in her family, she experiences migraines, makes music, and has been able to communicate with ghosts for as long as she can remember. She goes on to introduce us to many of those ghosts through a series of songs and scenes, some exuberant and funny, some eerie and some terrifying.
In her charming Southern drawl, Christian introduces us to the ghosts of her youth — her beloved friend and the ghost that haunted her in her bedroom; her half-mad piano teacher; her grandmothers, one of whom, she tells us, is now a garden, the other of whom is a red bird.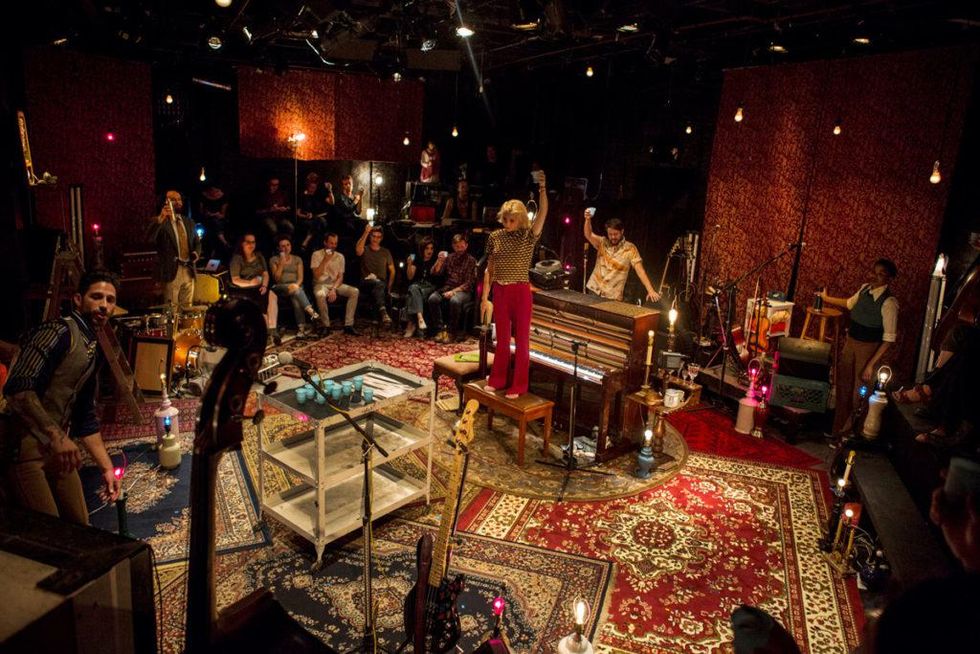 Heather Christian Animal WisdomVillage Voice
But as the show goes on, the narrative begins growing more and more abstract. Timelines twist and fracture. Christian veers away from her original persona and becomes a destructive rock star, then a high priestess conducting a swirling choir of ghost stories.

Eventually, the lights go down and all you can hear is music and abstract lyrics that culminate in a distorted Hallelujah chorus of sorts, sung in total darkness. "What I did was I went back to the original Latin of a traditional requiem mass," she says. "Lots of people have written requiem masses.... It's all based around the same text, and that text is originally written in Latin," Christian explains of the requiem mass.
"I knew a bit of ecclesiastical Latin, enough to glean a surreal way of what was going on within the text without the traditional explanations in front of me. I took that and... I wouldn't even call it an adaptation. I feel like I kind of cannibalized it. Because of my rudimentary understanding of the Latin, what I'm seeing is verbs and nouns, and so it reads as a codex of fenceposts. Alright, we're talking about the pages of God. We're talking about the finger. We're talking about the body as a flesh book, or we're talking about stepping upwards, ascension," she says of her interpretation. "It became a loose frame for me to hang my own flowery language on."
But the mass didn't come easily. "I couldn't figure out how to finish writing the requiem so I bought myself a one way ticket to Rome the summer before I was supposed to do a workshop of the thing. To sit in catacombs and sort of absorb... not just the history but the age of the place," she said of her process of finishing the mass and the show.
"I walked around, I visited a bunch of tombs, I had a weird experience with St. Rita and St. Agnes...in their respective chapels. And then I got really lost. I had this one awful day where I got really lost and my phone didn't work and I wasn't feeling particularly inspired and I was sort of feeling sorry for myself, because I had spent all this money to go to Rome, and all I was doing was making trash... And a rainstorm started sporadically and I got caught in it and didn't have an umbrella and didn't know where I was. And there was this traffic medium that also happened to be an olive grove...in the middle of a highway. So I went into this olive grove, in [the rain], and sat under a tree and cried. And when it stopped, I got delivered the finale to this piece. There's no other way to put it. I had a little recorder with me and I just sang it through."
This part of the show is the show's climax and its most mysterious portion. Ironically it's possibly also the show's most intimate portion, as it strips away identity and context until there's nothing to separate the listener's experience from Christian's experience — and until there's nothing to separate the listener's grief from Christian's.
Reaching a faraway audience member through a screen isn't all that different from reaching beyond the veil and into the realm of ghosts, if you think about it, and Christian and her virtuosic supporting band have clearly mastered the art of doing both. An extraordinarily talented lyricist and vocalist, Christian is also an expert at that most elusive of arts: bridging the divide between the audience and the performance, creating a new kind of intimacy and wholeness that only the best theatre (and perhaps also the best rituals, seances, and religious ceremonies) can.

We spoke about all things Animal Wisdom — ghosts, memory, grief, and everything in between — on the latest episode of Crossroads Cafe.
Listen below:
Heather Christian on Her Ghost-Summoning Musical Theatre Masterpiece "Animal Wisdom"