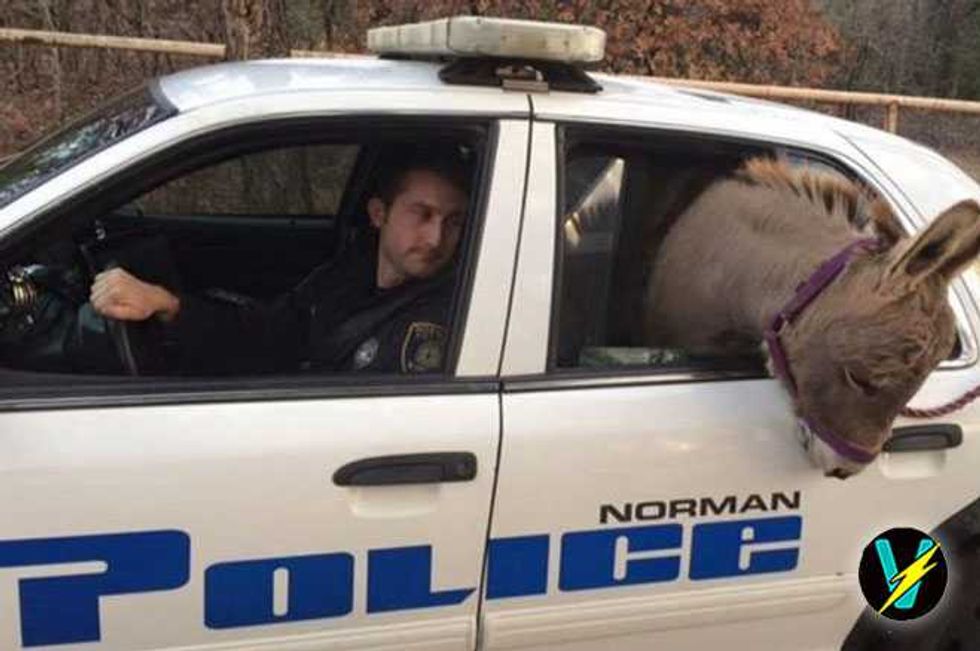 police give donkey ride
In what must be the most bizarre news of the week, cops in Oklahoma gave a donkey a lift home in their patrol car after coming across it roaming free.
The police department in Norman updated their Facebook page on Tuesday with news of the unusual arrest.
Meet Estella—The Adorable Paralyzed Guinea Pig With A Custom Wheelchair
Officer Kyle Canaan responded to a call about a "donkey on the loose" from Robin Strader after she spotted the odd looking hitchhiker on her way to work.  Strader offered to keep 'Squishy' (as they nicknamed him) at her property four miles away until the owner could be tracked down, however they were then presented with the problem of how to transport the beast;
"She said, 'Well, no, it won't fit in my car,'" Canaan told KFOR-TV  "And, I was like, 'Eh, it may fit in my car.'"
Cops Search For Guy Who Pooped On Over 19 Cars In Ohio
The kind-hearted duo eventually enticed the animal into the cop car by using some food to coax him into the back set—he gave himself up quietly and did not put up a fight, so no cuffs were needed.
Doing what many before him will have wished they could do—Squishy left the cop a huge steaming memento of his journey to deal with.
Pig Gets Arrested-Shits All Over Cop Car Exclusive Interview
The image of Squishy enjoying his ride has gone viral and the thankfully the joyful owners have now come forward, delighted to be reunited with their escapee.
police give donkey ride
police give donkey ride
police give donkey ride