Alli Simpson tells it like it is.
DECEMBER 7, 2017 -- The Australian artist is on fire with two new singles out. "I Won't Remember You Tomorrow," is a bittersweet confessional. Alli isn't giving her ex-lover the satisfaction of having him on her mind. She brushes the relationship off in this amazing tune that has a subtle power to it. Her song "Material Boy," addresses the superficial nature of dating these days. In the music video, Alli confronts a Ken-doll-like boyfriend about his indifference to real things like love.
Alli joined us at Popdust HQ in an intimate interview to talk about her music, family, and activism. Being from a very musical family, Alli, Cody, and her brother Teddy have been encouraged to pursue their dreams she says. Her parents moved the family to LA early on in their careers to broaden their opportunities and potential. They have always been encouraged to give back as well. Their tight family unit has enabled Alli and Cody to become the incredible artists and activists they are today. Check out our interview below!
Watch "Material Boy" | Official Video
"This video roughly encapsulates what I've been experiencing when it comes to superficiality & dating in Los Angeles. He is staring blankly like the Ken Doll to his Barbie Doll. Showing the shallowness in some men having a girl as their "possession" rather than their other half. Or treating a women less than they deserve, like an object! It's all in fun & showing my side to the story. I hope anybody can relate in their own way & women can stand strong to what they deserve!" - Alli Simpson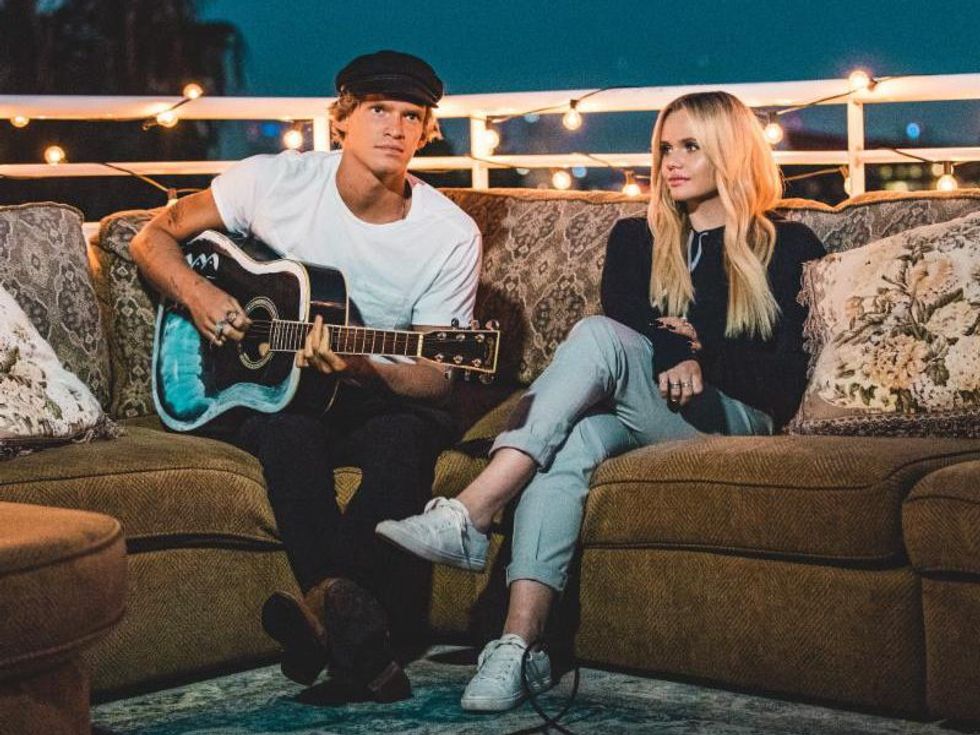 Both "Material Boy" and "I Won't Remember You Tomorrow" are now available everywhere. Alli recently teamed up with fellow artists (including Olivia Newton John, Delta Goodrem, Justice Crew, Jessica Mauboy, Samantha Jade, and more) to record a special version of The Beatles' classic "With a Little Help from My Friends" for Sony Music Australia's charity single. The song was also featured in the Top 10 on Spotify's Viral Chart. All of the proceeds received by Sony Music from the sale of this charity single will be donated to the Sony Foundation to support Australia's disadvantaged youth. Alli recently did an unplugged version of "I Won't Remember You Tomorrow" with her brother Cody Simpson of Cody Simpson and The Tide.
Alli and Cody, children of two famed athletes in Australia moved to the US at the same time. Alli gushes about her amazing, supportive family. The entire family relocated to Los Angeles after Cody got started in the music industry. Alli followed by becoming an artist soon after. She says her youngest brother Tom is following suit as well, an accomplished pianist.
Check out their performance here.
Alli also just wrapped up co-hosting the first season of The ShareSpace, an online music competition on YouTube, with Jai Waetford. Over the course of 30 days, "The Talent" (music-making creatives) were presented with various challenges, collaborative opportunities and industry development support designed to enhance their careers and fan-base throughout and beyond their time in The ShareSpace.

In addition to her roles as a singer and co-host, Alli is involved in many different facets of entertainment. Alli is featured in the Aldo Shoes Fall Campaign in 35+ countries, and was the backstage correspondent at the iHeart Music Festival in Vegas, official Twitter host for the ARIA Awards in Sydney and will be the host of Z100's Jingle Ball Village in NYC. She also continues to serve as Teen Ambassador for the Children's Miracle Network Hospitals and represented Team Australia in the torch relay at the 2016 Olympics in Rio.
Alli says that going forward, she's going to release music as she pleases. Not signed to a label, Alli is able to have complete control over her music. Brent and Alli joke that her brother Cody, who is rumored to be starting a record label, won't sign her. She clarifies, "Cody actually inspired me to get into the music industry." With the drive and ability to bring her fans music at her will and the support from her family, Alli is unstoppable.
---
Notable Quotes from the interview:
"It's really cool. It's great to have him sort of as my right hand man in the industry because we're like best friends and each other's biggest fans." -- Alli Simpson
"Are these about the guys in LA? Because I'm not hearing great things about them." -- Brent Butler
"If a guy breaks up with you or cheats on you, it's like I can move on because I don't need you anyway." -- Alli Simpson
"Dan thinks I'm going to plug my own single 'I Don't Need You' but I'm not gonna." -- Brent Butler
"#iwirt"-- Alli + Brent
"...and speaking of internet. Al Gore who invented the internet, I heard you performed at his 24 Hour Climate Change event." -- Brent Butler
"Al Gore liked the song." -- Alli Simpson
---
Listen to Alli on Spotify :

---
Dan Victor is editor of Popdust and producer of Popdust Presents. He is also a music producer, bassist for Low Profile (live hip hop) & The Coldpress (indie rap) and front-man for Ductape Halo (indie rock). Follow on Youtube.
---
POP⚡ DUST | Read More Popdust Presents...

Popdust Presents | MARIE MILLER talks campfire, songwriting, and mandolin magic
Related Articles Around the Web