MUSIC
Interview and Acoustic Performance at Popdust
Cody Simpson and The Tide roll in to Rock!
November 14, 2017 -- When you think surfers, there is a connotation of bleach blonde hair, wet suits and long summers on the beach. Popdust got the opportunity to have catch some of that California sun in New York City. Cody Simpson, best known for his pop music and Justin Bieber collaborations, has undergone a transformation. As a musician grows, they are challenged to evolve. The level of his musicianship has jumped to the next level, due in part to the band which he is now a part of. I say it this way because the band is something more. Cody embraced the band dynamic and seems even more mature with his artistic sensibilities, which speaks volumes to an already successful artist. So what give him him the unshakable creative ethic, so few share.
We were so excited to have this very well known performer on Popdust Presents, although we didn't know exactly how lucky we were. It was a serious lesson in the way it is supposed to be done! Brent Butler spoke with the band about the Wave One EP and an acoustic performance that blew us away. I was struck by how philosophical Cody's approach to music as he was. It was as serious as it is fun. The songs evoke a different era but through the prism of today. Following a positive attitude, the music reminds me that it's coming from a higher place. These sounds course through my veins as thick as a wave that overwhelms me. An undertow pulling me closer to the music on the beach, near a fire, plenty of drinks and a beat that wags my head.
The band mates we sharing a genuine enthusiasm to each other's energy. It is part of what makes a band different than a solo artist. Like parts in a machine, vital to the other. Cody feels very strongly about establishing the rebrand from him as a solo artist to that of a collective. So it is not just Cody alone. Adrian and Shareef join him, not simply to accompany him, they elevate the music. That chemistry is apparent as soon as you see them live.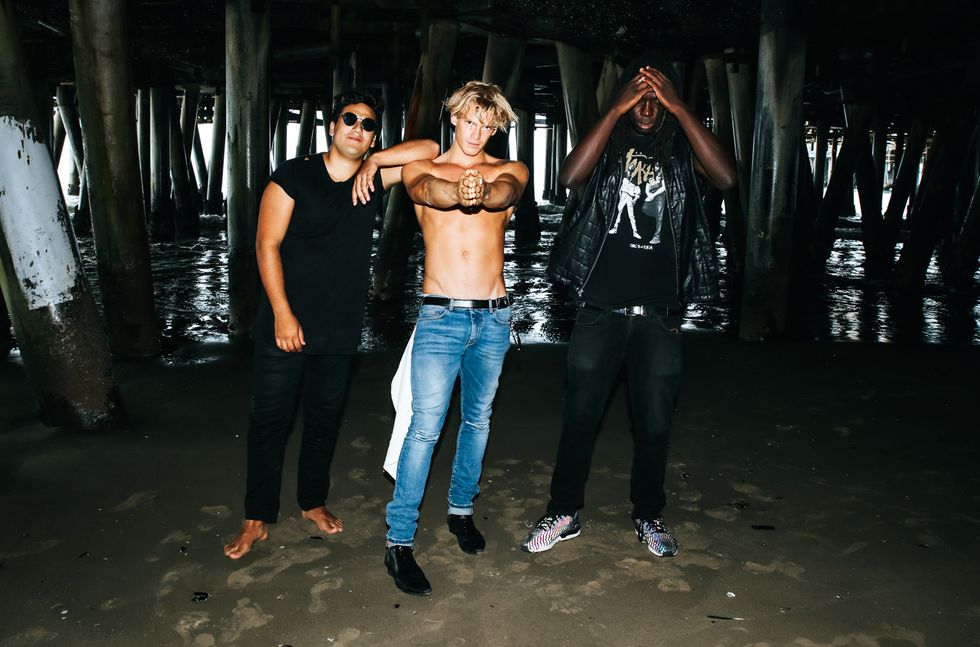 The story of began one summer in Venice Beach. inspiration washed over Cody Simpson like a tidal wave. Early morning surf sessions, poetry under the sun, and jamming at midnight gatherings, he experienced the kind of summer Bruce Brown immortalized in The Endless Summer. Following the release of his 2015 independent full-length Free, the singer, songwriter, and guitarist underwent a series of revelations that manifested his new band, Cody Simpson & The Tide and its 2017 debut EP 'Wave One.'

"This was a transition in so many ways," he admits. "I came out on the other side feeling quite liberated. I spent my childhood listening to folk, country, and acoustic, and I ended up working on Free with guys like Donavon Frankenreiter and G. Love & The Special Sauce. After all this time on the West Side, I moved up to the Sunset Strip in 2016. Soon, I found myself listening to a lot of sixties music from the psychedelic era and embracing rock 'n' roll such as The Doors and Elvis. My voice and guitar playing have developed. This is the next natural step for me. I pulled out for a while and let all of this manifest in my mind. Now, it's fulfilling to see everything take form."
Joined by drummer Adrian Cota and bassist Shareef Addo, Cody wrote four songs that would become Wave One. For the first time in his career, Cody got behind the board and personally produced the studio sessions in Santa Monica, Newport Beach, and Hollywood. To give audiences the full scope of that vision, he releases the project in its entirety during the fall of 2017.
On the EP, opener "Waiting for the Tide" rides a crest of robust guitars and breezy beats as he carries a powerful and provocative hook before breaking on the refrain, "I'm just out here waiting for the tide."
"Sun Go Down" directly "invites the listener on a journey" powered by a sun-kissed surf rock gallop and his upbeat and undeniable delivery. Elsewhere, "Tell Me Why" shuffles on a rhythmic cadence punctuated by irresistible energy.
Finally, there's "Ramona," which touts a sixties-style call-and-response between riffs and vocals before spiraling off into wild acoustic seduction. The group did a stellar version of this and Cody seems to be embodying the spirit of a young Elis Presley. He couldn't stay still with the feverish rhythm bouncing within him. The musicians came over to Popdust to get down and they did just that, and possibly set off some fire alarms.
2013's Surfer's Paradise bowed in the Top 10 of the Billboard Top 200 and boasted fan favorite collaborations with the likes of Ziggy Marley, Asher Roth, and more. Between touring the states and Europe as direct support for Justin Bieber, he penned a popular official autobiography, Welcome to Paradise: My Journey [Harper Collins].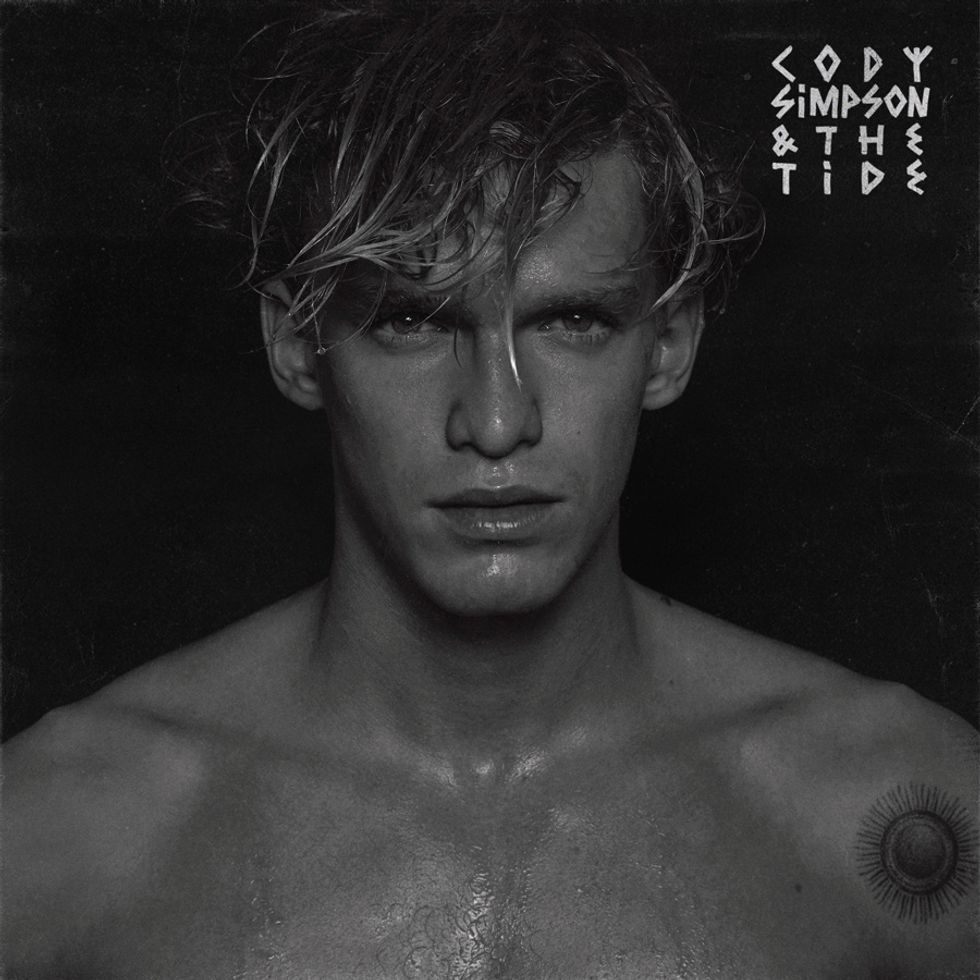 In 2015, Free garnered praise from Rolling Stone, Billboard, Nylon, MTV, and others, while he recorded "Reach Up" for the World Games and carried the torch for Australia at the 2016 World Olympics in Rio. Moreover, he's graced the small screen on shows such as The Today Show, Live! with Kelly, Late Late Show with James Corden, and The Ellen DeGeneres Show.
"The reason behind the name was I wanted this body of work to be an audio replication of what the Tide is as an element of nature," he leaves off. "...I wanted to be an exemplar of the Tide's flow. It was about taking people back to that primitive innocence and being able to appreciate that." – CODY SIMPSON
Watch official music video for "Waiting for the Tide" here:
"We're stoked to share our first visual as a band. 'Waiting For The Tide' is an introduction into our view for the world. An instruction on joining us in our vision for the future, a return to primitivism. The song began as a poem that I wrote about the sea level rise and humanity's attitude towards environmental issues." – CODY SIMPSON
Listen to ARTIST :
---
Dan Victor is editor of Popdust and producer of Popdust Presents. He is also a music producer, bassist for Low Profile (live hip hop) & The Coldpress (indie rap) and front-man for Ductape Halo (indie rock). Follow on Youtube.
---
POP⚡ DUST | Read More…

Popdust Presents | MARIE MILLER talks campfire, songwriting, and mandolin magic
Popdust Presents | Erin Bowman shows us a "Good Time Good Life"
Popdust Presents | Is NIGHT DRIVE the new wave of pop?
---