J. Marco brings Popdust some Pop-Rock from Nashville!
NOVEMBER 8, 2017 -- I first saw this band when they were in town playing a show at the Soho House. It's a fancy private club with lots of rooms and different floors. They actually have a pool on the roof top. I sat down in a chair with a nice glass of red wine and watched in this high-back velvet chair. I enjoyed it very much, so Popdust invited J. Marco to do the show. He came all they way back for an acoustic rendition of his hit songs: "Love Don't Matter" and "We're All Alright". It was really cool to re-connect weeks later and catch up. He brought another guitarist to play lead. They killed, so listen to these exclusive tracks.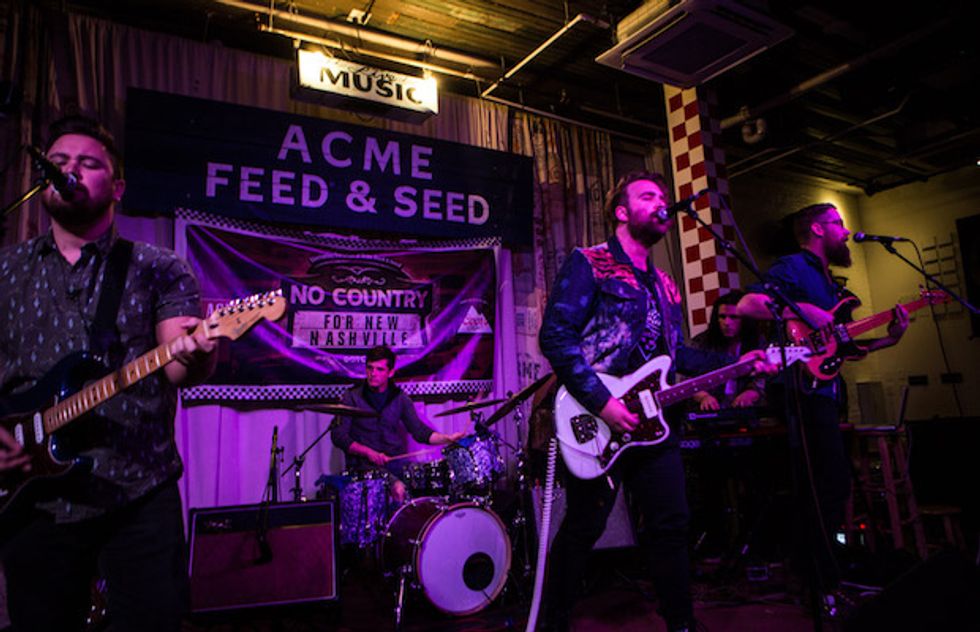 Long before moving to Nashville and kicking off his songwriting career, J. Marco listened to records in his Massachusetts bedroom, moving between the fast-moving fuzz of punk-rock and the hard-hitting hooks of pop music. Years later, he combines both of those genres and more on Days Of Surrender, his second album as a solo artist.
Days Of Surrender finds J. Marco pulling triple-duty as singer, songwriter, and lead guitarist. He covers a good deal of ground along the way, from the album's propulsive single, "Love Don't Matter" to the anthemic rock & roll of "See Her Tonight" "Now That It's Over" & "Say Goodbye." Gluing the entire album together is an emphasis on guitar riffs and undeniable melodies, the same two ingredients that connected most of Marco's childhood influences.
Watch "We're All Alright" | Live & Acoustic

As they begin the song, the guitars are just strumming, but can already feel the vibe of wistful nostalgia of day we believe to be better. Although those times are rarely what we remember them. Watching this again refreshes my memory of this night. Everyone who played had a folk, blues and rock flavor. Reminds me of Springsteen, Dylan or even Tom Petty. Real Americana, while keeping true to well crafted hooks, it straddles the line between singer-songwriter and a rocking live show.
---
Watch "Love Don't Matter" | Live & Acoustic
What does matter? How much I love this song. The two guitars were so pretty together. It's rooted in the past, in concept and sound. The solo on this track is sick! We all know that Love does Matter, even if we don't want to always admit it.
Notable Word Combinations: I had been drinking a little of the Popdust Prosseco, by Lot 18, when we started the interview and continued enjoying it the rest of the night. Here are some funny quotes out of context.
You were going, going, jamming, doing the thing and... STOP 1-2-3 BANG! and I was like "What?"
Have you seen the tickets for Broadway?
In my teens I got into Punk
Favorite Misfits Song: "Last Caress"
I decided to listen to a lot of Captain Beef-heart and I started hallucinating
Fallen art we found
WATCH J. Marco with full band at the Soho House, NYC:
Popdust caught J. Marco coming all the way from Nashville on a Friday night in Manhattan. They did an incredible version of "Dancing in the Dark" by Bruce Springsteen, that they weave seamlessly into their power pop set.
---
Listen to J. Marco:

---
Dan Victor is editor of Popdust and producer of Popdust Presents. He is also a music producer, bassist for Low Profile (live hip hop) & The Coldpress (indie rap) and front-man for Ductape Halo (indie rock). Follow on Youtube.
---
POP⚡ DUST | Read More Popdust Presents...

Popdust Presents | MARIE MILLER talks campfire, songwriting, and mandolin magic