MUSIC
On our second end-of-year list, our music writers tackle 2016's best EPs and mixtapes.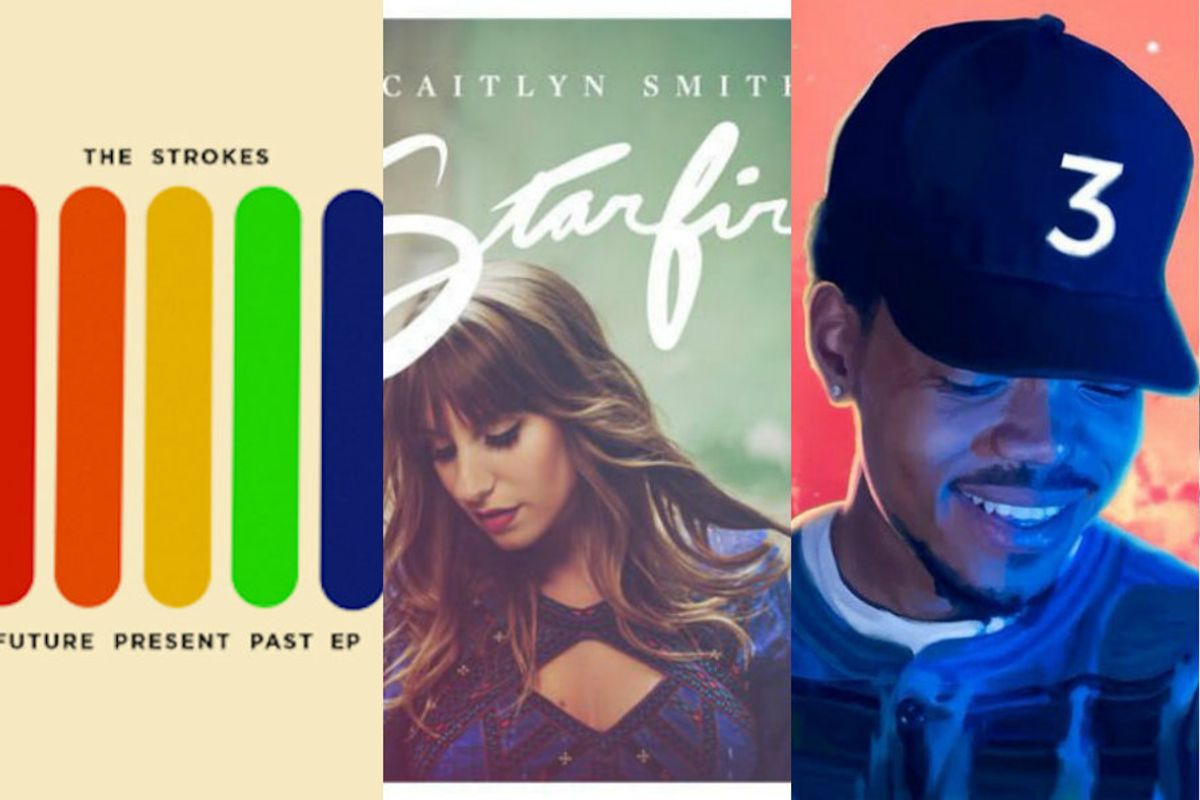 Popdust's E.R. Pulgar and Jason Scott release their second list of 2016's best in music, this time taking on the EPs and mixtapes that stood out. From hitmakers like Chance The Rapper and The Strokes to more obscure fare, we've got you covered. Feel free to fight us in the comments if you don't find your favorite EP on the list.

Here are the official Popdust picks for 2016's best EPs and mixtapes.
---
10. Karenina / Basement, Modern Diet
New York indie rockers Modern Diet have been very quietly rising in the local scene, with this single EP serving as follow-up to last year's excellent self-titled debut. The slow, moody guitar burns here, growing in "Karenina" until it becomes a passionate wall of psychedelic sound that threatens to engulf the listener; let these funky, intrepid newcomers envelop you, and you'll be all the better for it.
Key Track: "Karenina"
9. likeWise, The Pheels

On this delectable stoner R&B debut, Atlanta duo The Pheels contemplate the three most important things in life: love, sex and breakfast food. On "French Toast," they somehow manage to contemplate all three at the same time over a gnarly, warbled bass. This strong start from a duo to watch in 2017 will get you hot, heavy, and hungry for more.
Key Tracks: "The Heartbreaker," "French Toast"
8. The Pink Polo EP, Masego and Medasin

A sleek, sexy collaborative effort between two of the year's best rising producers, if The Pink Polo EP doesn't have you dancing from the get-go, turn in your dancing shoes to someone who deserves them. The album features trippy trumpet production, mixed with a lively bass and swaggering vocals that sometimes veneer on nu-jazz scatting. This is as much a laid-back effort as it is a party-starter.
Key Tracks: "Shut Up and Groove," "Sunday Vibes"
7. Death Deserves a Name, Can't Swim

If righteous fury and deeply angsty sadness are key ingredients of pop punk, Can't Swim have made 2016's best EP in the genre. Complete with screamed vocals, screeching guitar, and a palpable, earth-shaking emotion, this is perhaps too short for how frenetically charged it is. That's not to say they're incapable of introspection—the title track, which closes the record, will leave you crying in the middle of whatever mosh pit the other four songs may have brought about.
Key Tracks: "Way It Was," "Death Deserves a Name"
6. Summer Songs 2, Lil Yachty

Georgia rapper Lil Yachty keeps getting better—on Summer Songs 2, he refines the swagger that made his first mixtape so irresistible, and he's not even 20. The production and flow on display here are as fire as his hair, with Yachty truly growing into his own persona and niche as a rapper. He signed with Motown Records and Capital Records this summer in a joint venture record deal, so expect to see more of this promising, prolific young star.
Key Tracks: "For Hot 97, "All In"
5. Hooops, Rogov

This profound five-track debut from prolific LA-based songwriter Greg Rogove—who's worked with everyone from Devendra Banhart to Beck—is notable for the raw honesty imbued in its music. The record's eclectic echos of freak folk rhythms and quiet psychedelia show a range and emotion that only someone with a large arsenal of sounds at their disposal and a deep knowledge of self could produce.
Key Tracks: "Against the Wall," "Sunrise Sunset"
4. It Kindly Stopped For Me, Sorority Noise

Pop punk heroes Sorority Noise's latest effort is a hushed, translucent exercise in emotional resonance. The lyrics resonate poetic: "I'll leave you my whole heart if there's one left to leave." If you feel like tearing apart your soul and really pondering every single person who has ever broken your heart, this album is the perfect companion—a short, sweet emotional trip that leaves you feeling relieved.
Key Tracks: "A Will," "XC"
3. Wait & See, Majical Cloudz

Canadian indie pop duo Majical Cloudz announced earlier this year that 2015's outstandingly spacey Are You Alone would be their last complete work, further breaking the hearts of every fan who enjoyed their particular brand of heartbreak. Wait & See is the last Majical Cloudz anyone will hear for a long time—if not forever—and they could not offer the world a more languorous collection of swan songs.
Key Tracks: "Let Me Lie," "My Heart Soaks Up Every Drop of Blood"
2. Coloring Book, Chance The Rapper

Chicago-native Chance The Rapper's star has been soaring, and star-studded Coloring Book is his most refined achievement yet. Keeping with the sexy, raw honesty and sick flow that have made him notable on today's rap scene, Chance is also known for reflection, none of which is missing from what can safely be called 2016's best mixtape: on "Blessings," he reflects on one of his mentors: "Kanye's best prodigy / He ain't signed me, but he proud of me." He's not the only one.
Key Tracks: "Blessings," "Same Drugs"
1. Future Present Past, The Strokes

What is there to say about the top pick on my list except was there ever any doubt? The Strokes' grand return is very much what one might expect from The Strokes; Future Present Past was so representative of the lo-fi rock sound that they've been known for that the EP drew ire from some critics due to the band being too deep in their comfort zone, and releasing an album of "diminishing returns." This EP was an attack on the senses in every possible way, with Julian Casablancas' most transparent, politically-charged lyrics yet and guitarist Nick Valensi in top form, a premonition to his band CRX's excellent debut later this year. Maybe I'm biased, but it's the album that made me fall in love with them. It's a known law of the universe that you don't forget your first Strokes song—to this day, I still make it a point to blast "OBLIVIUS" every time I'm driving down a long highway at night.
Key Tracks: "OBLIVIUS," "Threat of Joy"

Honorable Mention: For Those Who Can't Dance, Kid Lore

Despite being released in late November 2015, Miami-based indie rockers Kid Lore began to harness the sound that would come to define indie rock in Brooklyn circa 2016. It comes as no surprise, then, that the album was recorded in Mama Coco's Funky Kitchen in Bushwick. These hot newcomers, equal parts Arctic Monkeys and Vundabar, brandish heavy guitar like a battle axe, and led vocalist Adam Tahoun absolutely devours the mic on these tracks—his lo-fi vocals retain an energy that will make fans of early Alex Turner nostalgic.
Key Tracks: "The Kid is Mia," "I Wanna Go (But Only If You Wanna Go)"
---
10. All the Luck, The Young Wild
This Sunny California trio—made up of Gareth Moore, Bryan B. William and Brandon Taylor Zedaker—are not your typical pop-rockers. Their framework of piano-percussion fusion is unlike anything else being made in 2016; "Not a One" sits into the Lumineers-esque side-pocket without compromising their own identity. They are fueled by alternative, less-than-elegant influences, which pulse through their veins and bleed out on the EP's title cut and the spacey "Moment Goes."
Key Tracks: "All the Luck," "Moment Goes"
9. Ouroboros - EP, Smoke Season

The psychedelic-rock duo, made up of Gaby Wortman and Jason Rosen, are one shot whiskey and two shots electro-soul. Their wickedly cool work is a haunting dreamscape, heaving and sighing with the vestiges of folklore aching to break free. "When the Smoke Clears" and "Emilia" are pulsing lullabies which provoke you and your dreams and cause you to lose sleep at night. They're feverish and unforgettable, and Smoke Season are just getting started.

Key Tracks: "When the Smoke Clears," "Emilia"
8. Brand New Moves, Hey Violet
Formerly known as Cherri Bomb, circa 2008-2013, progressive pop outfit show off more than a few brand new moves. With only three tracks, including the audacious "Fuqboi" anthem, they ignite a rebellion proper in pop music.
Key Track: "Fuqboi"
7. Starfire, Caitlyn Smith
The go-to country songwriter (Cassadee Pope, Garth Brooks, Dolly Parton) is making her transition to full-blown artist rather seamlessly. The follow-up to 2014's Everything to You EP is like a shock to the heart and mind, blasting waltz-y rock-soul and impassioned vocals to the core. The five new tracks sample her forthcoming studio album (of the same name), and she digs her vocal into the dirt--her version of "Tacoma" (recorded by Brooks) is earth-shattering and far superior.
Key Tracks: "This Town is Killing Me," "Before You Called Me Baby"
6. Finding Fletcher - EP, Fletcher
Earlier this year, the pop newcomer smeared on her "War Paint" to declare her dominance with one of 2016's best rallying cries—and it was definitely needed. The anchor to her long-awaited bow was rather indicative of the set's tone, one of resiliences and strength and passion. "Princess" and "Avalanche" are likewise empowering and constructed on tribal rhythms and Fletcher's bright vocal.
Key Tracks: "Princess," "Wasted Youth"
5. Astrid S, Astrid S

Norwegian singer-songwriter delights in the melodies and rhythms of the ether on her self-titled debut. Mixing house, moody EDM and Top 40 thrills, the 20-year-old hits the gut with standouts such as her lead single "Hurts So Good" and "Atic"--a rumbling R&B-influenced slow-jam which causes quite the commotion in the stratosphere. Her voice is feathery and sweet but has enough weight to match even the best of 'em.
Key Tracks: "Hurts So Good," "Atic"
4. +30mg, Cruel Youth
Teddy Sinclair's collaborative project with husband and musician Will Moon sees the singer "bolting across sugary R&B-syrup (as crafty and sheepish as she does on "Hatefuck," a soulful number worthy of the late, great Amy Winehouse)" and "whispering a ghostly, yet jovial, haunt ("Mr. Watson") so cool it makes Lana del Rey look like a novice." The new seven-track collection is sad, beautiful and tragic, exemplary tunes ripe for countless loops.

Key Tracks: "Mr Watson," "Hatefuck"
3. Banners, Banners
As he professes on the opening cut, the electro-pop vocalist started a riot this year. His melancholic but lilting delivery is appropriate on EP moments like "Gold Dust" and "Ghosts," recordings where he is at his most vulnerable. His soft coo is alarmingly intricate and mighty; as they say, less is always more.
Key Tracks: "Start a Riot," "Ghosts"
2. The Variety Show, Vol. 1, Maggie Rose
There is a profound freedom permeating every throbbing second of Rose's new project. The chains of the label system rusted, and she was able to feel the wind on her creativity once again. She reclaimed her self-worth and delivered a pop-heavy project, further blurring the lines which characterized her 2013 debut album, Cut to Impress. But in 2016, she dabbles in bouncy-pop ("Same Sky") and sensitive singer-songwriter types ("Broken") effortlessly, but you never get the sense she isn't being true to her heart.
Key Tracks: "Same Sky," "Broken"
1. This is What It's Like, Glades
Tapping into the tropical house trend of the mainstream, this eclectic trio don't skimp on the delicious EDM drops and addicting hooks. From the electrifying bow "Speechless" to the moody "Drive" escape, they certainly do impress, taking control of the conversation with subtlety and, well, drive.
Key Tracks: "Speechless," "Drive," "Skylines"
From Your Site Articles
Related Articles Around the Web